Chrissie Hynde's headed for Dunedin, fronting the outlaw band she's been riding with for decades now, writes Tom McKinlay.
On the cover of her latest album, Chrissie Hynde's gloved fist is coming at you, "Alone" painted across her knuckles as she glares out from beneath her trademark bangs. And there she is inside, sleeveless black T-shirt and don't mess with this attitude.
It's the biker routine she's been rolling with since the 1970s, when, an American in London, in thrall to the punk explosion, she put together The Pretenders.
"I had the idea of a band like a motorcycle club: outlaw, outside, anti-establishment," she wrote in her 2015 autobiography Reckless: My Life.
And still, on the new album Alone, one of the standout tracks, Let's Get Lost, opens with the sound of a deep-throated motorbike heading out on the road.
Is that how she thinks of her band today, all these years later, as a motorcycle club, sans the carburetors?
"Yeah, kind of," she says.
"Actually, now with the crew, I feel like the crew and the band are all part of this team, and it's kind of like a motorcycle club. Or a pirate ship. Or a football team. Or a clock. It is like a farm, you know, everyone has meaningful work and we make everything happen."
That would be a horticultural operation, presumably, Hynde is a lifelong vegetarian and animal rights activist.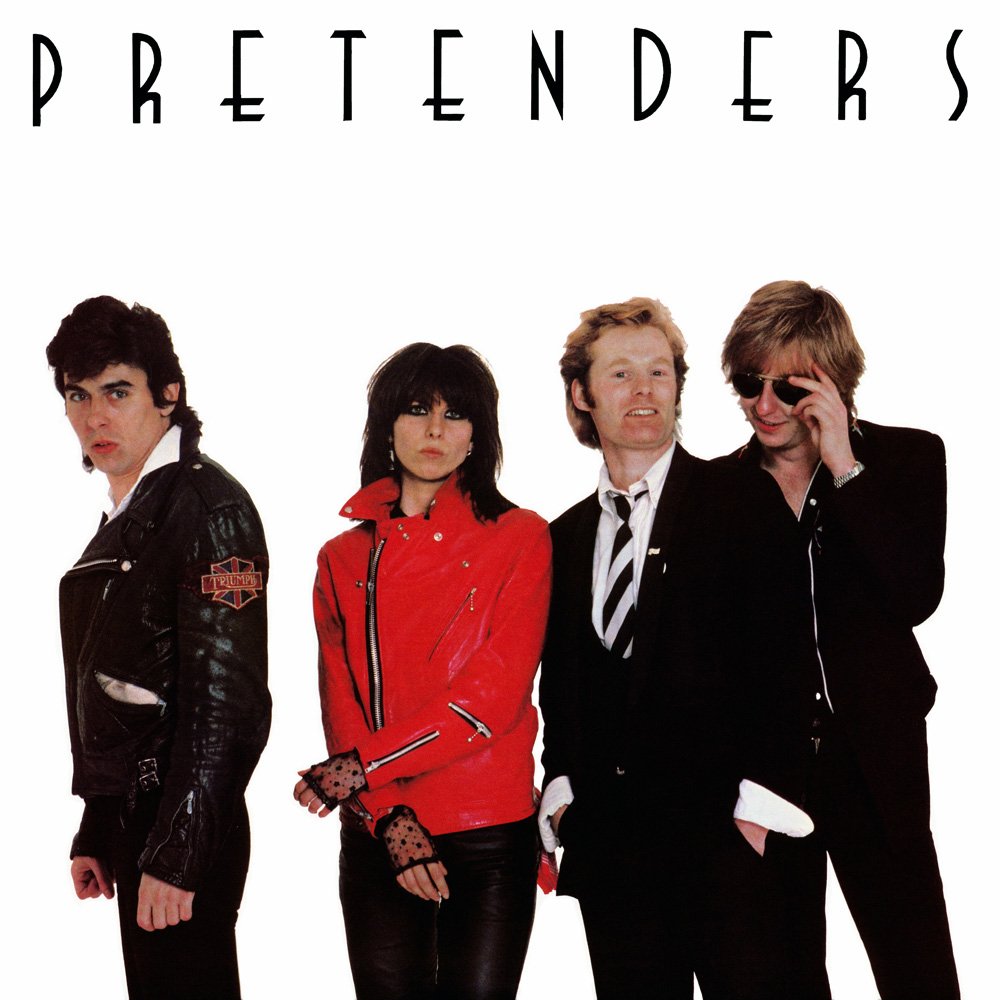 She is on the phone during a break of a few days between touring the UK and heading south via Dubai to play Australia and New Zealand. And most importantly, Dunedin.The Dubai stop was meant to ease the transition between hemispheres.
"I get very badly jet lagged and I thought we had to find a gig to do before we get to Australia because otherwise it's too crazy for me, you know?" Hynde explains. 
"I'm terrified of the jet lag I get when I go there."
As it turned out, the Dubai stop may not have done much to alleviate the crazy. It is reported that Hynde launched into "an expletive-laden tirade" from the first song, after people in the crowd used phones to film the show, and provided blunt advice on where they could store the devices.
As she left the stage, she cocked her leg and told the crowd to "take a picture of that," the news site news.com.au reported.
Hynde had some days earlier posted an apology to UK fans "for being a bit of a bitch when it came to camera phones and just being myself in general".
So biker attitude in working order? Check.
New Zealand, though, is in the good books.
"I love New Zealand, my bass player lived there for 11 years, and a former bass player of mine lives there still," she says.
"And also a chef we had on the road many years ago, when we could afford it, a vegetarian guy, he lives in New Zealand.
"The first time I went to New Zealand, we played at the Sweetwaters festival, and it was all bikers and flares and everything and I thought it was pretty amazing. And the last time we were there we played New Plymouth and it was in front of a lake and the audience actually got in the lake and they swam to the stage and they had eels in their hands and everything, it was incredible," she says.
"Obviously I haven't forgotten it and I don't remember many shows."
It's a story she's told before, so it might even be true.
On this month's tour, Hynde is playing music from the new album but also "some old ones". Dubai fans were reportedly upset there was no encore at their show, so they missed out on Brass in Pocket, one of the long list of post-punk anthems in The Pretenders' canon.
But, contrarily and contrary to the evidence, Hynde is claiming she's not a songwriter, in response to a question about what informs her writing these days.
"At the risk of sounding frivolous, I don't really take myself that seriously as a writer," she says.
"I just write songs so that the band has something to play. I don't think of myself as a song-writer, although, I guess,  technically I am. I don't think of myself as a guitar player, although technically I am. I just feel like I am providing what I have to provide for the band to keep us playing."
This from the author of such classic tunes as Lovers of Today, Tattooed Love Boys, Back on the Chain Gang, 2000 Miles, Don't Get Me Wrong, I'll Stand by You. We could go on.
Indeed, another of her songs, Private Life, from The Pretenders' eponymous debut, could, potentially, get a couple of outings in the South in the coming weeks and months. First when The Pretenders play the Forsyth Barr Stadium later this month, then in March when Grace Jones appears at the Queenstown Events Centre. Both had hits with the Hynde song in the 1980s. Even so, Hynde is determined to bat away any suggestion that her track record has stood the test of time.
"I don't really think like that. I like Grace Jones, that's all I can say. When I first heard that version, with Sly and Robbie, it did blow my mind, because I thought, 'F*** me, that sounds great'. But beyond that, I haven't really thought about it."
It's not the first time the self-deprecating frontwoman has expressed ambivalence, doubt even.
In Reckless — 300-odd pages of sex, drugs, rock and roll and elusive self-confidence — she talks of the sinking feeling that follows quickly from the elation of finishing a song, driven by a fear that it might never happen again.
"I have talked to many people who write songs and they all get that feeling," she says now.
"So that's not unique to me. I don't know why that feeling comes over us. I guess it's like stage fright. Every night, like a-half hour before I go on, I just hate that feeling. But there's nothing I can do about it. Like jet lag."
Hynde, sounding chipper and declaring herself "never better" in her Akron, Ohio, accent — which has survived 40 years living on the other side of the Atlantic — is all about the band. To the extent that she declares: "Chrissie Hynde doesn't exist". She's talking about the advanced marketing for Alone, which originally had the album pegged as a solo project before a change of heart saw it released under the Pretenders' banner.
"I am a band," she says.
"That was just marketing. ...  It was a rock and roll album so we called it Pretenders and my band is playing it."
It's a defiant credo that stretches back to The Pretenders' London beginnings when managers were circling trying to persuade the young American to launch herself as a solo act. But while playing in a band was always the plan, it has not been without it's dark times and heartache for Hynde.
"The truth is, I lost half my band in 1983 and I have been kind of limping along without them ever since," she says.
"So I have never been a solo artist ... and I just don't have my original band anymore. And that's the way it is."
The half of the band she lost back then were guitarist James Honeyman-Scott and bassist Pete Farndon. Honeyman-Scott went first: "heart-failure due to cocaine intolerance". Farndon nodded off in the bath and drowned with a needle still in his arm.
Original drummer Martin Chambers has been, for the most part, a consistent presence and is coming to Dunedin.The deaths were textbook rock and roll tragic, but hardly remarkable considering the milieu from which The Pretenders emerged.
Hynde had been kicking around London for a while by then, mixing with characters who would go on to form such seminal bands as The Clash and the Sex Pistols.
Indeed, Hynde knocked back an offer from Malcolm McLaren to play guitar in a band he was putting together in mid-'70s London. She had earlier worked in his London store, Sex. Hynde had song-writing sessions with The Clash's Mick Jones, in his gran's London flat, before he formed The Clash, worked as a cleaner with Johnny Rotten and almost married Sid Vicious, who had kindly offered to help her out with visa difficulties.
That and the rest are rock and roll history, right through to singing a duet, Bluebirds Over the Mountain, with Robert Plant on his latest album, Carry Fire.
And throughout, there's been the consistent voice, literally and figuratively: outlaw, outside, anti-establishment, determinedly Chrissie Hynde.
The title track on that new album celebrates the joys of being master of your own space:
"Nobody tells me I can't,
Nobody tells me I shan't,
No-one to say 'You're doing it wrong',
I'm at my best, I'm where I belong,
Alone, I like it, yeah, I like being alone."
There's a fair bit of humour in the song, a feature of a good few of Hynde's lyrics; when she is not doing bereft and heartbroken. Though she notes the song still ends up in a graveyard, addressing someone who is buried there.
"I guess it's funny," she says.
"And also, I realise, I am alone, for the most part, and my family is my  band, that's why I love the band so much, because I can be in my team, and the rest of the time I am kind of a lone wolf. And, actually, I like it. I enjoy my life."
And those songs that strike a more painfully personal note, well, perhaps that's the price of a life thoroughly lived.
"Sometimes it ... makes me almost quite tearful even on stage," she says.
"I saw Amy Winehouse doing a show one time and she goes, 'this is really hard for me to sing these songs' and I understood what she meant because, you know, you relive it every time you do it, and if it is a song about something painful you have to go through it all over again," Hynde says, before moving on quickly.
"But for the most part I am in a rock and roll band, so I am trying to have a laugh."
So that's the plan for Dunedin?
"Yes, that's the plan."
She says she's looking forward to it. And it really does sound like she is.
Rocking Nashville
For The Pretenders' latest album, Alone, Chrissie Hynde travelled to Nashville and teamed with Black Keys guitarist Dan Auerbach.
"I had just admired him from afar and I was looking for a producer and saw that he was available and he was keen, simple as that," she explains.
"You know, we both had the time.
"He's awesome. I think of it as his album actually, more than my album. He really did steer the thing. We did it really quickly. For the most part it was recorded in two weeks. We wrote a couple of tunes. I mean, he's amazing. I had to prepare myself for it, but he was just a blast to work with.
"It was just really fun."
Auerbach gets songwriting, guitar, vocal and keyboard credits on the album, his signature guitar style prominent. But he's not the only guitar hero on display. Nashville stalwart Duane Eddy also appears.
"There are just tonnes of musicians there and they were all dying to play rock and roll, I have to say," Hynde says.
"They were really nice to me because they know with me it is going to be rock and roll. I got a message at 3am in the morning [from Auerbach] saying 'I have got Duane Eddy in the studio', so I was obviously, totally thrilled about that."
Another later evolution of the album was the involvement of Pet Shop Boys frontman Neil Tennant on a belatedly released single version of Alone track Let's Get Lost, in which, somewhat counterintuitively, his voice mixes very nicely with Hynde's.
Hynde says Tennant happened to be at a show in the States and said he thought the song should be a single.
"Someone mentioned it to the record company, which said 'Why don't you get him to sing on it'. I loved that idea."