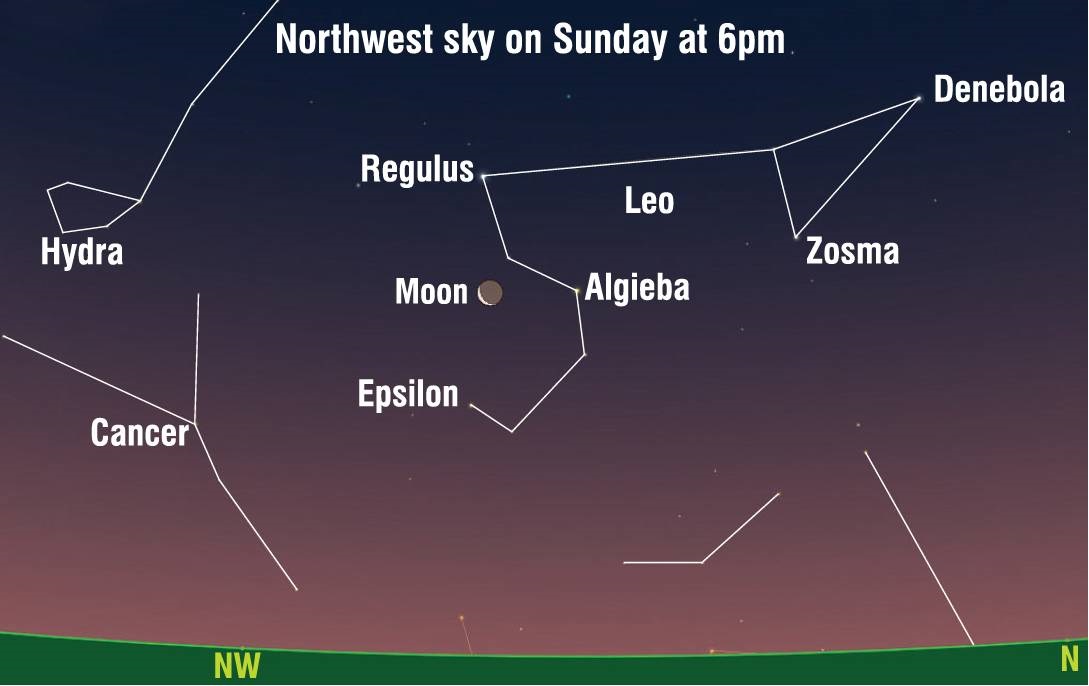 The moon reaches first quarter phase on Thursday. This makes this week prime time to enjoy viewing our closest celestial neighbour after sunset.
On Sunday the moon will be almost four days past new. Its waxing crescent will be 15% illuminated and some 20deg above the horizon an hour after sunset. As the sky darkens look out for earthshine, the glow caused by sunlight reflected by the earth on the darker portion of the lunar crescent.
On Sunday evening the moon can be used as a jumping-off point to explore Leo, one of the oldest and most storied constellations in the sky. According to Greek mythology, Leo was the fearsome Lion of Namea slain by Hercules during the first of his 12 labours.
From our part of the world, this celestial lion always appears upside down. Despite this, Leo is a very distinctive constellation. Tomorrow night the moon will be amidst a sickle of stars that delineates the lion's head.
Regulus (meaning little king) is the most prominent star in Leo. It is also the 21st brightest star in the entire sky. Regulus appears blue-white to the naked eye and astronomers have measured its distance to be seventy-nine light years.
Algieba is certainly one of the more interesting stars in this constellation. Oddly Algieba translates as "forehead" from Arabic, which is a little strange given that the star is blatantly located in the Lion's neck. It turns out that what we now call Leo is a little different in shape and extent than the constellation known to Arab astronomers.
However, this isn't the most fascinating thing about Algieba. If you have a telescope and point it at the star you will see that it is one of the most marvellous double stars in the heavens. One component is orange-red, and the other appears greenish-yellow.
The two stars are one hundred and thirty light years away. They are separated by four times the distance between the sun and Pluto and take more than five hundred years to complete one orbit of their centre of mass.