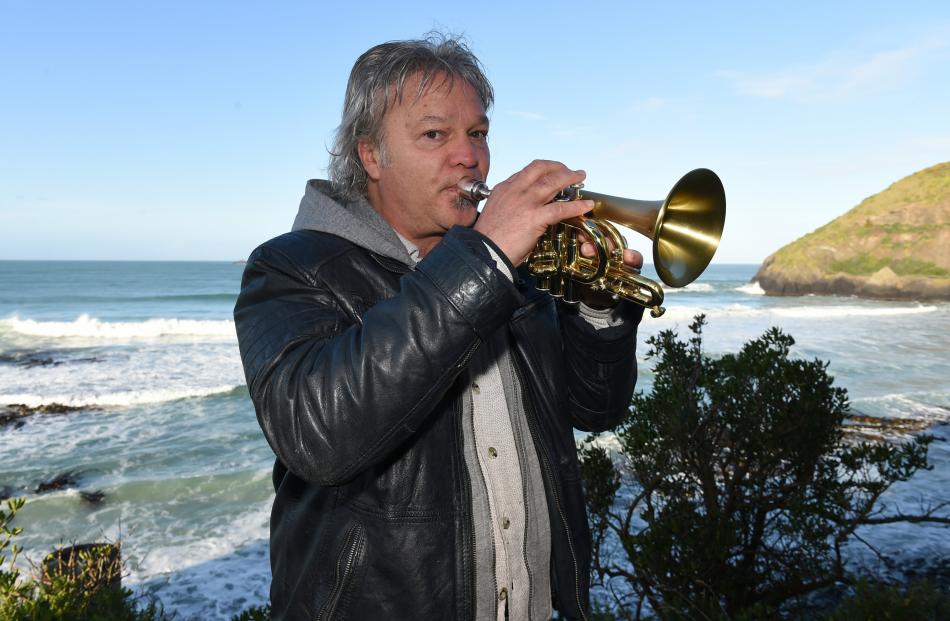 Dunedin composer and musician Trevor Coleman is pondering yet another challenge in a life full of movement, writes Shane Gilchrist.
The view from Trevor Coleman's St Clair home is too good to ignore, even if the boundary between sea and sky has been blurred by a blue-grey haze on a winter's afternoon. Still, the mist does offer a visual metaphor for a future that is unclear.
A couple of years away from turning 60, Coleman is about to depart Dunedin for Seville, Spain, where, in an attempt to placate his seemingly inexhaustible musical curiosity, he will explore new avenues.
However, before he and partner Ika Peuckert settle in for a series of long-haul flights on July 27, other details have had to be sorted.
Dozens of boxes occupy space in a downstairs room. They contain what wasn't designated to be sold or given away at a recent garage sale, which featured "everything imaginable, in variable condition", from music equipment and old computers to bikes, beds and a beer fridge. If ever a strong signal of intent was required, Coleman's prized baby grand piano was even up for grabs.
All of which begs a couple of obvious questions: Why the move? And why Spain?
"I've been back in Dunedin for 17 years and have done some wonderful things here," Coleman says.
"I've really enjoyed a rich musical life. In that time my kids have grown up and headed overseas. I have also just completed my doctorate [of musical arts], so I have arrived at this point of, what happens next?
"I could probably quite easily relax in Dunedin, potter around and have a comfortable life."
Instead, he and Ika have rented out their house as another adventure, "another phase" beckons.
As part of Coleman's PhD research into "polycyclic" music (more on that later), he visited Spain, where he performed with a range of musicians. One city in particular, Seville, was a highlight.
"The welcome there was just so huge. There's something about it that was urging me to return and investigate it further."
Coleman explains all this as he relaxes in his home studio, where he has composed many a soundtrack for various NHNZ series, as well as worked on other assignments. Next door, the lounge is dominated by that baby grand, on which he often noodles away unconsciously. The point is, in this house, musical business and pleasure often intersect.
This prompts another question: is music all-consuming?
The answer comes not from Coleman but from Ika, who, having recently finished her day job as a social worker, responds before he can:
"Yes ..." Coleman offers no resistance: "I do find different aspects of music function as much as a hobby as a profession.
"For instance, last night, I had half an hour before I had to leave for a function, so I sat at the piano and just played. What a wonderful thing to do for half an hour. It's relaxing and self-reflective."
Having contemplated riding those St Clair waves in his earlier years ("I look at surfers  and it looks like so much fun ... "), Coleman instead chose to immerse himself in music.
From boyhood brass bands to discovering jazz as a 17-year-old; to the University of Otago then Berklee;  to soundtracks and film scoring; to America, Europe and elsewhere and back again ... it's been a wild ride.''Fortunately, I've been able to make a living out of it. In saying that, there have been times when I've been quite hungry.
"I guess I've been fortunate and very judicious in that since the age of 35 — which is over 20 years ago — I decided I wanted to be financially independent in later life. So I've been very good at saving and investing."
Music has long been a part of Coleman's life.
Born and raised in Dunedin, the son of an avid brass band man, he recalls the Port Chalmers Marine Band lending him a shonky tenor horn when he was 7; at another stage, his father brought home a pre-war trumpet, a gift that paved the way to, firstly, the Dunedin Youth Orchestra, then a position as principal trumpet player in the New Zealand Youth Orchestra. Around the age of 9, he witnessed a piano concerto played by a young man. Inspired, Coleman took up the instrument that, along with the trumpet and composition, has been a core tenet of his musicality.
He also played solo cornet in the National Youth Brass Band, was pianist for the National Youth Jazz Big Band and was actively engaged in the jazz, rock and experimental music scenes in Dunedin and Wellington in the 1970s and early '80s. Coleman believes his first paid gig came at the age of 12, when he played trumpet in Dunedin's former Budapest cafe with a group that featured guitarist Mike Moroney and drummer Marcel Rodeka. At 17, a new musical vision arrived in the form of a Miles Davis record a friend had brought around. A love of jazz — in particular, its incumbent improvisational itch — was born.
There followed a series of groups (jazz, funk and otherwise) as Coleman found ways to earn some pocket-money while completing a bachelor of music at Otago University. He then gained a QEII Arts Council scholarship to attend the prestigious Berklee College of Music in Boston, where he studied jazz and film scoring, the latter proving a valuable foundation for future work on his to return to Dunedin in 1982.
Broke, he began offering piano lessons, gave lectures in jazz history at Otago University and played solo piano gigs at a range of restaurants, all the while hatching plans to develop a career in film and television scoring.
Despite receiving several contracts to score productions, including Ian Taylor's award-winning Two Days to Soft Rock Cafe, Coleman decided to leave Dunedin in 1985, heading to Germany, where he spent the next 15 years performing jazz throughout Europe with the Trevor Coleman Group and other ensembles, including music comedy group Mark'n'Simon & the Professor.
From 1992 to 2000 he was engaged as resident composer, musical director and performer for the Choreographisches Theatre (dance-theatre) in Freiburg and Bonn. However, having met Ika and started a family, a life split across two cities wasn't ideal.
"I was doing a lot of travelling and touring while having a young family. I was getting really burnt out, hence the decision to change our lifestyle and return to Dunedin.
"When I came back to Dunedin in 1999 because of the death of my father, I had a look around Natural History New Zealand. People were talking about the amount of work available for a composer there. I thought it was a chance to live and work in the same town, to spend time with my family.
"So we decided to move here. It provided a wonderful environment to really focus on what I'd be learning, to hone my own compositional style. All of those things culminated in us shifting here."
Having bought a house at St Clair, he had also realised a long-held ambition — to make music while having a view of the sea. Coleman, whose two daughters were aged 6 and 12 at the time of the move, describes the NHNZ work as a "godsend".
"There are not a lot of ways for a musician to make a living here, apart from perhaps teaching. A few people do pay the bills by playing in covers bands.
"I'd get up in the morning and spend all day composing. The year 2005 was the peak of my work for NHNZ. I think I worked on 24 documentaries that year.
"Each documentary will have its own set of characteristics," he explains.
"For example, it might take place in a certain part of the world, which requires me to investigate how music works in that part of the world — not to imitate or recreate that music, but to take aspects of it in order to flavour the score, to give the viewer and listener more of a sense of place."
Since 2000, Coleman has composed and produced more than 100 soundtracks, among them a "blue-chip" (high-quality) six-part series called Equator, two of which earned him Emmy Awards nominations in 2006. He was also nominated for an Emmy for his work on the series Bugging.
Yet academia beckoned again a few years ago and Coleman returned to Otago University to complete a PhD.
"I think I was coming to the end of the documentary work and when you get to a point where you think you might be repeating yourself and not approaching it with the same enthusiasm any more, then it's possible time to make change."
His doctoral assignment comprised three albums — PolyKarma, PolyNation and One Moment — as well as a 30,000-word dissertation explaining his intent in creating polycyclic music.
"A lot of people are musicians and composers but not necessarily writers. But I really enjoyed the process of writing about it."
Simply put, a polycyclic method of composition requires musicians to each perform phrases of varying lengths simultaneously, Coleman's overarching intent being "a perception of relative simplicity and beauty" over a complex system.
"I'd been working on the polycylic things for about 20 years, but I'd never really had the opportunity to go deeper and think — and explain — what it means.
"The music I have been researching, composing and producing for the past few years, this polycyclic way of composing, is one of the reasons I need to go further afield."
Coleman's continual quest for inspiration and musical connection has had rewards that transcend any financial stability, too. He has formed some strong friendships along the way. These include Nick Cornish, who has been at the centre of many collaborations as well as a number of examples of Coleman's soundtrack work.
"Nick is one connection I'm very sad to ... put on hold," he says of the musician who excels on various reed instruments and with whom he formed Dunedin jazz group Subject 2 Change following a jam session at the Provincial Hotel's Cellar Bar in 2004.
"That was a very experimental group, which has lived up to its name in that it has gone through a number of incarnations. It morphed into Cambio, playing a lot of Afro-Cuban-Latin flavours, and other line-ups included guitarist Dave Harrison and trombonist Dan Bendrups, which took Subject 2 Change into more of a jazz-fusion direction.
"We always maintained an experimental approach. And that's the beauty of improvisation. It's all too easy for music to be purpose-driven or goal-driven, but it is through that spontaneity that you stumble across ideas.
"I'm a real fan of just seeing what happens in real time, at any particular moment. If I can grab a few minutes where I'm not thinking, that's usually when the best ideas come forth."
As he prepares for a new chapter of life away from Dunedin, Coleman offers a note of thanks to the city.''I have this gratitude to Dunedin for being a place that fosters a deep involvement in the arts.
"As I was growing up there were all these opportunities to play in bands. You could just go and play every day somewhere. There was also this support that recognised how important it is to branch out and go forth, so to speak."
This notion extends to a crucial decision made when Coleman was still in his teens.
"My father was in the building industry and I think up until the age of 15 I thought I was either going to be an electrical or structural engineer. But I chose music.
"And that has been enough. It takes care of most things."