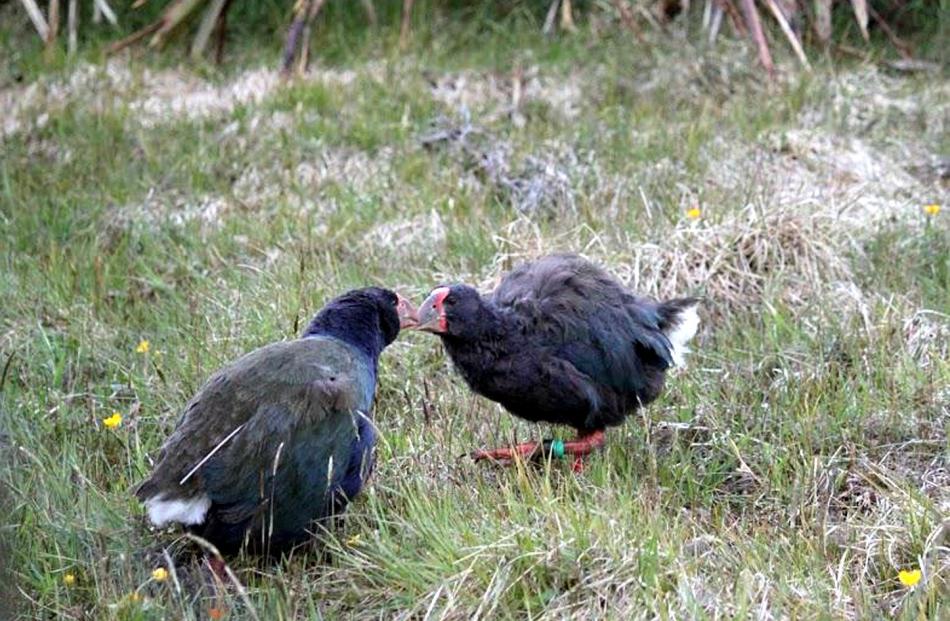 Eeva-Katri Kumpula, an enthusiastic follower of New Zealand's conservation programmes, has followed the fortunes of Mohio the takahe chick, an Aucklander returning to his roots in the South.
Mohio the young takahe was hatched on Tiritiri Matangi, an island sanctuary near Auckland, in November 2014. There, takahe have been roaming free for a long time now and are very popular with visitors.
The territory of Mohio's mum, Cheesecake, and dad, Te Mingi,  was near the lighthouse and visitor centre on Tiritiri, so when he was a chick, Mohio was often running around people's feet when they were having picnics on the grass.
His big brother Pukekohe (a yearling, the previous year's chick) was very close to him, and took more care of him than his parents did!
The Doc researchers, always looking to optimise the breeding programme, did not think Te Mingi and Cheesecake were an ideal genetic match, and so decided in September 2015 that they would be separated: Mohio was sent to Tawharanui Open Sanctuary with his dad and big brother, while Cheesecake stayed on Tiritiri.
In Tawharanui, Te Mingi quickly found a new partner, but Pukekohe wasn't too interested in the local ladies: he preferred to hang out with  Mohio, still caring for him.
But then another takahe started bullying Mohio, and he had to be taken to Auckland Zoo hospital at the beginning of November for treatment, and from there was sent on to Burwood Takahe Recovery Centre in Fiordland for some specialist care, as he was losing weight, and his feathers were still underdeveloped, much like a chick's.
In Burwood he was paired with another young male takahe at first, but that was not a good match, and the Doc rangers decided to try a female takahe, Marokopa, as his pen-mate.
Marokopa was a true Fiordland girl, having been hatched at Burwood in November 2014, and she had already seen a Fiordland winter. So she was exactly the same age as Mohio, but her plumage was already that of an adult takahe.
The sparks of attraction flew, and Marokopa soon took the shy Mohio under her wing, leading him to the feeding hopper, and showing him how to dig tussock and other roots, as our "tropical boy" was not used to such plants! Soon Mohio got his confidence back, and he and Marokopa grew very close.
They preened each other's feathers, fed each other little treats, called out to each other, bathed together, and Mohio started putting on weight.
In January this year the Takahe Recovery programme decided that Mohio and Marokopa should be sent as a breeding pair to Orokonui Ecosanctuary, where Paku and Quammen and their surrogate chick Kotahi were already doing well.
Mohio and Marokopa were taken from Burwood to the grassy area in the lower valley of the ecosanctuary where they could establish a territory of their own.
There they found the surroundings well-suited to them, as the Orokonui stream provided a perfect place for bathing, which takahe love to do daily, and there were good grasses and seeds for feeding.
A bit nervous at first, they slowly started to explore their new home, and Mohio would often climb up the fence line, finding ripe grasses with lots of seeds, and then come back down to the stream to get Marokopa to join him as well.
As they settled in they were often observed by volunteers going about their tasks. Their takahe pair calls filled the air, and it was obvious they were mates.
By next summer they will both be two years old, and of breeding age.
With luck, in a season or two, visitors may be able to see two takahe families at Orokonui.
- Eeva-Katri Kumpula is a postgraduate student of pharmacy at the University of Otago and a volunteer at Orokonui Ecosanctuary.