In 1865, a grand exhibition, the first of its type in New Zealand, was staged in Dunedin.  Among its many exhibits was one showcasing the work of German-born South Australian jeweller Joachim Matthias Wendt.
Wendt's display comprised several examples of silverware and jewellery, most of which were ornamented with motifs of Australian flora and fauna. The exhibit won a first prize in its category. After the exhibition concluded, pieces from Wendt's collection were divided into nine lots for an Art Union Lottery staged by local jeweller Julius Hyman.
Two of the lots comprised silver-mounted presentation emu eggs. A few weeks after the prize draw a silver-mounted emu egg, possibly one of those won in the lottery, was presented to one of Dunedin's leading citizens at that time, Thomas Bannatyne Gillies.
Gillies (1828-1889) arrived in Dunedin in 1852 with his wife Catherine, parents John and Isabella and several of his siblings. While his father re-established himself as a lawyer in Dunedin, Thomas took to farming. However, after a few years as a farmer, Thomas altered course and followed in his father's footsteps as a lawyer and politician.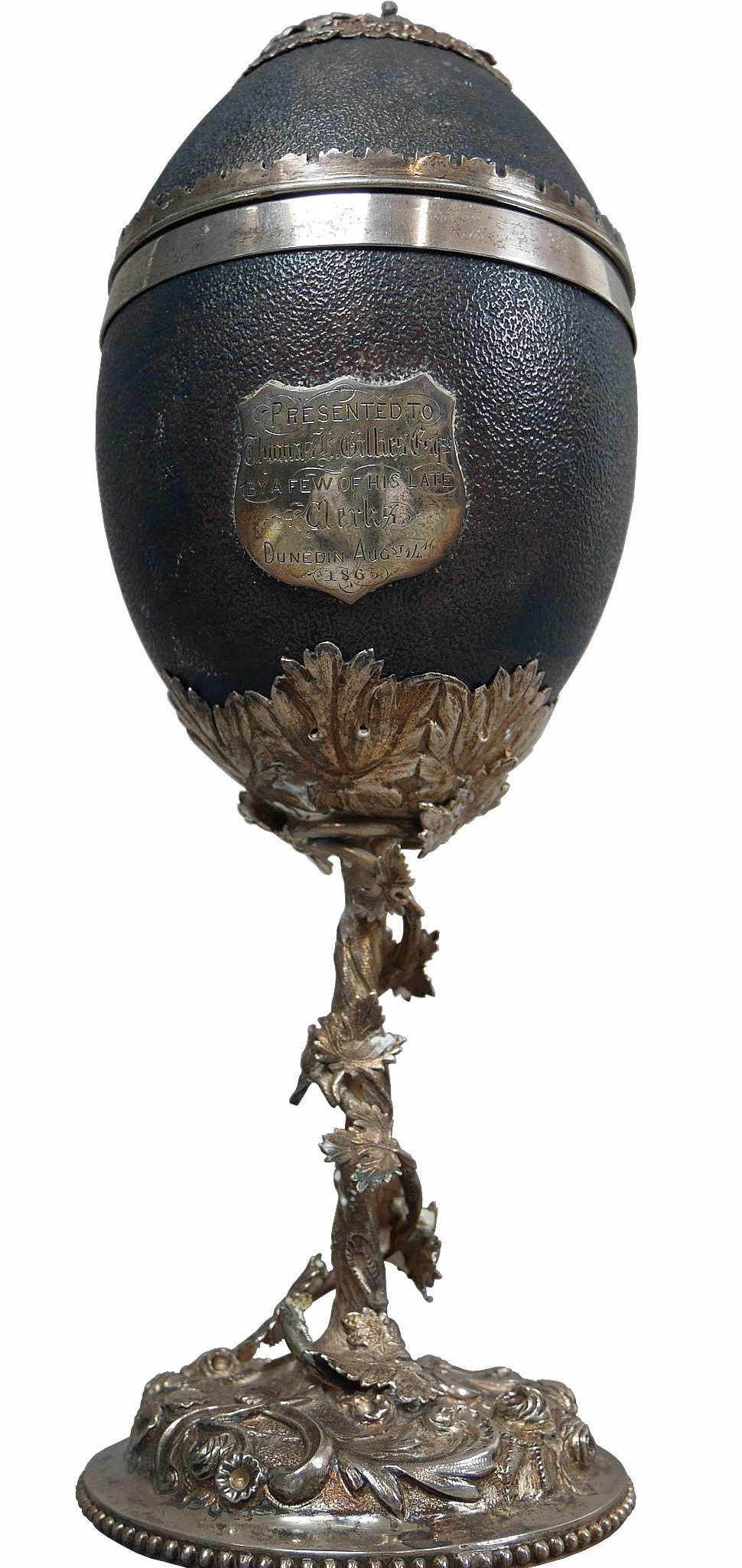 He entered the House of Representatives in 1860 and rose to become Attorney General in 1862 and Postmaster General and Secretary of Crown Lands in 1863. However, in January 1865, Thomas Gillies announced his resignation from Parliament. This was the first of several life-changing events for Gillies in that year. The second was the death of his wife Catherine following the birth of their fourth child. Thomas then made the decision to quit Dunedin and move, with his four children and his youngest sister Bella, to Auckland. It was his departure from Dunedin that prompted some of his law clerks to present him with the egg on August 14, 1865.
After an epic journey on horseback from Dunedin to Auckland, Gillies set about re-establishing his legal and political careers. He became Superintendent of Auckland in 1869 and returned to occupy a seat in the House of Representatives in 1870. In 1875, however, he traded in his political career to become Judge of the Supreme Court for Auckland district.
Gillies also set about rebuilding his private life in Auckland. He married Agnes Sinclair in 1867 and had two more children.
An interest in biology drove some of his other activities outside of public office. Gillies co-founded the Auckland Institute in 1868 and was involved with the later establishment of its museum. After Agnes' death in 1884, he also endowed the University of Auckland with two scholarships for the study of biological sciences.
Although as an amateur conchologist it was shells of a different kind that he was most interested in, perhaps it was Gillies' interest in biology that influenced his law clerks to choose a mounted emu's egg for his going away gift in 1865. Whatever the reason, it is a great reminder of the varied life of someone who certainly didn't put his eggs all in one basket.
 - Peter Read is curator at Toitu Otago Settlers Museum.