Halloween is on the rise, but its modern incarnation is a tame sugar-fed beast, writes Liz Breslin.
Spoilsport alert. I'm very bah humbug about Halloween. It's just a nothing to me, in emo face paint and bad wigs.
I mean, I like a good dress-up, I really do, and some of those skull lollies walk just the right line between sweet and sour.
And it's awesome to see kids marauding, big and small together, on foot around the Flat.
But I'm liable to outbursts about greedy argumentative inappropriate begging when it comes to trick-or-treating and I am scared enough by what passes for reality (including, but not limited to, politics, the state of our rivers and the muted roar of the frigid server next to the stationery cupboard) to never need to watch another so-called thriller. Ever.
I feel we've sucked everything that could possibly be interesting or provocative or meaningful out of the various traditions we've cobbled together and replaced with shallow commercial saccharine niceties.
To check, I ask a 12-year-old: "Why do we have Halloween?" His answer: "I dunno. Why don't you google it?"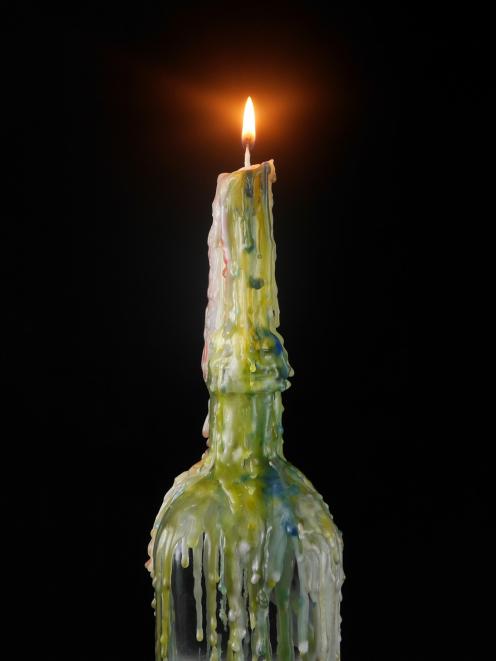 A quick search comes up with costume ideas, recipes and some funny things that Siri might say if you ask her what to dress up as. 
My favourites: "Just be yourself, pumpkin," and "You could put on a surgical gown, hold some instruments and tell people you're an operating system." Boom.
I get distracted by white chocolate and pumpkin seed pretzel witchy fingers and have to dig a lot further to remind myself about Samhain.
Imagine old Ireland, end of the harvest season. Animals slaughtered, their bones whitening on a cleansing fire. A bone fire. A bonfire. Home fires lit from sticks from the flames. Stones thrown in to be retrieved in the morning, the burn marks showing future fortunes.
The air thin between this world and the spirit world. The worlds shifting. Food left out for those who wander over this way again, to keep them sweet and fed. Single candles light their way, inside windows, or make lively eyes in hollowed-out turnip figures.
People hide their faces behind masks or paint them an ethereal white in order to confuse the spirits of nature. Sometimes they confuse each other, going house to house for food and blessings, offering dances and tricks for those who provide.
There are rituals to honour the animals. There are rituals to honour the ancestors. It is a fine time of emotion and wonder and knowing spread thin.
Squint at it slightly differently and you could be in Mexico, celebrating Dia de los Muertos, or honouring Zaduski customs in Poland.
How much richer is all of this than a psycho clown suit and a bag of E143-stuffed frog jellies?  How much scarier than the scary-movie hype? It's like the subtle knife meets The Matrix meets the strange sepia great-grandma portrait in the gilt frame.
All the worlds colliding is scary enough. Or is that just me?
Almost 40% of people profess a liking for scary movies.
According to psychiatry professor David H. Zald at Vanderbilt University in Nashville, Tennessee, this is because "for many people everyday life can feel overly routinised and even boring. By contrast, when scared we are fully aware, conscious and in the moment".
Maybe those people could think a bit more deeply, read a bit more widely, live a bit more consciously and they'd find plenty to be scared, or inspired or mindful about.
I know, I know, it's only one night out of 365 and I know there's no harm in it.
Well, not unless you believe the poisoned candy myths and hand-wringing Christians and the anti-sugar lobby and the pumpkin projectile death stories and the predictions of an epidemic of scary clowns.
I will do my best to get into the so-called spirit of things — for what?
The go-google-it kids? The sake of appearances? — and hang out scarily hidden next to the mailbox full of lollies in my General Grievous mask.  I will.
But if I had my spoilsport way I might sit somewhere with a solitary candle and think how thin the lines between us all are.