Alexandra Deschamps-Sonsino will tell us how the internet of things will change our lives. But who is she that we should listen to her? Bruce Munro got in touch to put a face - and a couple of facts - to the name.
The internet of things is almost upon us.  And its herald is an outsider - a Canadian-Italian designer living in London.
Online, Alexandra Deschamps-Sonsino (36) is not hard to find. Googling her name results in dozens of images, a handful of websites and about 15 YouTube videos. Almost without exception, they are about the internet of things.
In the real world, Miss Deschamps-Sonsino is a bit more difficult to pin down. She is in constant demand at conferences and workshops throughout Europe and around the world, addressing audiences on the internet of things.
This week, she pops up briefly in Dunedin. Once again, she will be speaking about the internet of things, aka IoT.
Apparently, this IoT is a big deal.
In a nutshell, it is about making ordinary objects talk to you and each other via the internet. It is about everything imaginable being embedded with sensors, software and Wi-Fi to gather data and give commands.
When it comes to the fast-approaching IoT, wearing your Fitbit activity tracker everywhere you go is no more than dipping your little toe in an enormous ocean.
Your fridge will be able to scan its own shelves, create a list of what it sees and then go online to find a suitable recipe for tonight's dinner. Airport customs officers will be able to do real-time DNA tests to catch criminals and identify people being trafficked across borders. Your car will book itself in with the mechanic when it senses it needs a repair. Toilets will monitor what is flushed, alerting your doctor if dangerous viruses are detected.
The hype about IoT is gargantuan. Prophets of IoT foresee anything between 20 billion and 100 billion connected devices within three years.
Business magazine Forbes says global business spending on IoT technology-based products and services will probably top $US120 billion ($NZ165 billion) this year. General Electric predicts that during the next 15 years, more than $US60 trillion will be invested in IoT for industrial uses alone.
But for every promise that the IoT revolution will be a boon for health, security, productivity and scatology, there is a dire warning about the risks.
How will governments and corporations use all that data being collected on us 24/7? Will IoT technology be used to create objects designed to do harm, not good? Could seemingly harmless, or even helpful, connected devices be hijacked for evil purposes?
Some of the negatives have already materialised.
Last October, a smart fridge in a United States hardware store was hacked and began displaying pornography.
During the same month, an unknown hacker commandeered millions of everyday IoT devices, such as internet-capable cameras and video recorders, to launch a "distributed denial of service" attack that made chunks of the internet unreachable for  hours.
In the US, in February, TV manufacturer Vizio was fined $US2 million for using its smart TVs to secretly collect data on people's viewing habits and then sell that information to third parties.
In the near future, could self-drive cars deliberately be driven off cliffs or at specific pedestrians? Will the office smartfridge be used to steal your company's intellectual property?
Could internet-capable pacemakers and insulin pumps be hacked to kill their users?
The end is nigh, or we've only just begun. Who to listen to?
Miss Deschamps-Sonsino has been brought to Dunedin by Otago Polytechnic, SIGNAL ICT Graduate School and GigCity Dunedin.
While here, she will be talking about how the IoT will affect Dunedin — how citizens' data might be collected, and why; the potential benefits and necessary boundaries to the IoT; and how being a GigCity (with one gigabit per second broadband services) might play out in the age of IoT.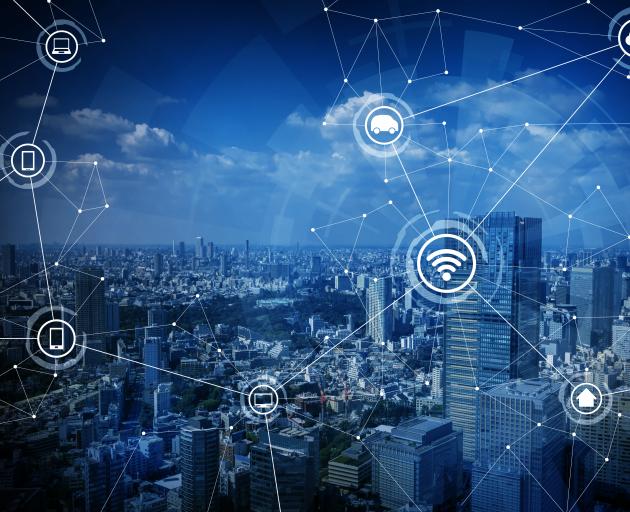 So, who is Miss Deschamps-Sonsino that we should listen to her?
Last year, she was first on the list of 100 global IoT influencers, as judged by IoT thought leader community Postscapes. In 2014, she was second on Onalytica's list of the top 100 IoT thought leaders. The same year, she was named by website Business Insider as one of the top 100 influential tech women on Twitter.
She is, as they say, "very active in this space".
Miss Deschamps-Sonsino is an interaction designer, product designer, entrepreneur, facilitator, consultant and public speaker. Or, as she puts it, "I design connected things, I help clients design connected things and I connect people".
She has a BASc in industrial design from the Universite de Montreal, Canada, and an MA in interaction design from the Interaction Design Institute, Ivrea, Italy.
When she moved to the United Kingdom in the mid-2000s, she co-founded Tinker, which was the first distributor of Arduino interactive digital device kitsets.
"We ran workshops to introduce everyone, from jewellers, architects and retired people, to it and then built design services on top of it too," she recalls.
"We got to work with the BBC, EDF [a French energy company], British Telecom, ad agencies and more. It was fun and we grew to a team of about 12 [half full-time, half freelancers].
"It was a great experience, but also very stressful to have to bring in quite a lot of money in a niche market of product development and R&D.
"My co-founder Massimo Banzi had designed the Arduino, and he still does that now."
There are easier ways to make a living, but they would bore her.
"I actually like the challenge of figuring out how to make money out of interesting ideas around technology and design.
"My education in Italy pushed me to realise the potential of [combining] traditional design practices, the web and engineering. It makes for a very powerful cocktail — one that has gotten me to work with electronics engineers, industrial designers, graphic designers and web developers."
The Good Night Lamp, which is a company founded on a connected object she designed, is an example of what can come from this collaborative thinking.
The house-shaped lamps are connected via cellphone technology.
"Turn a Big Lamp on and Little Lamps, which you've given away, turn on too, anywhere in the world. You can use the Good Night Lamp to tell a loved one 'now's a good time for a chat', 'I'm thinking of you' or 'call me when you get home'. You decide."
Building that business has been a major undertaking.
"We've had manufacturing challenges, legal challenges, the whole gamut. But I'm still excited."
Miss Deschamps-Sonsino has had her work exhibited in galleries including the Museum of Modern Art, in New York, and the Victoria & Albert Museum, London. She is the co-founder of IOT Angels, a UK-based IoT investment network, and is co-editor of IoT publication Connected.
"I've also been the organiser of the London Internet of Things Meetup, since 2011. We're now the second-biggest meetup on the platform.
"It's a real fun group and I really enjoy organising it. It's a great way to share my experience and learn from others too."
That is what she does. But, as with everyone, the real insight comes from her childhood.
"I grew up between Paris and the Middle East in quite an unstable household," Miss Deschamps-Sonsino says.
Her surname is a mix of French Canadian and Italian. Her mother tongue is French, but she learnt English in an American school at the age of 7 and Italian while studying for her master's degree.
At the age of 18, back in Quebec, she was informally adopted by a family "who gave me loads of support and who I credit for where I am now".
Her adoptive mother was a nurse and her adoptive father a civil engineer.
"He died recently and I'll always miss his wisdom and calmness. I try to mimic him a lot in my career; taking things as they are, working through problems one at a time. It's helped me a lot with Good Night Lamp."
She describes herself as "a reasonably introverted person who has been forced to be extroverted for my career".
Growing up in a difficult environment made Miss Deschamps-Sonsino self-reliant and sure of herself. It is a blessing and a curse, she says. As a result, she is outspoken.
Last year, here in New Zealand, speaking at the annual Webstock gathering in Wellington, she told her audience they had lived comfortably "knowing little about the impact we have on others or the environment".
"For the last 100 years, we have kept consuming aggressively, pretending that self-fulfilment and self-actualisation could easily be derived from buying things and discarding them. Ignorance has been bliss. But this is changing with the internet of things."
Asked about being a woman in the tech sector, she is blunt.
"Women-led businesses only get 7% of all investment out there and we're discriminated against in large corporations."
Her experiences of sexism have included being mistaken for a coat-check girl, propositioned and told to "hurry up" and have children.
"Until we get the same salaries and day care and good maternity leave, it'll keep being hard, but we'll always come knocking at the door. We'll never go away."
Men feeling that women are a "low-level threat" is something that "has to change".
"We need great stories for young men about women as allies, not as a threat or a person to subjugate. It's a societal thing, not only a tech thing."
Reflecting on her upbringing and what that has made her, Miss Deschamps-Sonsino says she knows many people who describe themselves as suffering from "imposter syndrome".
"I don't have the luxury of being uncertain about my place in the world as I've powered my own businesses, projects and collaborations," she says.
"It also means I really love being 'the outsider' and love living in England, where my American accent always makes me different."
You can trust outsiders. They have nothing to lose by telling the truth.
"I've always been interested in the internet of things as a way of thinking about how connectivity helps us create a very different relationship to the physical world," says its herald.
"As with any new way of thinking, it can be used in [ways that are] useful (tracking someone's health as they get older) or purely exploitative (Alexa is basically only there for you to buy more stuff from Amazon and for them to profile you at home).
"We need to inform ourselves more and buy good, security-aware products. This is hard to do right now, as it's still early days and many companies rely on partners, passing the security job to someone else down the line ...  It's quite a complex landscape of decisions that have to be made and, sadly, most companies have focused on the big picture and going for speed without worrying about the details.
"It'll be up to us to vote with our money and spend it where we want to see innovation ... That's one of the only benefits of capitalism, really."
Hear all about it
• The Internet of Things: How will it affect Dunedin? A free talk by Alexandra Deschamps-Sonsino. Monday, July 10, 5.30pm to 7pm, The Hub, Otago Polytechnic, corner Forth and Union Sts. Register by emailing to research@op.ac.nz.