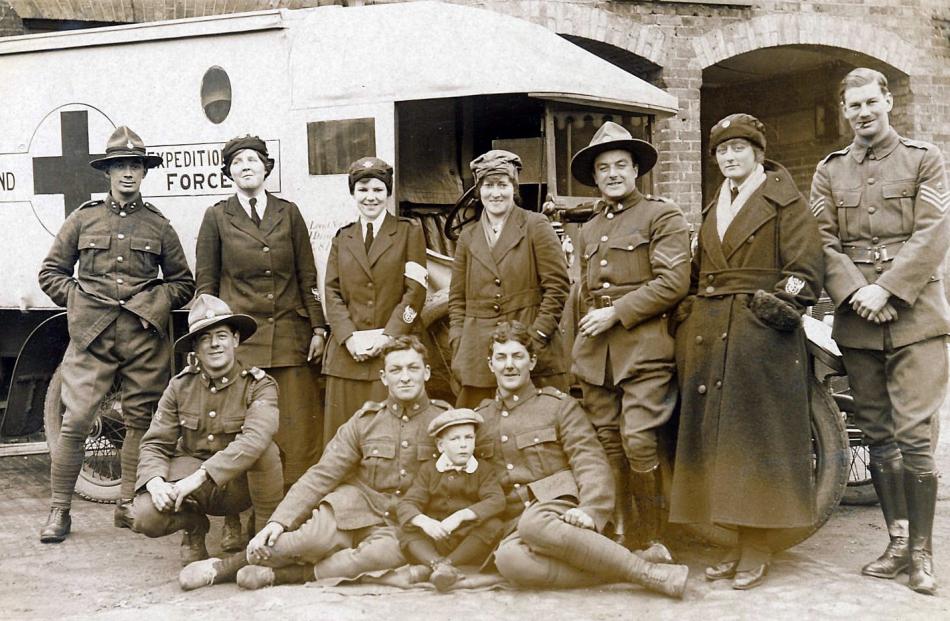 New Zealand recently marked the 99th anniversary of Armistice Day. Jane Tolerton  looks at a group of Otago women who toiled away behind the scenes during World War 1.

Helen Mackenzie was the star of the show in a forgotten drama.Helen was the elder daughter of Thomas Mackenzie, New Zealand's High Commissioner in London during World War 1.
She was in Germany when war broke out in Europe  and within two weeks of her return to London was appointed administrator of a major welfare organisation for New Zealand troops.
The New Zealanders who attended the meeting to form the New Zealand War Contingent Association did exactly what we would expect New Zealanders to do: set up an organisation, appoint committees and sub-committees and get on with the job, doing the work themselves.
Helen was honorary (meaning unpaid) secretary of the women's committee while Anne Lady Islington  chaired it. The old 1920s official history volume The War Effort of New Zealand included only one name in the chapter on the NZWCA. As it was that of Lady Islington, this means not one New Zealand woman was mentioned. But history books being released to mark the centenary of the war hardly mention the NZWCA at all - presenting it, when they do, as a conduit for parcels.
In fact, it filled a massive gap not envisaged by the New Zealand government. When formed, it planned to look after New Zealand soldiers who were expected to train in Britain and fight in France, but it found itself in a hiatus when they  fought at Gallipoli.
In May 1915, sick and wounded New Zealanders started arriving in hospitals all over Britain. They had come from the battlefield or from hospitals in Egypt. They were not paid while in hospital and many did not have the price of a razor or writing paper.
The women of the NZWCA went to find them, noted what they needed and provided it.
In August, the NZWCA opened a civilian hospital for New Zealand soldiers at Walton-on-Thames. The hospital was staffed mainly by New Zealand women volunteers. The following year, when the New Zealand Division arrived on the Western Front, the organisation had clubs and canteens near New Zealand hospitals and shops, and a 300-bed hostel in London. The team of women was then 170 strong.
While Helen Mackenzie did the bulk of the NZWCA's admin work, her younger sister Mary was a volunteer nurse and then an ambulance driver at one of our military hospitals.
One of Mary's most glamorous workmates was Pixie Laing, who had won prizes at St Hilda's Collegiate School for calisthenics and elocution - perfect for her career as a Music Hall Artiste, as her passport described her. She left Dunedin shortly before the war for Australia and travelled through Asia to South Africa, where she had her photo taken in a tutu. That picture might have played a pivotal role in winning her a job at the famous Folies Bergere in Paris in the middle of the war.
But Pixie left that glamorous gig in 1917, joining her compatriots in Britain.
Ambulance drivers trained as mechanics, which meant that when Pixie married wartime comrade Capt Norman Bell, the couple were able to set up the Bell Bus Company in Wellington.
Helen and Pixie are just two of possibly hundreds of Otago women to have played a role in the war effort overseas. Many were nurses in the New Zealand Army Nursing Service. Some were doctors, including the first to graduate in medicine from the University of Otago, Dr Emily Siedeberg,  who went to Britain in 1915 and worked in the Royal Infirmary in Sheffield, and Dr Grange Fergus, who worked in Malta with the British from 1916 - when they finally realised they had to let women into the Royal Army Medical Corps.
One Otago woman had the ear of Secretary of State for War, Lord Kitchener - his sister, Millie Parker, who had farmed at Kurow for about four decades but was a widow living in London during the war. When the news came through that her brother's ship had been sunk, she was raising funds for soldiers at a bazaar for her K of K (Kitchener of Khartoum) Society. She refused to believe her brother was dead, insisting that he must be hiding somewhere. Mary Ritchie worked as a waitress in the NZWCA's cafe for soldiers in Southampton Row while her sister, Ella, was at the cash register.
Mary recorded that: "The waitresses worked very long hours and on our feet all day, and after being at it for some time I collapsed and was not allowed by the doctor to do canteen work again and had to lie up for some weeks."
Mary later worked at Victoria Station, serving drinks and sandwiches to soldiers. Then she became an Air Force driver.
"Very long hours and a lot of driving after dark with very little in the way of lights. The cars were very uncomfortable and very cold - no self-starters, so if you lost your engine, you had to jump out smartly and wind it up with the starting handle."
At 11am on November 11, Mary was waiting for an officer when "everything began to ring and hoot and in two seconds we knew what it was. The officer jumped into the car and said, 'We'll go to Buckingham Palace.' We arrived just as King George V and Queen Mary came out on the balcony."
On the 99th anniversary of Armistice Day, let's welcome women such as Helen, Pixie and Mary into the line-up of those we remember, along with the soldiers and the nurses.
Get it
• Make Her Praises Heard Afar: The Hidden History of New Zealand Women in World War One, by Jane Tolerton, Potton & Burton, $60.