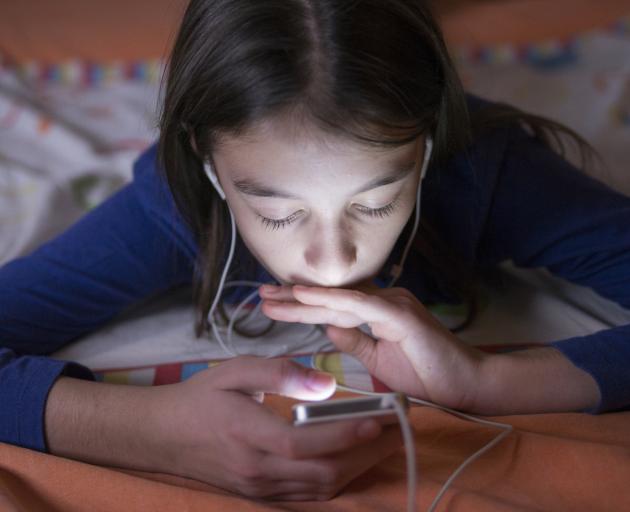 Parenting columnist Ian Munro discusses social media use by children.
Children who spend a lot more time social networking online than their peers feel less happy with a number of different aspects of their lives, according to new research by the University of Sheffield.
The more time they spend chatting on social networks such as Facebook, Snapchat, WhatsApp and Instagram, the less happy they feel about their school work, school itself, their appearance, their family and their life overall.
However, it seems that boys and girls may be affected differently by social network use. Girls feel less happy, in particular, about their appearance and their school, while boys feel less happy with their friendships, but happier about their school work.
The research found that spending an extra hour a day on social networks reduced the probability of being completely happy with life overall by approximately 14%.
Most people tend to portray a very positive, even idealised, view of their lives online and part of the problem seems to be the negative social comparisons youngsters then make. This was particularly the case for youngsters in their study who were identified as having low self-esteem.
There was some evidence that reduced happiness could be due to cyberbullying, but that could be a result of the amount of time spent online. The longer the time, the greater the risk of exposure to bullying.
There are also concerns that social media use is associated with common mental health problems.
The United Kingdom's National Society for Prevention of Cruelty to Children has declared social media to be a major cause of the sizeable increase in the numbers of children admitted to hospital as a result of self-harming.
A survey of over 61,000 young people from 33 countries by online game site Habbo Hotel and internet security company Norton found that teenagers felt that they were getting wiser about how they conducted themselves online, though some of the survey data suggests that, for some, those feelings aren't always an accurate representation of reality and not all are, in fact, making wise choices.
Sheffield University researcher Phillip Powell said  their research adds to a growing body of literature highlighting a potential negative impact of increased social media use on the wellbeing of young people.
"The findings suggest that efforts to reduce the time children spend on social media on a typical school day would be beneficial to their happiness in multiple domains."
What can we take from this?
Probably, that there's a good case for regulating, as best we can, youngsters' time on social media and for teaching internet safety early. 
The research found no evidence that time on social networks detracted from time spent doing other beneficial social activities. 
Where to get help
• Lifeline: 0800 543 354 (available 24/7)
• Suicide Crisis Helpline: 0508 828 865 (0508 TAUTOKO) (available 24/7)
• Youthline: 0800 376 633
• Kidsline: 0800 543 754 (available 24/7)
• Whatsup: 0800 942 8787 (Mon-Fri 1pm to 10pm. Sat-Sun 3pm-10pm)
• Depression helpline: 0800 111 757 (available 24/7)
• Rainbow Youth: (09) 376 4155
• Samaritans 0800 726 666
• If it is an emergency and you feel like you or someone else is at risk, call 111.