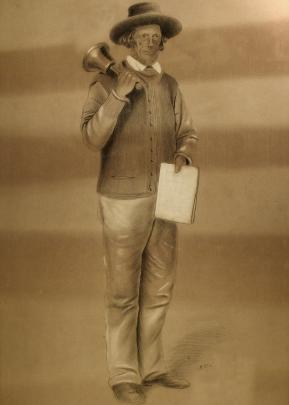 There was no escaping Dunedin's town crier, writes Peter Read. 
Although known for his past involvement in several practical jokes, reports of the death of William "Sandy" Low on April 1, 1890, were no April Fools' Day prank.
Low, having lived in Dunedin longer than most, was a well-known local identity. He was of Scottish descent but had been born on the Caribbean island of St Christopher (also known as St Kitts) in 1810. It was said that he had gone to sea as a 10-year-old. After a time in America, Low joined a whaling ship and sailed for the South Seas. Two whaling seasons later, he was cast ashore in a shipwreck at Waipapa Point and began living with local Maori at Toetoes Bay.
After hearing of the plan to establish a Scottish settlement at Otago Harbour, Low came up to work for Charles Kettle surveying Dunedin in 1846. His Maori wife gave birth to a son at Toetoes Bay in 1847, but 12 months later his wife passed away.
Low then married Elizabeth Fraser in 1852 in Dunedin. The couple settled on a section of land between Manor Pl and Walker St (now Carroll St) and began raising a family.
As well as being one of the first watermen to operate on the harbour, an official in the Church of England, and one of the first Freemasons in the province, Low became well known in his capacity as a town crier. Thoroughly effective with his bell and clear resounding voice, it was said that when Low announced a sale at Pat Crow's butchery, the store would inevitably be stripped bare in one or two hours.
Low was fond of practical jokes and in the mid 1860s took this penchant to new heights. In 1865, the city was expecting a visit from Governor George Grey. Two cannons, one of them the cannon from Bell Hill today on display at Toitu, were readied for the occasion. The plan was to fire one of these guns when it was time for the Volunteer Regiment to assemble to welcome the governor. At midnight a bugle call was heard. This was taken as the signal to fire the cannon. At the cannon blast, the Volunteer Regiment and other townsfolk leapt out of bed and mustered in the centre of town - only to discover it had all been a rather clever hoax.
Also in the mid 1860s, when the Town Board was replaced by the City Corporation, the role of town crier came under threat. Legend has it that the new Mayor had complained to Low about his incessant bell ringing; to which Low had replied "It is written. What thy hand findeth to do, do it with all thy might" and rung his bell more lustily than ever. As a result, a City Corporation bylaw preventing bell ringing in the streets was soon enacted and Low's bell was heard no more.
The bell, which is currently on display, was presented to Toitu Otago Settlers Museum in 1973.
Peter Read is Curator at Toitu Otago Settlers Museum.