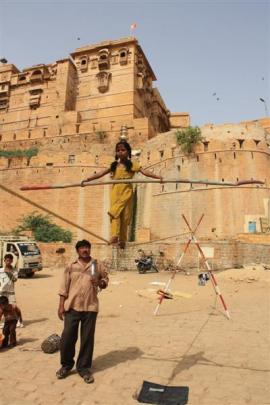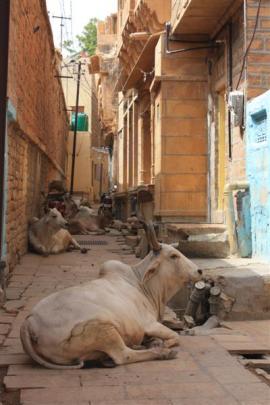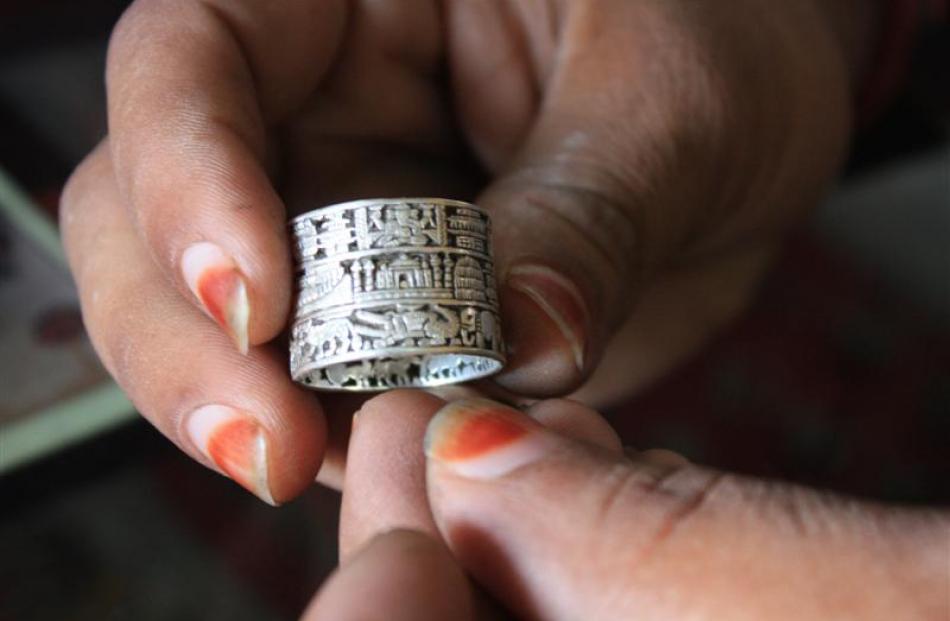 Finding a Kiwi link to the last living fort in India comes as a surprise to Paul Rush.
Lalit Bramason is a jovial fellow with an outgoing nature.
His generous girth is contained on the occasion of our meeting by white slacks and a light blue shirt emblazoned with a gold Rotary Club insignia. He is all smiles as he introduces me to his unique home, a fortress in the middle of the Thar Desert of Rajasthan, overlooking the bustling city of Jaisalmer.
The great fort sits on a triangular hill and boasts 99 bastions and soaring scalloped walls of yellow sandstone that glitter like gold when sunlight falls on them. Lovers of architectural beauty call this monolith of great antiquity (built in AD1155) the Golden Fort or Sonar Kila. Remarkably, this ancient edifice still remains a lively suburb of the city. It is the last living fort in India and the residential precinct is a labyrinth of stone alleyways lined with cubbyhole shops and small apartments.
I'm on my first visit to India, armed with only a superficial knowledge of this great nation of one billion people. I know that the caste system is still deeply entrenched, Hindu, Muslim and Jain religious beliefs are still embraced with passion and animals are revered by some as fellow spirits. This special relationship with the pantheon of blessed creatures and their associated gods has provided India with the richest variety of flora and fauna in the world - it's the only country where both lions and tigers can be found in the wild.
On a walking tour of the formidable Jaisalmer Golden Fort, I learn first-hand about another religion that is close to the heart of millions of Indians - the noble English sport of cricket. Lalit greets dozens of passers-by as we wind our way through narrow cobbled lanes and tiny courtyards. Halfway through our tour, he embraces a young man and introduces him as Panket Bayu, a bowler in the Jaisalmer Kiwi Cricket Club. Panket explains they have Kiwi symbols on their shirts. There are 13 teams in the local cricket league and the Kiwi team is the best, having won the annual competition numerous times.
A little further on, another animated greeting is offered to a tall slim, dark-haired man. He is Naresh Vasu, who proudly proclaims that he is captain of Jaisalmer's New Zealand Cricket Team and the winner of numerous trophies. He displays a silver fern on the numberplate of his motorbike. What I find especially heart-warming is his belief in the integrity and openness of the Black Caps.
''We regard the New Zealand team as the fairest, most honest and most disciplined team in the world,'' Naresh says.
''They're never involved in corruption or match-rigging and the best thing about playing the Kiwis is that they play from the heart, not the mind.
''There are no mind games with the Kiwis or oral abuse on the field like some other teams I could mention.''
I am amazed and delighted to receive this insight into our own cricketing heroes from such an unexpected quarter. He goes on to tell me that Indians have voted Daniel Vettori as the most dedicated, determined and honest cricketer in the world. I cannot doubt his sincerity as he makes this very revealing statement, clearly meaning every word, which is a great kudos for the New Zealand left-armer.
Astonishingly, it seems, we run into yet another cricket enthusiast who tells me his two greatest heroes are Sir Richard Hadlee and Ian Botham.
''New Zealand always surprises me,'' he says.
''In so many sports like cricket, hockey, golf and sailing, you sometimes win against impossible odds, given your tiny population. It's a great credit to the Kiwis, I think.''
Within the walls of the Sonar Fort there is a great diversity of human activity. At times I feel I'm caught up in a whirl of theme-park entertainment, an Asian Disneyland with sacred lumbering bulls, languid cows and mischievous monkeys instead of Mickey Mouse and Donald Duck. Local gypsy women dressed in a rainbow of colourful saris are squatting on the ground playing sitars, doing magic tricks, bouncing puppets on sticks and selling trinkets. A little girl is walking a tightrope clutching a long pole while her father watches anxiously.
Our tour of this giant sand castle in the desert still has a few more surprises, beginning with the authorised Bhang Shop with concealed drawers of green marijuana balls, biscuits and ready-to-smoke reefers neatly stowed in innocuous Benson & Hedges cigarette packets.
''M equals people power,'' the shop owner explains.
Two approved fort guides outside the shop tell me with unwavering assurance that a green tablet taken morning, noon and evening makes them the best guides they can possibly be.
''When a guide feels good, the tourists feel good too, and everyone feels alive,'' they say.
''A little whisky helps as well, as it's a tough job talking all the time,'' one of them adds.
I ask Lalit what makes him spark. He rubs his well-proportioned stomach and says, ''I eat good meals with lots of fat noodles and get intoxicated on quality vegetables, that's why I'm such a perfect specimen.''
Next I meet a yoga teacher who seems perfectly cast for his role: tall, distinguished with a bushy beard and flowing white robes. Laxman Singh is the quintessential swami, teaching religious principles to anyone with a listening ear. He offers me a wealth of worldly knowledge that has been handed down through five generations of Jaisalmer maharajahs and gurus.
''Yoga means knowing yourself,'' he tells me with conviction.
''I'm Hindu and belong to the Krishna family. I believe in all religions and am very happy on the inside, so the world is positive for me.
''I believe Darwinian theory that we are made of stardust and are continuously evolving. Creation and evolution are just different ways of seeing the world and can be reconciled.''
I find myself nodding sagely to these gems of ancient wisdom, delivered with more eloquence than empirical logic. I wonder if this is a case of the charisma of a preacher being more persuasive than the elements of the message. Is this another side of Mother India? The plethora of religious beliefs, tenets and strictures almost defies analysis. This is a complex society and all the more intriguing for that. My Western eyes are becoming more focused on the enduring creativeness and strength of character of the Indian people. It's called enlightenment.
Lalit insists that I meet Raja Soni, an expert silversmith and ring-maker who specialises in miniaturisation. Raja's father has received merit awards from the president of India for amazing feats such as inscribing an image of the god Krishna on a grain of rice and on a human hair. Raja continues this work by engraving three rows of landscape scenes; palaces, forts and wild animals on a single silver engagement ring. A Kiwi traveller requested a pictorial record of his complete world tour on a ring, which took Raja three weeks to engrave.
Our tour concludes with a delicious ''kulfi'' ice cream on a stick created by shop owner Makhanaya Lassi, whose wife alone possesses the secret recipe. It's a pleasant respite in a shady corner of the fort. I've had a pretty good innings today meeting a host of colourful characters and trying hard to absorb their unique culture. They're a great bunch of people in the old Golden Fort. I'm happy to go in to bat for them any day.
• Auckland-based travel writer Paul Rush travelled to India courtesy of Adventure World Tours and Cathay Pacific.
---
Getting There
Cathay Pacific has a same-day connection: Auckland-Hong Kong-Delhi.
Getting Around
Travel companies, such as Adventure World, organise small group tours around Rajasthan in modern vehicles with local guides at each city to show you the sightseeing highlights. Carry a good supply of lower-denomination currency (10, 20 and 50 rupees), as tipping is widely practised in India.
Websites
---