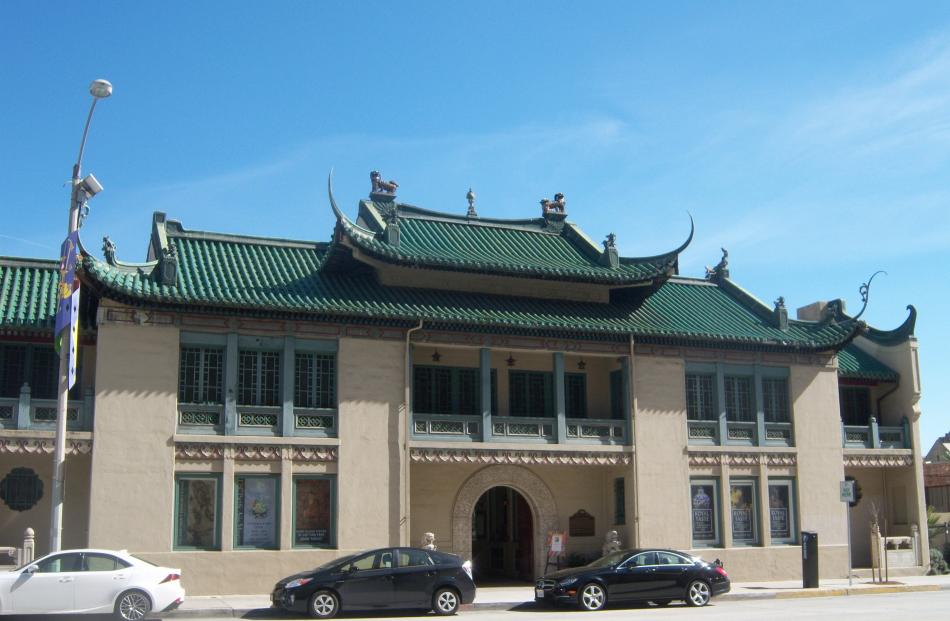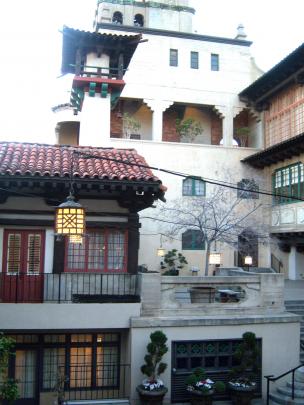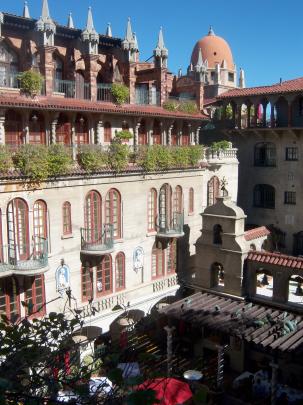 Anabright Hay is captivated by the magnificent obsessions of three Americans.
Eastern art and architecture once proved so addictive to three delightfully eccentric Americans that they built a mansion, a hotel and an art museum in its honour.
Doris Duke's Shangri La home in Honolulu, Hawaii, Frank Miller's Mission Inn in Riverside, California, and Grace Nicholson's Pacific Asia Museum in Pasadena, California, are the result of magnificent obsessions.
Yes, they had the money to indulge their passion, but they wanted the public to enjoy it. All found architects, art dealers and civic leaders who shared their vision.
To know about these properties plants an unshakeable desire to visit them. I am not alone as I climb into a packed mini bus at the Honolulu Museum of Art to be driven to Shangri La. There is a suitably intriguing air of mystery as no-one, except the driver, knows exactly where we're going.
The tour is booked through the museum, which administers this 2-hectare property overlooking Diamond Head.
It was built in the 1930s after American tobacco heiress Doris Duke fell in love with Hawaii and Middle Eastern art and architecture.
A happy coincidence perhaps, but one that saw her commission the building of an exotic private retreat reflecting her twin loves. Duke herself described it as a ''sort of Arabian nights''.
Standing under the shade of a banyan tree at the humble entrance to the house we learn more. A fiercely private woman with immense inherited wealth, Duke seems to have been admirably spirited. She devoted much of her considerable intellect, fortune and energy to treasure hunting. No-one knows exactly what first sparked her interest. She travelled to Egypt, India, Indonesia and China and became fascinated by the rich cultural traditions she saw there. Pieces were also commissioned and overseas dealers employed to search out artefacts.
Stepping inside is to enter a real life Shangri La. We are surrounded by 600 Iznik tiles from Turkey, 84 coloured-glass Spanish-style windows and opulent textiles, urns and wood chests.
These are from India, Central Asia, Iran and Syria. Suitably stunned we wander in a daze from room to room. The tour ends in Duke's marble-lined bedroom with floral motifs based on the Taj Mahal. Hawaii has not been forgotten as the cliff-top location provides sweeping views over the Pacific.
Shangri La remained Doris Duke's treasured retreat until her death in 1993, when she established a foundation for the study of Middle Eastern art and culture.
Oriental art was only one of colourful Californian hotel entrepreneur Frank Miller's collecting interests.
Such was his mania for beautiful objects that he scoured the world for items to entertain the guests staying at his huge hotel in Riverside, California.
Miller hired architect Arthur Benton to design it in Spanish Mission-style. The Mission Inn, which opened in 1903, occupies an entire city block. It contains a chapel, concert hall and art gallery.
I check in then immediately sign up for the next hotel tour. These tours are the only way to see many of the most valuable rooms and antiques.
A couple in our group has driven 94km from Los Angeles just to see The Mission Inn. But as the only Kiwi I probably win the distance stakes.
Awestruck was exactly the response Frank Miller wanted. He aimed to attract an international clientele lured by Riverside's climate, lucrative navel orange industry and his hotel.
We all stare admiringly at a statue of Miller near the hotel's entrance and hear a list of famous hotel guests. Richard and Pat Nixon were married here, so too movie star Bette Davis. The hotel itself features in many films and television shows. Three wings, the Cloister, the Spanish and the Rotunda all add to the hotel's architectural magnificence.
My room overlooks the Court of the Orient. Every evening I dine in the Spanish courtyard while looking up at the chapel's bell tower or listen to the tinkling of the fountain. Atmosphere and charm abounds as the animated laughter of guests ebbs and flows on the warm Californian air.
But the hotel has had a rocky history. After Frank Miller died in 1935 The Mission Inn had multiple owners and some awful modernisation attempts before closing in 1985 for a seven-year renovation. In 1992, local businessman Duane Roberts purchased it, loved it and has brought it back to life.
Pasadena art dealer Grace Nicolson was so keen on Asian art that in 1924 she commissioned architects Marston, Van Pelt and Maybury to build her a Chinese Palace. Designed originally as a private residence and an art gallery ''The Grace Nicolson Treasure House of Oriental Art'' in North Los Robles Ave is now the University of Southern California Pacific Asia Museum.
This distinctive building with its green bamboo patterned tiled roof, two rectangular storeys and interior courtyard sits happily in Pasadena's business district. Born in Philadelphia, Nicholson came to California in 1901 for her health. Orphaned at the age of 15 and with a small inheritance she ran a secretarial services business.
Some of her clients had dealings with Native Americans and this ignited her interest in their culture. Soon she was selling their artefacts and later expanded to collecting and selling Asian arts and crafts. Wellington's Dominion Museum was among the many museums she sold items to.
Today, one has to dodge a fairly constant stream of traffic to get a decent exterior photo of the building. However, once inside its inner courtyard, peace and tranquillity prevails.
The knowledge and attention to detail that Nicholson and her architect applied to every detail is apparent everywhere. Chinese paper lanterns sway in the hot afternoon breeze, an umbrella is up and one almost expects to see Nicholson's ghost glide down one of the stone staircases with their lotus blossom finials.
The museum's collection now contains more than 15,000 objects spanning more than 4000 years from a region extending from Persia to the Pacific Islands.
All these buildings are not merely the exotic fantasies of wealthy eccentrics. To visit them is to share the dreams and curiosity of three generous, visionary and free-spirited Americans.
-Anabright Hay paid for her own travel and accommodation in Hawaii and Southern California.