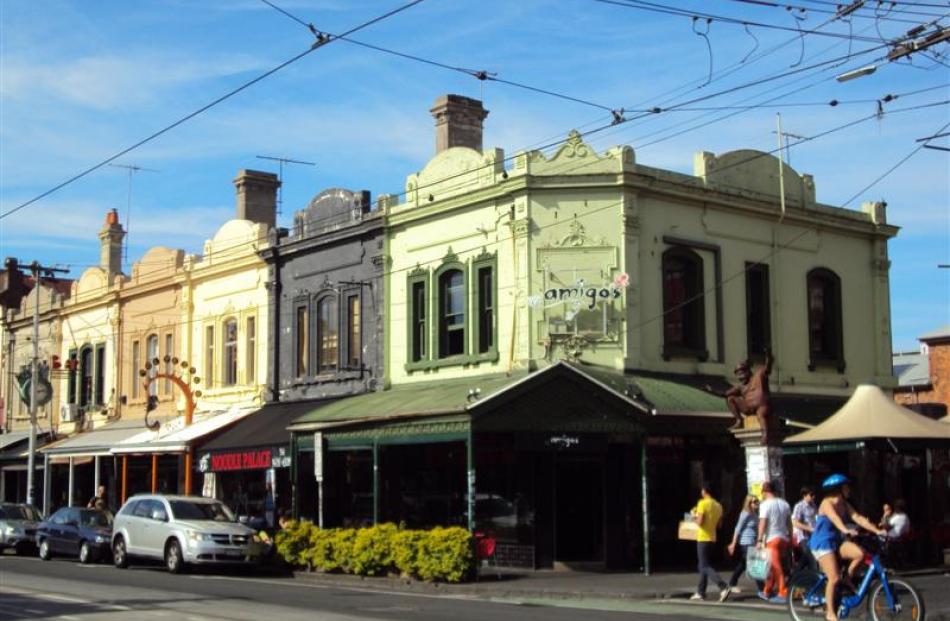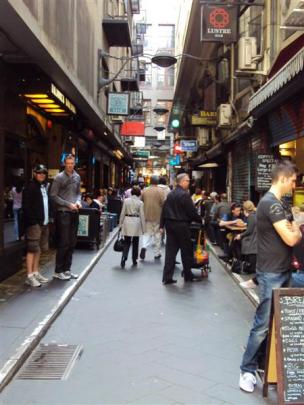 Everything was in place for a romantic weekend away. But the course of true love never did run smooth, as Bruce Munro rediscovered recently in Melbourne.
My wife thinks we are going to Melbourne for a much-anticipated break together.
Little does she know I plan to leave her, sort of.
So here's the plan.
Our wonderful children have been farmed out in various directions for the weekend. And Francesca and I are winging our way across the Tasman for a long weekend in historic, cultural, friendly Melbourne.
As far as she is concerned this is an out-of-the-ordinary and exciting four-day overseas jaunt with her mate.
But after 22 years of marriage, four kids and full lives, I have decided it is time to freshen things up. I plan to ditch, meet, get to know, and woo my wife all over again.
Little do I know, we are both headed for the unexpected.
I love air travel. I did a lot of it as a child. What to others was frustrating queuing followed by long, uncomfortable flying and more queueing, was to me, and still is, the excitement of being transported from one life to something completely different. Take a bus or a boat if you want incremental development. For step change, take a plane.
My first impressions of Melbourne as we travel in from the airport late on Friday afternoon are a little disappointing. This could be any city with endlessly sprawling suburbs. But not long after we pass under the huge, motorway-spanning yellow and red sculpture nicknamed the Cheesestick and Zipper we begin driving down wide, tree-lined boulevards framed by many beautiful 19th-century buildings.
If change is to be the theme, our accommodation is spot-on. This is certainly not my everyday life, standing at the glass outer wall of our room on the 30th floor of the Grand Hyatt Melbourne hotel, looking down to the Yarra River wending its way through inner-city Melbourne skyscrapers and across a wide swathe of this flat, green city towards the ocean, the setting sun throwing a golden glow across the whole scene.
At 6.30am Saturday morning, I am standing in the middle of Flinders St, across the road from downtown Federation Square, clutching my copy of Lonely Planet's Melbourne Encounter and waiting for a tram.
In our room Francesca is probably still asleep. Although I thought she did look at me when I slipped my head around the corner and placed a note on the bedside drawer.
''Morning my darling. I have left so I can woo you afresh,'' the note reads.
"Enjoy breakfast at 8am at Cumulus. Perhaps we will chance to meet as you stroll the Laneways this morning. And I'm guessing a stranger would like to invite you to a picnic lunch across the Yarra in the King's Domain gardens.''
It is a well-executed and beautiful plan I assure myself as I ride the tram east to Richmond in search of what the hotel concierge tells me is a 24-hour florist.
An hour later I am standing in Flinders Lane - Flinders St's narrow cafe-filled little brother - outside the stylish eatery, Cumulus. I plan to walk in, hand the bunch of red roses to the maitre d', ask him to ''give them to the gorgeous woman seated in the corner, and tell her they are from an admirer'', and walk out.
Only, she is not there.
OK, she can be given them when she arrives.
Now back to the hotel to grab a small backpack, pick up a bike from Riverside Rentals and pedal uptown to Queen Victoria Market to buy a picnic lunch.
But when I open the hotel room door, there is my wife on the couch, teary-eyed.
She had not found the note for some time. She does not want to be suddenly told she is in Melbourne on her own. And where on earth is the blasted King's Domain?I press ''pause'' or maybe ''cancel'' on my wild scheme. We collect ourselves and head out together for a belated but delicious breakfast.
Twenty years ago this could have taken days to sort out. But it seems we have not only aged but matured. As we walk back towards the hotel we agree my madcap idea can be played out, but reassessed some time this afternoon.
Push play.
Queen Victoria Market is a fabulous sensory explosion. I let the smells of fresh fish, meat, and fruit; the sounds of stallholders shouting out the qualities and prices of their wares as they have done for generations; and the constant jostle and ever-changing sights of the southern hemisphere's largest open-air market wash over me. Eventually I begin choosing delicious bits of this and that, and then pack it all into panniers on the bike and head back downtown and across the Yarra to the King's Domain, one of several seamless botanic gardens that surround historic Government House.
A few minutes later I spot an attractive woman in shorts and T-shirt pushing a bike up a gentle, woody incline. She stops to look around and I am suddenly not sure how to do this. It has been so long. I make some inane comment about how warm it is, and add that I am about to have a picnic under shade and would she like to join me?
Having lunch with men she does not know is not OK with her, and she would rather be in the sun getting a tan, she replies.
OK, I think, don't make it easy. Game on.
''Well then, I'd better introduce myself,'' I say.
"And I'm sure we could find somewhere with shade and sunshine.
"I really do have too much food for just one person, and it would be a shame for it to go to waste and for you to go hungry.''
On a warm Melbourne Saturday afternoon, over a sumptuous bread, wine and antipasto picnic, Francesca and I get to know each other. She is forthright, cheeky, thoughtful and earnest.
The conversation traverses work, family, travel, spirituality, world events, politics ...
We discover, despite our different backgrounds and personalities, we share many of the same values, beliefs and concerns.
At some point it strikes me how much I like who this woman is. By getting rid of the necessary but mundane minutiae of ordinary life and removing the assumptions of foundational conversations held long ago - even just for an hour - I am seeing with fresh clarity why I wanted to spend my life with her.
We step out of our role play and I give my wife a kiss. We cycle off to explore Brunswick St, Fitzroy, a multicultural, Victorian-era suburb replete with cafes and vintage clothing stores. By mid-evening we are on the city's swanky Southbank. The city is in the midst of its annual International Arts Festival and we have caught a performance by acclaimed United Kingdom dancer Akram Khan. But now we are wandering the bund somewhat aimlessly, enjoying the nightlife around us and the city lights reflected on the Yarra's dark waters.
Drawn by the sound of a distinctive rhythm, we find ourselves in front of the Festival Hub, a brightly coloured two-storey corrugated iron building on the river's edge.
There is not even standing room downstairs, but we are lucky enough to find a gap on the mezzanine floor. Immediately below and in front of us on the stage are a charismatic young Melbourne Indian couple and the rest of their band, Bombay Royale. Voices, guitars, sitars, trumpets and drums fill the venue with the most fantastic retro-Bollywood, funk fusion sounds we have ever heard.
Next morning from our breakfast seats on the 31st floor it is obvious Sunday will be cooler and more windy. We catch a tram up to QV Market to hunt out a special something for each of the children, then pick up a packed picnic lunch back at the hotel before finding a tram that will take us to seaside St Kilda.
Friends now living in Melbourne are a no-show at the St Kilda Pier, so we find a sheltered corner to enjoy our picnic, and then browse the kilometre of craft stalls on Jacka Boulevard. It seems the whole of Melbourne is out cycling, as we are passed by a constant stream of Lycra on wheels.
Back in town we duck out of a rain shower to get lost in the National Gallery of Victoria. Then Francesca takes me on a highlights tour of the Laneways she explored the day before. Late on a weekend afternoon these atmospheric shop, cafe and graffiti art-filled alleyways are being used as backdrops to wedding photos, modelling shoots and even a well-known singer's press conference-cum-photo op.
We slip uptown for a pre-dinner drink at the Rooftop Bar, on Swanston St. Our ever-informative hotel concierge has warned us not to take the lift. So we climb the six floors of stairs in this somewhat abandoned-looking building, to emerge at an un-touristed locals bar with engaging views of rooftop Melbourne slipping into shadow as the sun drops low between two high-rises.
It is dark when we step in to Hosier Lane and pull open the door of MoVida Bar de Tapas.
For the next couple of mouthwatering hours we are initiated into the world of authentic Spanish tapas. We think we have sampled this cuisine before, but it is a colourless facsimile compared with MoVida's hand-filleted artisan anchovy on croutons with a smoked tomato sorbet, the crispy pig's ear with compressed apple, the quince paste cigar with whipped buffalo milk cheese ...
We roll out of there late, having scored a minor victory for gluttony.
My arms are around my wife's waist as we once again stand at the glass wall of our hotel room, looking out across the colourful city nightscape. In just a few hours our Melbourne sojourn will be over, and we will return to jobs, family, mortgage and unmown lawns. Has this trip worked its hoped-for rejuvenating magic? Yes, to a degree. But it has also given an unexpected, deeper insight.
The first, intense flush of new love is unique, but comparatively short-lived. That does not mean a relationship has to stagnate. Getting out of the routine helps keep things fresh. And continuing to grow as individuals means we regularly bring something new to our partnership.
The alternative is the never-ending pursuit of new love in a string of short relationships. But the benefits of a long-term relationship belong to those who accept it has to mature and change. Here I am standing with my companion of 22 years. There is so much we share without a word spoken - years of excitement, hard work, boredom, tears, laughter, reality and dreams. And this weekend in Melbourne is pouring more water into that deep well.
Yes, that is how I will love you Francesca - deeply.