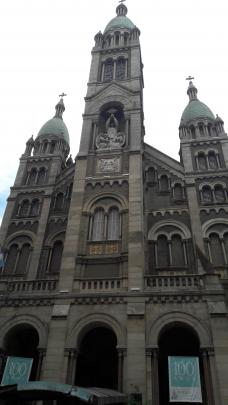 The Bee Gees and a few beers gave Tony Nielsen a great start to his holiday in Buenos Aires.
My  introduction to Buenos Aires couldn't have been better.
On a corner not far from my hotel, a group of young guys were sharing the local brew while spontaneously making music.
Always keen to give my rudimentary Spanish another test run, we got talking. Although their English was also far from polished they decided to serenade their new buddy with a stirring version of the Bee Gees' I Started a Joke, with guitar and trumpet accompaniment. Word perfect.
Somehow, the music of the Bee Gees created a bond and a higher level of togetherness. And yes, they also shared their beers with me.
My brain had been at half mast after a couple of punishing early-morning flights, after landing at Ezeiza International Airport, one of two serving the Argentine capital city of Buenos Aires.
Immediately I noticed that I was at sea level rather than the high altitudes I had experienced for two weeks in Bolivia. Off to a good start in what was to be another exciting South American adventure.
My hotel was in the midst of downtown Buenos Aires, the name, bestowed by the Spanish in the 16th century, meaning ``fair airs''. I guess that comes from its location on the banks of the Rio de la Plata, famous for the Battle of the River Plate, the first sea battle fought in the Atlantic between the British and the Germans in World War 2, resulting in the scuttling of the German cruiser Graf Spee.
The population of the greater Buenos Aires area is about 17 million but it still has a homely yet sophisticated feel, and seemingly the locals enjoy a laid-back approach to life.
Over the next few days I dealt to my long list of highlights, having plenty of time to soak up the atmosphere and see what made this big city appealing.
The rich Spanish history of Buenos Aires was what had helped create most of the must-sees for me.
I had decided to do my own thing and forgo locking myself into local touring arrangements and it worked out well, especially from a budget perspective. Not knocking the tour operators; just a money call on my part.
The name on everyone's lips when they look at Buenos Aires in terms of tourist sights, is, of course, Eva (Evita) Peron. So, naturally, my first location to visit was Recoleta Cemeteria.
The first impression when you walk through the gates is `` wow''. If you haven't been to a cemetery like Recoleta before, you will share my amazement.
The thing is there are no graves as such; everything is so much more grand than that. It's like a city within a city, as the crypts and mausoleums all seem to be in competition with each other to be taller, bigger, more grandiose than its neighbour. And to add to the city concept, there are rows like streets in which the crypts are located. As a result, it does takes a bit of working out to find the famous burial place, but eventually I was in front of the plot headlined by the Peron name.
You will not be on your own as you pay homage to Eva, as it's the one that everyone was making a beeline for. If you're like me, it will be a spiritual experience to savour.
The next day was a Monday and after my Evita moments at Recoleta I was keen to continue my Evita pilgrimage with a visit to her museum.
Oops. I found out the hard way that my research hadn't told me it's closed on Mondays.
With a lengthy list of sights still unseen, I decided my Plan B would be a tour of Santissimo Sacramente, or the Basilica of the Holy Sacrament. It turned out to be a magnificent choice. The basilica has connections to Pope Francis, who worshipped there when he was archbishop and then cardinal in Buenos Aires.
Having just celebrated its centenary, the Basilica looks imposing from San Martin, the street on which it is located. But that is nothing to what awaits you inside.
Having seen numerous impressive churches, cathedrals and religious monuments already in South America, I wasn't prepared for just how wonderful the Santissimo Sacramente is on the inside. I was in awe as I soaked up the grandeur and was in no hurry to leave.
After my faux pas with the Evita Museum, and still marvelling from time spent at the Basilica the day before, I didn't waste any time making my way back to the museum the following day.
Again, it was to be a very interesting learning experience, especially as my knowledge of Eva Peron was fairly sketchy.
Taking photos inside the museum is not allowed once you get past the foyer, which was a shame, as there was much to learn and it was a visual smorgasbord.
Before she met and married Juan Peron, Eva Duarte was a successful actress, and then as first lady she used her influence to help those in need, especially in the trade union movement and in matters of health.
The museum reflects every aspect of Evita's life until her early death from cancer, aged just 33, in 1952. Her clothes, numerous photos and images, and a timeline of her life all demonstrate how important she was, and is still, to the people of Buenos Aires and Argentina.
It was for me a very sobering experience of another life ended too soon.
During my first few days in Buenos Aires I used the local taxis to get around but once I had a feel for the geography of what is a fairly compact city, given its size, I made walking my way of exploring around. You see so much more when you do, I reckon.
The main streets are very wide, with the lanes on either side separated by tree-lined boulevards and, in some cases, by monuments like the Obilesk on Plaza de la Republica.
My next goals were to explore the art world, at the two major galleries: Malba, the museum of Latin American art, and Mamba, the museum of modern art in San Telmo.
Both were great, but I especially liked Malba because of the Frida Kahlo original painting, the famous self-portrait with a monkey. It had so much presence for me, similar to when I saw the Mona Lisa at the Louvre a couple of years ago.
As my walking took me in different directions I made many discoveries.
For instance, if you are looking to buy books in English, forget it. Even the famous El Alteno bookshop couldn't deliver on that front.
On the other hand, if you want music, you're in luck. As a vinyl fan I lost hours browsing the jazz and blues sections of a number of local music shops, more than a couple of them with deep, deep collections, better than at home by a country mile.
The only problem was that the prices were a little steeper because of Argentina's import taxes, but that didn't stop me from indulging.
One aspect of Buenos Aires that also appealed to me was the street art. Just about everywhere I went there was more to admire - spectacular creations honouring people like Billie Holiday and Frida Kahlo or just well-structured individually themed modern artwork .
Often these art features were only on show at night, as they are painted on to the pull-down garage doors that shops use to protect their businesses when they close for the day.
That said, I found Buenos Aires to be a very safe and welcoming city. I did witness two large protest marches during my stay, but these were very orderly and not in any way threatening. It seems the people of Buenos Aires have no fear about expressing their opposition to local or national government policies.
Other observations include female footwear fashions that saw the platform heel as the local shoes of choice. By far the majority of females in the city had opted for some more height via their choice of footwear.
On the food front, steaks are to die for, even at the most modest eateries, and the pastries an absolute essential with your morning coffee, in my case cortado, or cafe blanco plano (flat white).
While I didn't venture far outside Buenos Aires, Argentina has so much more to offer Kiwi tourists.
You can venture inland to become a gaucho, or cowboy, on one of the many ranches that offer these experiences, or you can spend a couple of days or more around the Iguazu Falls, or take a ferry across the Rio de la Plata and get to know another South American country in Uruguay, staying overnight at its capital city, Montevideo.
With some parts of the world becoming more risky for travellers, Buenos Aires could be a good choice for your next holiday.