Doug Hansen discovers a Caribbean gem.
"I want to go to somewhere nice in the Caribbean,'' my wife, Sharen, has told me maybe a thousand times. So finally, for her birthday, I arranged a five-day visit to St Lucia that, I'm relieved to say, exceeded our expectations.
Even though getting there required a couple of flights from our home in California, it was worth the effort for a number of reasons, including super-nice people, memorable meals, spectacular landscapes, good beaches and lots of fun activities.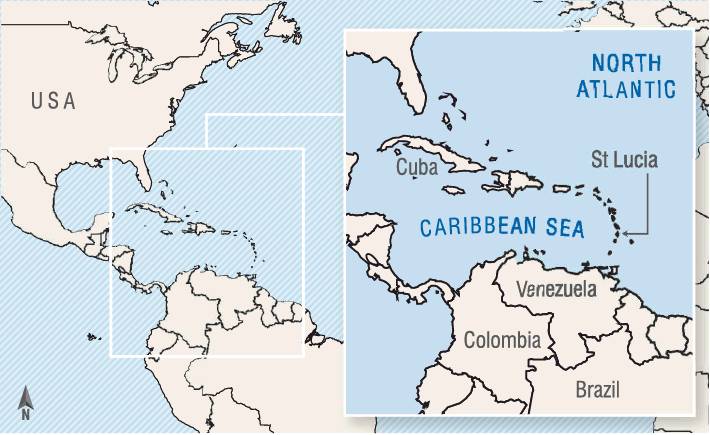 Based on our experience in St Lucia, I'm suggesting a new marketing slogan: "The 4 Cs of St Lucia: clean, courteous, colourful and comfortable.''
Understandably, my wife's first question was, "Where is St Lucia?'' The small island nation (43km long by 22km wide) with 185,000 residents lies in the eastern Caribbean Sea, northeast of St Vincent, south of Martinique and just 560km north of Venezuela.
While most of the people can speak a variant of French called Creole, the official language is English, which makes sense, given the country's history of alternating French and British colonisation.
My internet sleuthing also revealed that St Lucia is known for having an attractive interior and being a great honeymoon destination (true!), and for its pitons (pointy mountains) and the Caribbean's only drive-in volcano. So far so good.
After landing at the small, welcoming airport, we arranged for a driver to take us to The Landings Resort & Spa in the far north.
The island's only road led us past banana plantations, coconut palms and verdant mountains during the nearly two-hour drive. Only in the island's capital and largest city, Castries, did we encounter a few minutes of traffic congestion.
Once we entered the Landings' gated compound, we felt at home among the tidy, two-storey buildings that encircled a private marina.
Our two-bedroom unit overlooked one of the resort's three pools and the marina's boats. With elegant furnishings, a full kitchen and an 18sq m balcony with a private whirlpool spa, our room was spacious, attractive and comfortable.
At breakfast the next morning, my wife looked positively radiant as she surveyed more than 20 food choices. That evening, our dinner at The Palms by the marina couldn't have been more romantic.
Since the north part of the island is known for its upscale homes, hotels and restaurants, we decided to check out several special places, starting with the BodyHoliday Saint Lucia hotel and spa.
We ate lunch at one of its five restaurants and later mingled with guests from Europe and the US, who were there seeking rest and pampering, along with top-rated meals and ample sunbathing by the curving, sandy beach.
The resort might set a Guinness record for "most activities offered in one day'' - I counted 45 listed on the signboard!
That night, we had an enchanting dinner at The Naked Fisherman restaurant, perched on a large wood platform overlooking a beach tucked between two rocky cliffs. As we savoured our grilled fish and baked bananas, a row of glowing tiki torches and a musician's soothing songs provided the final touches to a memorable evening.
The next day we drove to Rainforest Adventures, where a cable car carried us 300m up a mountainside as a young woman educated us about the local fauna and flora.
Below us we heard gleeful screams from riders careering down one of the attraction's two zip-line courses.
We finished with a 20-minute rainforest hike that introduced us to some of the island's tropical flowers and exotic trees.
For our final three days, we headed south to the most picturesque part of the island. What made this area so special were the Pitons - a pair of 750m-high volcanic spires, covered with greenery, that resembled a lion's pointed canine teeth.
We were excited to stay at the Ladera Resort because of its unique location, perched on a knife-edge ridge 300m above sea level, in the middle of a Unesco World Heritage site.
To say our room was special is an understatement. As we entered the rectangular, all-wood room, we noticed the unusually high ceiling and the mosquito-net-covered king bed, but nothing had prepared us for our postcard-perfect view of the Pitons towering over the azure bay below. Each of the hotel's rooms enjoyed the same view, as did the open-air restaurant and adjacent swimming pool.
Shortly after our arrival, we walked to the nearby Hotel Chocolat Boucan, known for its fine food and its chocolate-making tours.
The property grows its own cacao and invites visitors to learn how to make chocolate from raw cacao beans. After our lesson, we appreciated chocolate as never before, since it required 30 minutes of non-stop, forceful bean grinding to prepare the chocolate paste.
My wife is crazy about snorkelling and swimming, so we drove to the secluded Ti Kaye Resort & Spa to indulge her passion. This adults-only resort provided an attractive, protected bay for water sports.
Our final outing was our toughest - a climb to the top of Gros Piton, euphemistically called a hike. Towards the end we had to grab branches, roots and ropes before staggering to the top. The view was nice, but afterwards, we relished our visit to the nearby 15m Toraille Falls for a cooling swim.
Returning to the hotel, we splurged on a couples massage in our room that never felt better. That evening, my tired legs needed our room butler's golf cart ride to dinner.
After five memorable days, it was time to say goodbye to St Lucia and the people whose names reflected their personalities: Miracle, Tenderly, Hope, Majestic, Scholasticus and Precious.
How can you not fall in love with an island full of such nice people, spectacular scenery and so many fun things to do?
Doug Hansen is a travel writer and photographer based in California.
- TNS
If you go
Accommodation
Ladera Resort:
ladera.com, reservations@ladera.com
The Landings Resort & Spa:
landingsstlucia.com, info@landingsstlucia.com
Activities
Chocolate-making tour & lunch: Hotel Chocolat Boucan,
www.hotelchocolat.com/uk/boucan/the-experiences.html
Rainforest Adventure:
rainforestadventure.com/pages/st-lucia
Eating
The Naked Fisherman at Cap Maison:
www.nakedfishermanstlucia.com or www.capmaison.com
Other
Ti Kaye Resort & Spa:
tikaye.com, info@tikaye.com
BodyHoliday:
thebodyholiday.com
St Lucia information:
www.stlucia.org