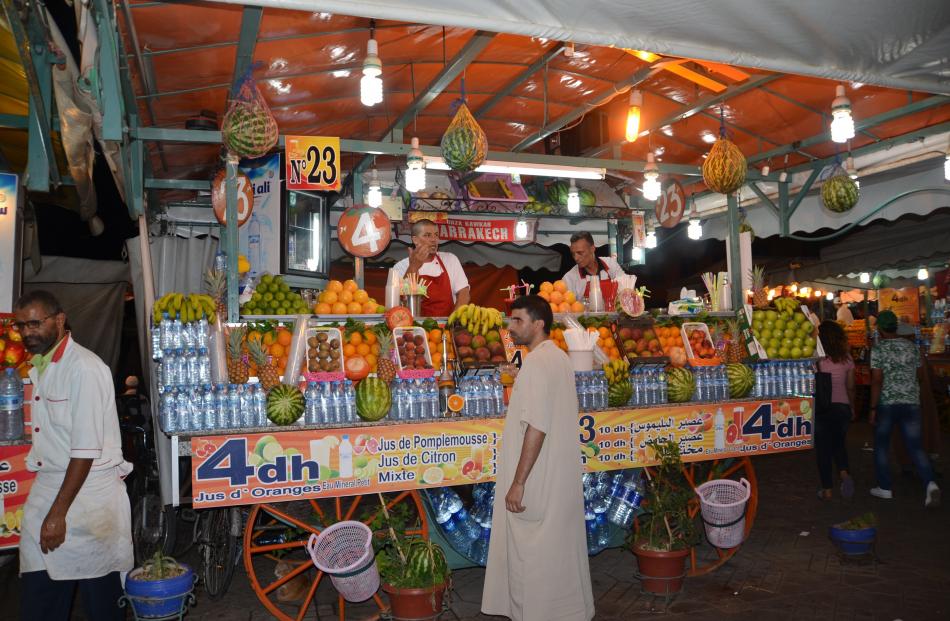 Marrakech has more attractions than you might expect,  Sandip Hor finds.
I always thought snake-charmers existed only in India, but I am proven wrong when I arrive at the expansive Jemaa el-Fna precinct in Marrakech, Morocco, where several of them are entertaining the crowd of locals and visitors.
As the charmers play their flute, I am amazed to see generous-size cobras and pythons springing out from the basket just like magic, rising up and swaying their heads as if dancing with the music. This reptile theatre generates some eerie feeling, but locals assure me the entire show, which includes a snake being loosely tied around the spectator's neck for a photo-shoot, is absolutely safe and harmless. ``It's nothing but an age-old trick that's been shown here for centuries'', they say.
In fact, the greatest lure of Marrakech for the outside world is experiencing some of these old tricks, traditions and the way of life that hasn't changed much since the city was founded as an imperial fortress by the Almoravid monarchs in the 11th century.
Unquestionably, Jemaa el Fna is the ideal venue to encounter them.
This triangular-shaped paved area is located inside the old medina, which is a densely packed urban conglomeration, characterised by a mesh of rundown alleyways, with never-ending turns, twists and crossroads to get outsiders puzzled in no time. Mosques, tombs, medersas and royal residences scatter the medina as historic and aesthetic illustrations of Marrakech's heyday. Tombs of Saadian emperors, Kasbah Mosque, Ben Youssef Medersa, Palais el Badi and Bab Agnaou are a few from the long list.
However, most significant, architecturally and historically, is the 1000- year-old Koutoubia Mosque. It's located close to the souk or the big bazaar edging Jemaa el Fna.
Because of its strategic position in the cityscape, Jemaa el Fna evolved as the epicentre of Moroccan cultural traditions staged through multifaceted political, musical, religious, social and artistic expressions; typical Moroccan culture being a unique mix of influences from native Berbers, Saharan nomads, African slaves, Arab traders and European colonisers.
The paved arena has a grisly past. One of the key things happened here till end of the 19th century was beheading of the sentenced criminals and political enemies.
Today with all bloodstained spots washed out, this World Heritage-listed site is one of the planet's most fascinating open-air stages where the outsiders meet thousands of locals every day, not only to get enthralled by the black cobras hissing and dancing, but also to discover many other extraordinary appeals to aptly blow their minds.
Day begins here pretty early in the morning by the arrival of the orange juice vendors, who are followed by a ragged assortment of hawkers selling cheap clothes, household items, food and souvenirs for tourists.
Soon they are joined by soothsayers, henna tattoo artists, dubious dentists and snake charmers, their magical acts with the reptiles deemed as a major attraction of Marrakech.
Traditional water sellers, iconic from the old Arabic world, come in to rescue the people from the heat. Seated around the corner are the storytellers trying to build a crowd around them by narrating interesting episodes which connect the people, particularly the younger generation, with the land's rich heritage.
As the golden rays of the dipping sun begin glittering the pink minaret of Koutoubia Mosque, the atmosphere becomes really frenzied with a much larger crowd and many more performers. The venue becomes an open-air stage of culinary adventure and showbiz.
Every day hundreds of makeshift food stalls are set up with self-proclaimed ``Master Chefs'' preparing typical Moroccan dishes from merguez sausages and harira soup to snail stew and lamb or chicken slow-cooked in tagine pots. Smoke coming out of their ovens engulf the area while the aroma of food fills the air.
Dining beneath thousands of stars and beside thousands of people is a part of Marrakech tradition. This is how locals have been breaking social barriers and making new friends.
The entertainment at night is in parts, circus, theatre and music.
Acrobats thrill the crowd by building human pyramids while crossdressed belly dancers try to bring alive the spirit of Arabian nights. The Gnaoua musicians, who are descendants of African slaves, play drums and castanets and sing their trance-like songs to hypnotise the crowd surrounding them. Dressed in traditional costume with shell-encrusted caps and spinning tussles, they are said to be mystical healers who by their music capture spirits and create rituals, revealing a mix of black African and Arab-Berber ancestry.
Famous author Edith Wharton wrote in her 1920 published book In Morocco about listening to the Gnaoua singers at Jemaa el Fna. Her description matches what the modern generation witnesses today, testifying to the efforts of locals to keep alive their past rituals and various forms of human collaboration. In 2001, Unesco recognised its significance and declared the daily happenings as an outstanding example of the world's intangible cultural legacies.
By participating in this revue, visitors discover the charisma of Marrakech and realise why this destination is on everyone's bucket list.
Travel Notebook
Getting There: Fly Singapore Airlines (www.singaporeair.com) from Christchurch and Auckland to Paris via Singapore and then Royal Air Morocco to Marrakech.
Accommodation: Located inside the medina, Hotel La Maison Arabe (www.lamaisonarabe.com) offer luxurious Moroccan hospitality.
Morocco Tour Operator: By Prior Arrangement (www.bypriorarrangement.com).