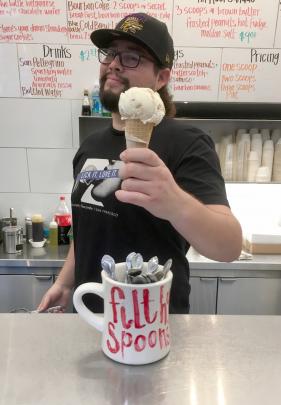 San Francisco still celebrates its flower-child past, but provides any number of hats to wear, writes Julie Orr-Wilson.
"Be sure to wear some flowers in your hair," that was the standard response to my announcement I was taking a trip to San Francisco. It became a little tiring but I could not complain, I had done the same to my niece when she had gone. I doubt she understood, but I was certainly familiar with Scott McKenzie's 1967 hit song, San Francisco, from which the line comes.
The song was written by John Phillips, of Mamas and Papas fame, inspired by the gentleness and love he experienced in the city's Haight-Ashbury district, where lots of young people had gathered at the time, and  became the unofficial "Summer of Love" anthem, capturing the counter-culture vibe of the anti-Vietnam War, hippie and flower-power movements, I held off visiting Haight-Ashbury district until my last day, a little nervous that it would be as touristy as that other San Francisco must-do, Fisherman's Wharf. The ride there on the No.7 bus was  outstanding, passing  as it did rows of  Victorian and Edwardian terrace houses, resplendent in their "Painted Ladies" livery. The fashion for redecorating exteriors in the bright "colorist movement" style took off in San Francisco in the 1970s. The use of three or more bright colours to embellish the "ladies" features makes them an architectural delight.
The colour continued as I hit Haight St. Riotous windows, eccentric art installations, music stores, vintage clothing, cafes and characters abound. It was fun and funky. For a non-shopper and former window dresser, it was pretty enthralling.
Haight-Ashbury features some outstanding street art. The mural walking-tour I had hoped to take was unavailable, so instead I embarked on a 40-minute hike up Buena Vista Park and was rewarded with the most outstanding views of San Francisco, the Bay and, in the distance, the Golden Gate Bridge.
I had taken a Wheel Fun Rental bike with self-guided GPS to Golden Gate, along a natural beach trail past familiar sounding landmarks — Aquatic Park, Fort Mason, Marina Green, Presidio Parkway and Chrissy Field — all worthy of exploration.
There's a sense of satisfaction in climbing the steep approach to the bridge. It's a stunning ride.
Lunch was at the famous Hard Rock Cafe, on Pier 39, a showcase for music memorabilia and the tastiest burger in town. With my delightful host Emilie's encouragement I ate my first poke (pronounced po-kay), a mix of fresh tuna in sesame and soy, served on a bed of avocado and Asian slaw. A recent refurbishment of the cafe to celebrate the 50th anniversary of the "City of Love", had included ingeniously recycling a vintage carousel as a feature on the ceiling above the bar. It became apparent that no visit to San Francisco was complete without a visit to Alcatraz, and as that came with the opportunity to be out on the bay with Alcatraz Cruises, I could not resist.
Thousands of others must agree because bookings are at a premium and must be done well in advance. Alcatraz, Spanish for pelican, began as a lighthouse station, was later a military prison and finally a federal prison from 1934 to 1963.To a soundtrack of jangling keys, raised voices and slamming cell doors, the audio for the self-guided  tour provides a rich and detailed history of prison life. The escape stories captured my attention. Alcatraz was a prison for those who had committed crimes on the inside; escape being the biggest crime. Alcatraz, surrounded by water, patrolled by its flood, ebb and rip tides, foiled all attempts. In its 29 years as a penitentiary, 36 inmates tried to release themselves on 14 occasions, one even using surgical gloves as water wings, but all failed.
Alone (well, there were 349 other visitors, but not one spoke to me) it's pretty eery, night falls, the cold bites, it's bleak. I felt captured myself, at the mercy of the boat. I would not swim, but was inclined to agree with Frank Weatherman, the last prisoner to leave, that "Alcatraz was never no good for nobody". My spirits lifted only when I found the brochure "The Gardens of Alcatraz", which provided a distraction by focusing on the Mediterranean flora. It was lighter relief than learning how prisoners in solitary confinement would wait out their time in the dark by ripping a button off their shirt, throwing it  in the air and searching for it, before repeating the process over and over.
San Francisco also offered exquisite beauty. The unexpected discovery of the Palace of Fine Arts, in the Marina District, felt like I had been dropped into Italy. It was designed by local architect Bernard Maybeck for the Panama-Pacific International Exposition, in 1915. The aim of the exposition was to inspire renewed confidence in the city after the 1906 earthquake and fire, along with boosting international trade.
The soaring colonnades and decorative rotunda of the park-like setting, complete with pond, were intended by Maybeck to evoke a Roman ruin, sadness and solemnity. Now a backdrop for cultural celebrations and wedding parties, it's also a peaceful place for the public to wander and enjoy.
It's an easy uphill walk from Washington Square, where I had watched the early morning tai chi and Chinese fan-dancing  devotees work out, to San Francisco's scenic lookout, Coit Tower. This 1933 Art Deco concrete structure is no architectural beauty, some suggesting it is reminiscent of a fire hose. That makes sense, given its eccentric benefactor, Lillie Hitchcock, had a special relationship with the city's firefighters.
It is the inside that counts more for me. Inspired by Diego Rivera, a group of muralists decorated the lobby and staircase using a fresco technique, executed in his style. Strongly socialist in their content, initially very controversial, these thought provoking murals are a must-see. I was particularly struck by the beauty and style of Maxine Abro's Agriculture in California mural, discovering that she had been one of America's leading artists.
I had not realised Coit Tower's address was 1 Telegraph Hill. Here I was, in the place where my favourite nature documentary, The Wild Parrots of Telegraph Hill, had been filmed. Resisting a selfie, instead I sat under the street sign, watching out for green conure parrots, thinking back to the modern-day St Francis featured in the documentary, Mark Bittner, and the touching relationship he had forged with these wild birds. Before my visit I had joked with my San Francisco friend that my trip could be titled, "Rare bird (a Kiwi) flits with the parrots of Telegraph Hill".
Staying at central Zelos Hotel, in Market St, had been a treat, offering superb hospitality, great in-house service and Asian-fusion food. Just down the street is the Ferry Building, where an amazing farmers market takes place on Saturdays. Having  strayed from my standard breakfast by consuming three delicious  meringues from French bakery, Choux, I continued  as I had begun at the market, with a "Secret Breakfast" of cornflake icecream. Later a steaming cup from Blue Bottle Coffee and a Hoi An meatball sandwich, from Out The Door, balanced the score.
Outside, locals shopped for fresh produce from an outstanding range of stalls.These were not my only indulgences. I had been fortunate to dine at an "eatfeastly",  where the chefs had dished up a modern take on the food of Istanbul. "Eatfeastly" is where talented chefs "pop up" in exciting locations and showcase their best.
Celebrated San Francisco tour guide Blondina ushered us around a terrific Local Tastes of the City Tour, taking in bakeries, restaurants and cafes, while filling us in on the history and quirks of the North Beach/Little Italy 'hood. It made for a great introduction to the streets and vibe of the city. Blondina claimed that at restaurant Stinking Rose "they sprinkle food on their garlic". She also described how she helped out with the 'hood's annual dinner, hosted at the Italian style Saints Peter and Paul Church, to raise funds for the homeless. It was heartwarming to hear that a sense of community existed in the inner city.
To round off my visit, I managed to make it to San Francisco's Moma (Museum of Modern Art) where there was a retrospective of American photographer Walker Evans' work, focusing on his love of the American vernacular;  and Moad (Museum of the African Diaspora), for its exhibition, "En Mas", reflecting on carnival performance practices related to experiences of slavery and colonialism.
I had come to feel quite at home in this unique, vibrant and creative city. Heading down Market St for the last time, it seemed an extraordinary and fitting farewell to feel the whoosh of feathers graze my head, to look up and see a perky conure parrot heading home to Telegraph Hill.
- Julie Orr-Wilson is a Dunedin-based writer.