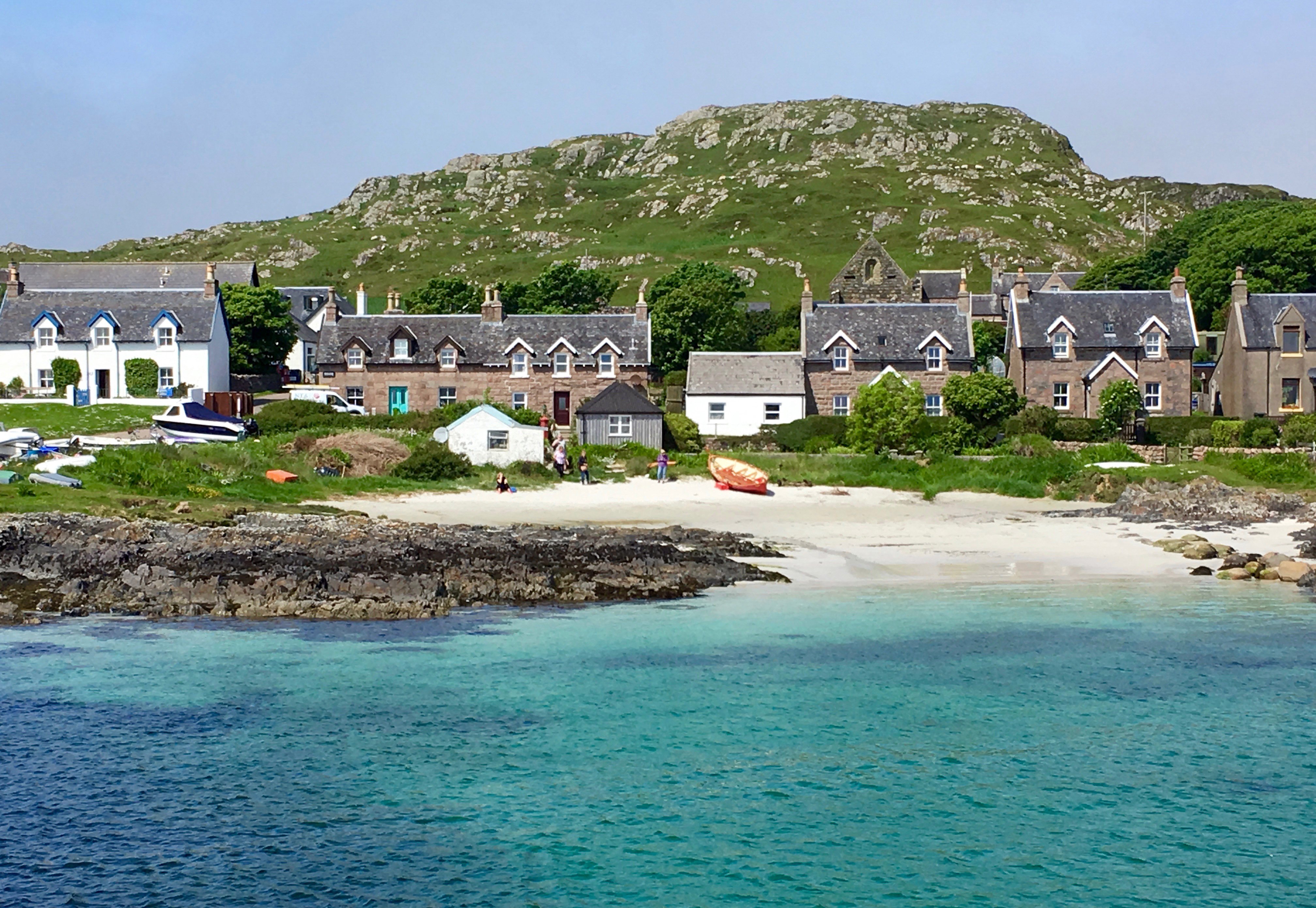 Travelling the HIghlands and islands of Scotland is a trip through robust but scenic history, writes Julie Orr-Wilson. 
We wait with trepidation on the Royal Mile and it doesn't help that it's a dreary, drizzly Edinburgh morning. Trepidation turns to anxiety, perhaps regret, as we "tour bus virgins" settle into our seats along with 14 others. Silence. I sleep. Beyond Glasgow, Tommy, our kilted driver and guide, plays a Scots rock version of the Bonnie Banks o' Loch Lomond that wakes me up. Solo traveller, New Yorker Sue, opposite, comments on this. The Americans behind lean forward to listen and one half of the elderly French couple relays all to his slightly hard of hearing other. This the introduction to our travelling companions for the next few days as we visit two of the some 600 islands off the west coast of Scotland.
There are multiple interpretations of the Bonnie Banks song but most relate to the Jacobite uprisings of 1745. Tommy's version explains how the Hanoverian British victors would play cruel games on Scottish captors, taking brothers or friends and pronouncing that one could live, one would die, the pair having to chose. Both return to Scotland; the high road refers to via the hilltops, the low road means by death.
Sobering, but it's hard to stay sad as we wander the pretty village of Luss on the west banks of Loch Lomond. More than 36km long, and between 1-8km wide, the loch is the largest inland stretch of water in Great Britain.
We're beginning to understand Scotland. It's all about clans and bloody battles here, and Luss is no exception, the ancestral home of Clan Colquhoun with a history of land raids and sieges involving canon-ball killings and murders.
Travelling the length of the loch, the countryside is lush and green, interspersed with the wild purple rhododendrons of late spring. Winding skyward to the famous pass "Rest and Be Thankful" - words inscribed on a stone by soldiers who built the road as part of the military network created through the Highlands following the Jacobite rebellion - there are plantations of Norwegian spruce. Beyond the Arrochar Alps, spectacular Ben Arthur is hidden by gossamer haar shrouding the hills.
This A83 route is described as "some of the most beautiful countryside Scotland has to offer".
Then it is down to the province of Argyll, home to the Campbell estate, one of the largest and most powerful Highland clans. The surname, originally a nickname, in Gaelic translates to "cam", crooked, and "beul", mouth. Inveraray Castle, home to the Duke of Arygll, chief of Clan Campbell is frustratingly not on our tour stop. Powerless, we're destined for a Scottish pie or pastie in the quaint village of Inveraray instead.
To tunes of the Red Hot Chilli Pipers we wend our way along Loch Fyne, Scotland's longest sea loch. After 400km and five hours' driving, we make the ferry from Oban to the isles we have longed for. En route to Tobermory, capital of the Isle of Mull, we detour to Duart Castle, to view the striking 18th-century coastal keep. Unfortunately, the current chief Maclean takes umbrage to unpaying public, out of hours, and less than welcoming, fights us off. It appears the Maclean derivative, Gillean of the Battle-Axe, still holds.
We retreat, as our staunch and slightly scary Tommy explains there will be no commentary on Mull. Single track roads require concentration and tolerance, especially with those who don't know the rules. Last year he waited 45 minutes for a stubborn motorist, and subsequent police escort, to back up. He wrote off a bus with a running red deer and after an encounter with a charging ram rang his boss with the news, "the bus looks a bit different". We begin to think taking a bus tour is a very good idea.
It is a relief to be delivered to the historic Western Isles Hotel, where Tommy let's down his guard explaining his introverted nature and begging us to leave him alone, unless in matters of death. It is with renewed respect we appreciate his thoughtfulness and commentary complemented with music and stellar driving skills. Dining on local sea-bass and samphire, traditional Cranachan for dessert, bonding further with our new-found friends, I am thankful for that earlier sleep, there has not been silence since.
When Tommy picks us up in the morning he's back on form. Wearing his kilt, which he claims to discard the second day of a tour should he not like his passengers. We try to feel grateful.
It's 78km from Tobermory to Fionnphort Ferry Terminal and a 10-minute crossing to the sacred island of Iona. Small at only 4.8km long and 2.4km wide, it has just 120 permanent residents. Iona is truly magical.
Known as the "Cradle of Christianity", a pilgrimage to Iona's abbey is a priority for many visitors. Less reverent, we hire bikes, wildly exploring the island, St Oran's Chapel, the nunnery, heritage centre and beautiful beach. Gazing seaward across to the isles of Staffa and Treshnish we only wish there were days rather than hours to spend.
At Fishnish, on Mull, the next day there's a ferry to the village of Lochaline. Then as we await our final ferry ride from Nether Lochaber to Ardgour, an ancient droving route from the Hebrides to central Scotland cattle markets, Rod Stewart belts out Sailing. We all sing along. It's our swansong.
Our little bonded family, soon breaking-up, is joining different trips. The soundtrack this time is the soulful lament The Massacre of Glencoe, recalling events of 1692: "Cruel is the snow that sweeps Glencoe. And covers the grave of O' Donald. And cruel is the foe that raped Glencoe. And murdered the house of O' McDonald".
Tommy fills us in on its tragic history of inter-clan bloodletting.
Scotland's most famous and scenic Highland glen, boasting eight Munros (mountains of more than 3000ft, 914.4m), is a climbers' and walkers' paradise. Ancient and haunting, Glencoe is spectacular.
It's sad parting from our new companions and lulled into a false sense of bus-tour sweetness and hungry for more isles we opt for a further two-day trip. Greeted by tartan trouser wearing Chick, driver of our 40-seater bus, we instantly realise all we have feared and dreaded about bus tours is about to come true.