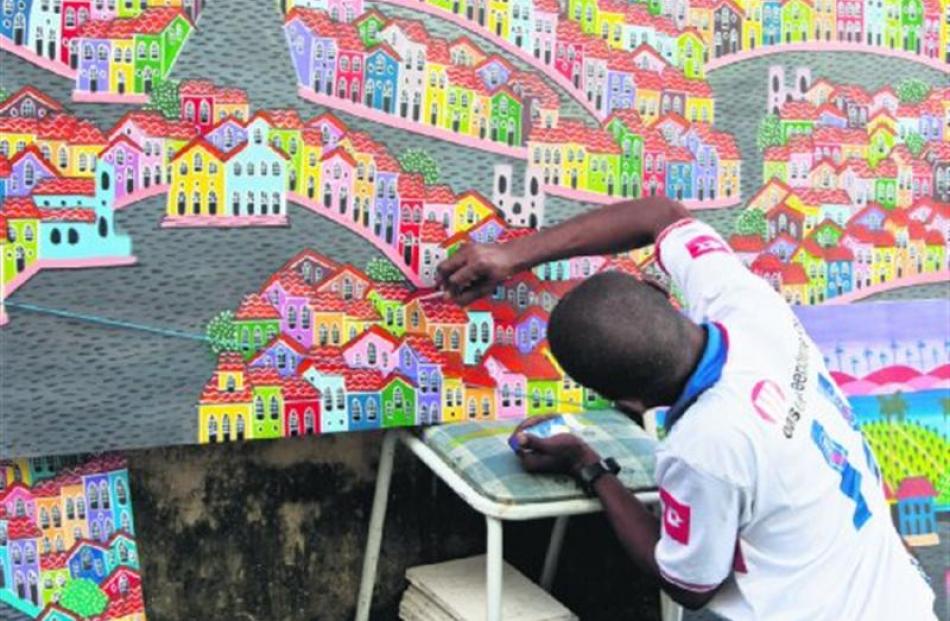 This week the Bahia of All Colours show brings the rhythms of the Brazilian state to Dunedin as part of the Otago Festival of the Arts. Globe-trotting travel-show presenter Michael Palin was recently in Bahia and writes about it in his latest book, Brazil.
This is an extract from that book.
Bahia is the fifth-largest of Brazil's 26 states, with a land area just about the size of France.
In terms of Brazilian history it is one of the most significant.
It was on its long and pristine coastline that the first European set foot in Brazil - by accident, as it turned out.
A Portuguese expedition headed by one Pedro Alvares Cabral was blown off-course while trying to sail round Africa.
Somewhat confused, they stepped ashore on April 22, 1500 near what is now Porto Seguro, in southern Bahia State.
They discovered thick forest along the shore. A later, and this time deliberate, Portuguese expedition found this to be an abundant source of a wood they called pau-brasil, which produced a valuable red dye which glowed like hot coals (brasa in Latin). So the new-found land took its name from its chief product - Brazil.
They also discovered an indigenous people called the Tupinamba, who had in all probability been Brazilians for at least 10,000 years.
Once the Europeans landed, they set about converting them to Christianity, or if it suited them better, slavery. It's been estimated that there were then five million indigenous people in Brazil. The number is now around 350,000.
The Portuguese soon discovered that an enormous natural harbour lay a couple of hundred kilometres up the coast from where they had first accidentally stumbled on Brazil. It offered shelter and abundant safe havens and in their devoutly thankful way they christened it the Baia de Todos os Santos - All Saint's Bay - as it was discovered on All Saint's Day in 1506.
At over 180,000 sq kms, it is believed to be the second-largest in the world after Hudson Bay. In 1549, Tome de Souza set up the first capital of Portuguese Brazil on the eastern headland of the bay and called it Salvador da Baia de Todos os Santos.
The state became Bahia and Salvador the name of the capital.
It remained the capital of Brazil for over 200 years.
Sugar and cotton production made Bahia rich but, like all the other unlocked wealth of Brazil, that could never have been achieved without the millions of slaves brought over from Africa.
This potent mix of a relatively small number of Portuguese, a much greater number of indigenous tribes and a huge number of slaves created modern Brazil.
The city of Salvador may have ceded its capital status, first to Rio and then to Brasilia, but it remains the third-biggest city in Brazil, with a population of over three million, 82% of whom are black.
Salvador is the biggest African city outside Africa.
As our flight from Recife descends through scudding clouds I can see the spread of All Saint's Bay below me, an enormous body of water contained by the island of Itaparica on the west and the peninsula of Salvador to the east, with its bristling crest of skyscrapers clustered between the bay and the Atlantic, dazzling in the sun.
It's a given that there are weird and wonderful things to see in Brazil, and Salvador is no exception.
It's partly a lightness of touch, but also a lightness of taste.
The road snakes out of the airport through a long bamboo tunnel, which at night is lit up in blue and green, like a grotto.
Halfway into the city, on the central reservation of a six-lane highway, there rises a huge cross made from the compressed bodies of crashed cars - a divine warning to drivers.
Even higher than the cross is the long, elegantly curving shape of a newly-built Metro line. It runs above us for a few kilometres, offering tantalising but unfulfilled hope for all those stuck in jams below.
Finished five years ago, it has yet to run a single public train. A disaster, I'm told, cheerfully.
Trains ordered proved wider than the tunnels and it doesn't connect anywhere that people want to go to. The magic and the madness continue, as we drive through underpasses whose walls are decorated with hundreds of white-tiled seagulls, and rumble up the steep cobbled streets to a hotel called the Redfish, painted green of course, in a half-smart, half-run-down neighbourhood of colonial-style houses.
A tall baroque church stands opposite my balcony, uncomfortably big for the narrow streets it overlooks.
From my third-floor terrace, I can see the waters of the bay over which a new-ish moon hangs decoratively, on its back, like a man in a hammock.
Intoxicated by the unfamiliar feel of the city, I walk the 20 minutes or so from the Pousada Redfish down towards the Pelourinho, the centre of the Old Town.
Having seen a pelourinho in Alcantara, I know that the word means a whipping-post and marked the place where slaves were bought and sold and beaten, so I'm surprised the name should still be used in such a black city. Not only used, but used with some pride, for much money has been spent in restoring the steeply angled square and the buildings around it, and the Pelourinho is now a magnet for visitors.
This brings its disappointments.
Tourist attractions are somehow predictable wherever they are in the world, and even in Brazil they can't defy the trend.
So there are a lot of big smiling ladies about, made even bigger by their wide Bahian skirts. They wear brightly coloured bandanas and stand around in front of shops managing to look both maternal and seductive at the same time.
The tourist cameras obligingly record them. But up the side streets there is still plenty of unstaged life to catch the eye.
Men playing draughts with beer caps, a barber's shop with football posters from the 1950s and grass growing out of one wall, a group of very black men all dressed in white, sitting on chairs beside a grubby old wall, phone booths in the shape of two enormous ears, a white poodle with red shoes on.
And there is a mix of music everywhere, one band overlapping another, sounds from the street mixing with a thudding beat from somewhere inside.
All of a sudden the street opens out into a long rectangle of cobbles with houses and grand municipal buildings on either side, and at each end mighty double-towered churches, one Franciscan, the other Jesuit, face each other.
The little breath I have left to be taken away is shed inside the Church of St Francis, an overwhelmingly powerful interior with gold-encrusted walls rising all around, profusely decorated and carved in copious details.
Flowers, foliage, fruit, cherubic faces all lead the eye towards the dominant image of Christ, with St Francis clinging to him, that soars above the altar. I walk up to the Jesuit church, on a square called the Terreiro de Jesus, and am just standing there, marvelling at this amazing city, when a big black four-wheel drive draws up nearby.
Four or five people get out and open the tailgate, revealing a white polystyrene icebox of beers and a honeycomb of speakers.
At the flick of a switch the music crashes out, and they start to dance. Intuitively I look in their direction, registering toxic disapproval. Their reaction is to smile, wave and invite me over for a beer.
My anger withers and I join them.
I'm slowly learning not to worry that Brazilians don't worry about the things we worry about.
• Reproduced from Brazil, by Michael Palin, ($59.99) with permission from Hachette NZ Ltd.