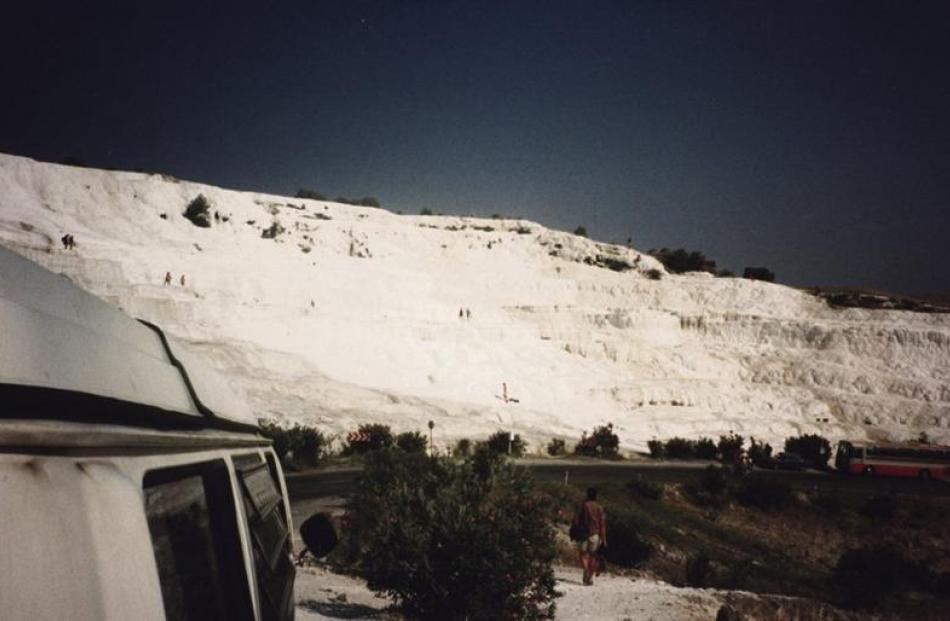 With the news production of the Volkswagen Kombi will cease at the end of next year, we called for readers to share their Kombi travel stories. Dunedin couple Barry and Jo Love and Dunedin man David Honeyfield recall their European adventures in the 1980s.
In July 1987, Jo and I met in a most unlikely place - Gold Diggers, a nightclub in the Wiltshire town of Chippenham, owned by Sir Richard Branston.
She had a tent, and I had a little Citroen and five weeks later we started what became three seasons of continental touring together, before getting married and settling in New Zealand.
Among other adventures, we spent three ski seasons in Andorra.
On our return to the UK to stock up on resources, following the initial foray, we gave some thought to continuing our continental exploration in a little more luxury ... and bought our 1973 Westfalia Kombi DNU507L in Nottingham, in September 1988 for £1300.
Westfalias are converted from new before export from Germany. We were immediately impressed with the driveability of the Kombi, very civilised it was, with adequate performance.
Our first venture, in December 1988, took us through Belgium and northern France and then further west through Heilbronn, Nuremberg, and Eichstatt (where we had lived the previous year), then through Bavaria, including a visit to Mad Ludvig's castle, and on to Austria, where we woke up in a forest next to a frozen waterfall.
A journey from Dobiacco south with the Kombi on a rail carriage through a tunnel brought us to the region of Cortina, before a pilgrimage to the Bimota factory (Rimini) and then the Ducati factory (Bologna).
Our next destination was Toulon, where an old friend awaited our 3am arrival with the latest boujelais nouveau, followed by Beaumes de Venise muscat. This hospitable old Frenchman's sole command of English was "Stand up!" but that proved no barrier as he plied us with more from the vine and took us on hunting trips into the hills - always with a Gauloise cigarette hanging from his mouth as we swerved around mountainous curves in his Renault R4.
After a week in Toulon we rolled into Andorra for our second season.
Lashed along the side-window tops of our intrepid Kombi were our skis. At the top of the winding road of Arkalis we parked at our usual spot and skied down to the lift. After a day on the slopes, mounds of road-cleared snow provided a ramp to literally ski through the side door of the van and snap out through the toe bindings and on to the carpet, enjoying hot soup and/or a coldy, G and T, deck chairs or the barbie.
The odd "bus run" down to Barcelona to pick up mates and parents kept the cobwebs away.
After six months of skiing and a bit of bar work to keep the coins coming, it was time to really enjoy the Kombi, which we did in earnest for the next seven weeks. Leaving Andorra in July 1989, this time accompanied by our mirror twin, a left-hand drive 1969 Westfalia owned by Nigel and Suzie, from Ashburton, we visited many interesting places. They included Interlaken, Jungfrau Lago, di Como, and Venice, before we headed on to the Adriatic, visiting places recommended by Nigel and Suzie, who had been there the previous season.
A highlight was a rendezvous with Jo's parents, who had travelled to meet us at a remote alpine resort in Yugoslavia.
We drove them down to the coast for the second part of their holiday at Budva. Next was sunny Greece, then Turkey, where we had plenty of time and sunshine to enjoy the history and fantastic natural geography, including Istanbul, Gallipoli, Troy, Bergamon (where we bought two Turkish carpets), Ephesis, Bodrum and Pamukale, a phenomenal limestone outcrop among Roman and Greek ruins.
At about this point there were mechanical forebodings when the balance pulley shattered and we received a tow from local students in their 1963 Mercedes 220 fintail to get the replacement part from Izmir.
On our homeward leg a Yugoslavian man accommodated us in his home for three days while he and I stripped and resprayed the Kombi for a bargain 160. We filled to the brim on cheaper Yugoslavian petrol before heading through Italy to the town of Breganze to visit the famous Laverda motorcycle factory (another pilgrimage for this Australian 12,000 miles from home, while the girlfriend looked out the wind-up window).
It was time then to set course for ye sunny olde England, this time getting honked and flashed by the Ferraris and Lamborgs as we entered the fast lane of the Autostrada with our maximum 74mph.
Soon the crankshaft was moving fore and aft in the engine and showering the rear of our newly painted Kombi with black oil.
Arriving back in the UK, broke and blown up, we got the old girl fixed with the dregs of our cash, shelling out £405 for a new engine.
We settled in North London, where, after some deliberation about our next season in Andorra, we decided that some other person should enjoy the Kombi. We sold her for £1600 to a young man whom we hoped would enjoy her as we did.
• Barry and Jo Love now run a business from Dunedin.