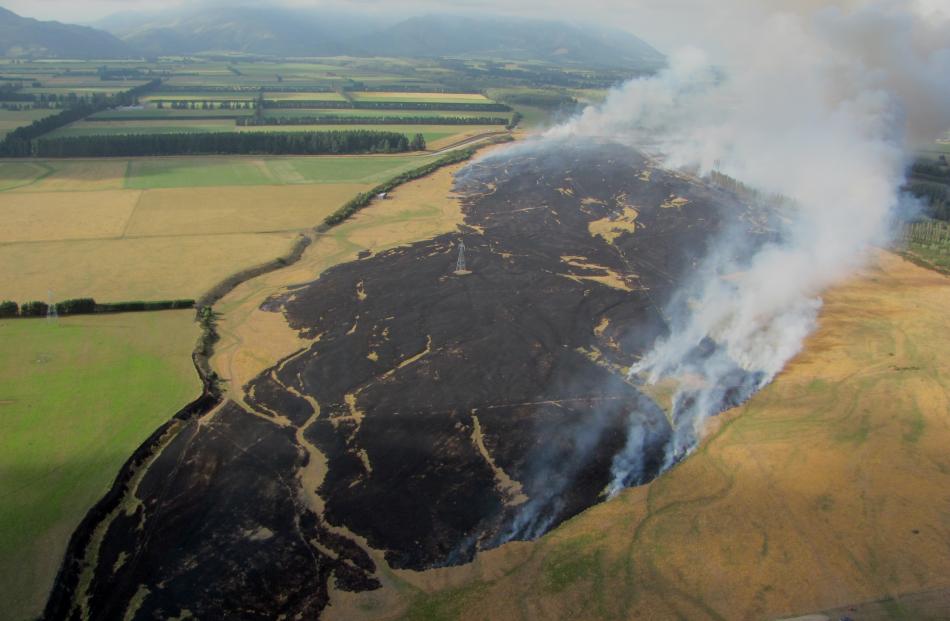 Farm owners and managers should be educating their staff about fire safety in rural areas as part of their health and safety policy, Ashburton District principal rural fire officer Don Geddes says.
His comments follow a fire in the Ashburton Forks area at the beginning of January which destroyed 68ha of pasture and 24ha of scrub, most of it on a neighbouring property.
The source of the fire has been traced to a farm worker burning household rubbish in a pit, without his employer's knowledge, meaning now the farm owner is facing a potential bill of about $50,000 for the fire, and possibly, prosecution.
''Ultimately, the farm owner or manager has a responsibility,'' Mr Geddes said.
''A lot of migrant workers on dairy farms come from areas where it doesn't get hot and dry and they may not understand the risks.''
Mr Geddes also urged people to make themselves familiar with fire restrictions as well as to consider whether the fire they wanted to light was really necessary.
''They should be asking themselves if it can wait until autumn.
''They should think about the inconvenience a fire causes, particularly to the many volunteer firefighters across the district, and the damage it may cause not only to their own property but maybe the neighbour's, too.''
While the Ashburton District Council has a restricted fire season, Mr Geddes predicted that would change this week, with more high temperatures and northwest winds predicted.
A total fire ban was likely to be imposed, he said. Under a restricted season a permit to burn in the open air in rural areas must be obtained, with the exception of gas-fired barbecues, agricultural crop residue, hangis and fires in enclosed drums, which can be lit subject to certain conditions.
A prohibited fire season creates a total fire ban.
There have been 12 rural vegetation fires in the Ashburton District in the first fortnight of the new year.
Some were accidental, but a few were illegal fires or earlier fires lit in pits which had reignited in windy conditions, Mr Geddes said.
by Maureen Bishop