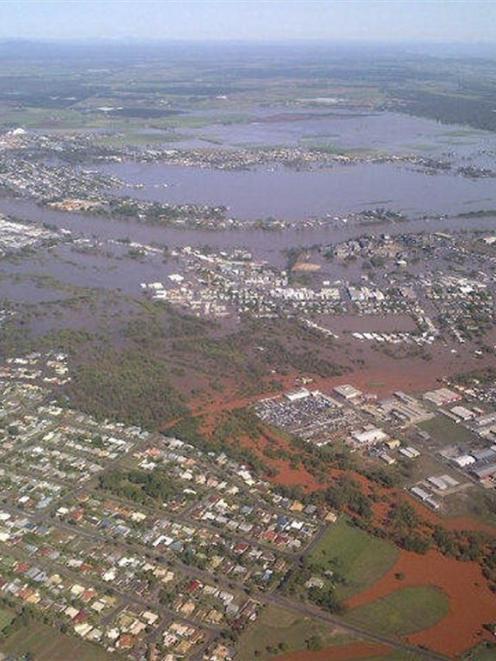 About 7500 people have been displaced in Bundaberg as the Queensland city contemplates a long recovery from its worst-ever flood disaster.
Premier Campbell Newman toured the stricken city by air on Tuesday morning and said he was shocked by what he saw.
"I've seen perhaps even more extraordinary sights than we saw two years ago in southeast Queensland," Mr Newman told reporters.
He says Bundaberg is at the centre of the state's flood crisis, with so many in need of help now and in the future.
"This is the number one priority for myself, for my government - to do everything we can for the people of this city."
So far there are no reports that homes have been swept from their foundations, as feared.
But authorities say that won't be known for sure until the floodwaters have cleared.
Mr Newman visited evacuation centres and accompanied one senior SES worker on a boat tour of her home, which had water up to its ceiling.
He says the courage some people are showing in continuing to work for the community, even when their own homes are going under, is amazing.
The premier promised all possible support for Bundaberg residents in the days, weeks and months ahead.
"They've shown a lot of guts, they're not going to give up, they're not going to be crushed by this," he said.
Most of the 7500 people displaced by the flood have gone to stay with family and friends.
Police Minister Jack Dempsey says there are 1500 residents in evacuation centres across the city.
Mr Dempsey said 2000 homes had been inundated.
He said there had been 1000 mandatory evacuations in the last 24 hours alone, on top of earlier self-evacuations.
The Burnett River was at record levels and heading towards an expected flood peak of 9.5 metres between 2pm and 3pm (AEST) on Tuesday.
Mr Newman said there were ongoing concerns about the possibility of buildings being washed away.
"Listen to the roar of the water - that's not helicopters," he said.
"You see a lot of locations where there's literally rapids, white water out there, so it is very dangerous.
"Those velocities are what we're concerned about in terms of taking buildings away."
He said there was no doubt the bravery of air crews involved in 1000 mandatory evacuations had averted a worse disaster.
"We did have a situation with fast-rising floodwaters and people being very rapidly isolated on ever diminishing islands of ground," he said.
Bundaberg Mayor Mal Forman said the clean-up task ahead would be huge, but the focus for now was on those who had lost so much.
"There's probably about 2500 to 3000 homes and another 200 or 300 businesses that have been affected, inundated with water," he said.
"We will have a lot of hardship to get through, but we have a great team. There's a great community spirit out there."
The premier said he was working to ensure everyone in evacuation centres had enough food and water, amid reports one centre at Oakwood was down on supplies.
He said people at that centre were being moved elsewhere.
There would be announcements in the coming days about long-term support for Bundaberg, the premier said.
"We're a tough mob, we've got a lot of guts. We're going to get through this."
He urged all Australians to donate to the Queensland government/Red Cross flood appeal.