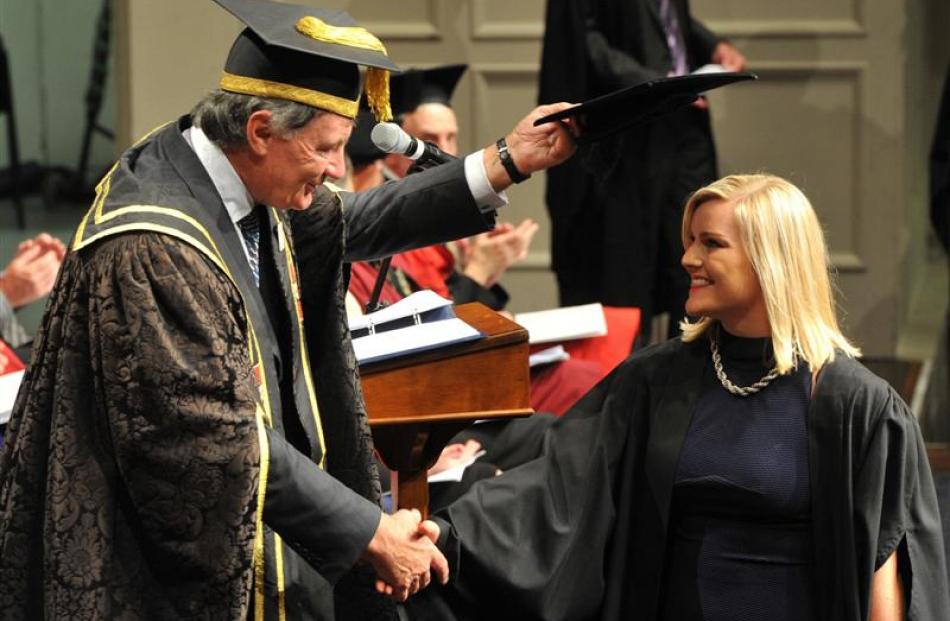 University of Otago medical and physiotherapy graduates should seek happiness through caring for, and learning from, their patients, and not simply by striving for materialistic success.
Prof David Baxter, dean of the Otago School of Physiotherapy, made that point during an address to a 1pm graduation ceremony at the Dunedin Town Hall on Saturday. About 320 people graduated in person, with MBChB degrees and other qualifications, including in physiotherapy, at the ceremony.
''Don't forget to take the time, and allow yourself, to be happy,'' Prof Baxter urged the future doctors and physiotherapists.
Bronnie Ware, an Australian palliative care nurse, had pointed out that ''not allowing oneself to be happier'' was ''one of the most commonly reported regrets of the dying''.
Advertisements sometimes tried to convince people about ''the happiness of things short-lived'', such as the ''three Bs''- the bach, the boat and the BMW, and the latest smartphone or dress.
But preoccupation with such things ''leads at best to status anxiety, and mounting levels of debt, and, at worst, to deeply unhappy lives'', he warned.
Graduates could lead ''deeply fulfilled lives'' through their work.
And patients had a lot to teach ''if you are prepared to listen'', including about ''real `everyday' heroism''.
This was not the kind of heroism displayed by sporting heroes such as the All Blacks, but the ''quieter, deeper form of heroism'' of the individual who achieved victory over serious illness or disability through leading ''a fulfilling, engaged life'' despite illness.
Making a difference for patients also enabled them to ''make a difference for you, and teach you to become better practitioners, more resilient individuals, and ultimately - happier.''
And an Otago University dentistry graduate, Dr Julian Haszard, who is an orthodontist and mountaineer, also emphasised the theme of service to others in an address to about 340 graduates in dentistry, pharmacy and other health sciences, at a second graduation ceremony at 4pm.
He urged graduates to ''commit part of your lives to volunteering and giving back something'', and said that helping others would also ''give you balance and perspective in your lives''.
Dr Haszard has climbed Mt Everest and led dental missions to Nepal to improve dental health, through the international SmileHigh initiative.
Health professions existed ''to serve the public''and were held in high regard ''because of the sacrifice and effort we as professionals make''.
Graduates should be patient and ''treat people with honesty and integrity'', he said.