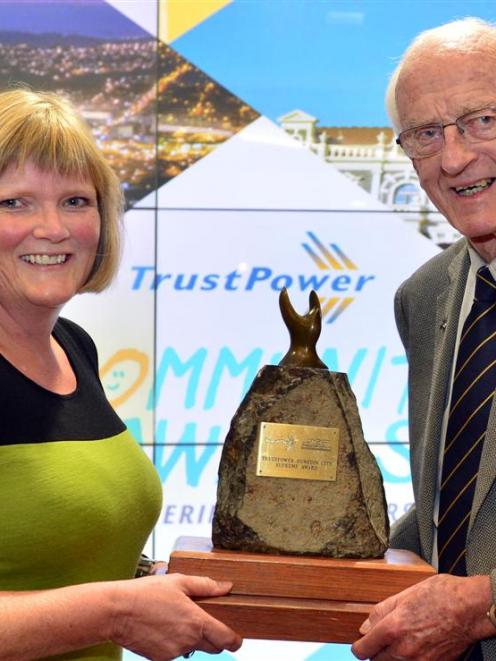 An honour for the $3 million neurosurgical fundraising effort was ''really an award for everyone in Dunedin city'', project manager Irene Mosley said last night of the campaign named supreme winner in the TrustPower Dunedin Community Awards.
Accepting the award at Toitu Otago Settlers Museum with campaign chairman Dr Brian McMahon, she noted many in the audience representing other groups nominated for the power company's awards also assisted the neurosurgery campaign.
Launched in January 2012, the campaign reached its goal of $3 million in just 10 months. Dr McMahon said he was delighted to accept the award, which he felt reflected the efforts of people throughout Otago and Southland.
The proceeds are being used to support the country's first academic neurosurgery unit, at the University of Otago, which in turn makes the Dunedin Hospital neurosurgery department viable, through facilitating sufficient staffing levels.
The Neurological Foundation Southern Chair in Neurosurgery campaign will represent the district at the power company's national awards ceremony next year in Invercargill.
Dr McMahon and Mrs Mosley were presented with $1500, a framed certificate and a trophy.
After the ceremony, Dr McMahon told the Otago Daily Times the support of media, including the ODT, had been integral to the campaign's success. Dr McMahon hoped the campaign highlighted the contribution made by the Dunedin School of Medicine and the services it provided in an area too small otherwise to support high-level research. Mrs Mosley said the key to running a good campaign was good preparation, and keeping in mind a definite focus and outcome.
The campaign had been very aware it rode on the ''coat-tails'' of the public outcry in 2010, culminating in a street protest, in which up to 10,000 people from Otago and Southland marched in Dunedin to keep neurosurgery. The service had been under threat of centralisation in Christchurch.
Mrs Mosley thanked Southern District Health Board member Richard Thomson, Associate Prof Sam Mann, intensive care clinical leader Mike Hunter and then-Dunedin mayor Peter Chin for their respective efforts in galvanising the community in 2010.
Dunedin Mayor Dave Cull said rapidly reaching its goal of $3 million was a ''huge victory'' for the campaign.
''The support, energy and skill brought to this campaign was breathtaking, and galvanised the entire community,'' Mr Cull said.
Other winners were. -Heritage and environment: Northeast Valley Community Development Project; runner-up, Port Chalmers Historical Society; commendation, Tomahawk Smaills Beach Care Trust.
Health and wellbeing: Dog Rescue Dunedin; runner-up, Cancer Society Dunedin and Mosgiel Volunteer Driving Service; commendations, the Octagon Club, Foodshare, Volunteering Otago.
Arts and culture: Otago Access Radio; joint runners-up, South Dunedin Street Festival, Gasworks Museum.
Sport and leisure: Otago Peninsula Lions; runner-up, Onyx Militaires Marching Teams.
Education and child-youth development: Ignite Consultants; joint runners-up, Generation Zero, Otago Girls' High School.