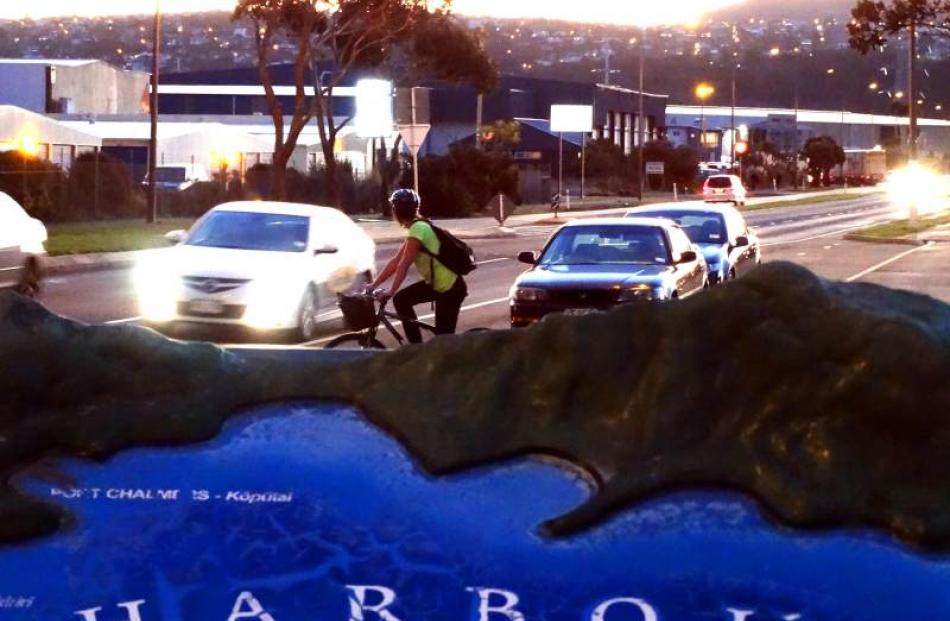 Many cyclists, walkers and pedestrians are dicing with death on Dunedin roads by not wearing lights or reflective clothing. Dan Hutchinson shines a torch on the issue. 
Concerns are being raised about the danger on Otago Peninsula roads and around the university at night as many people are cycling without lights or walking in dark clothing that makes them difficult to be seen by motorists.
Otago Peninsula Community Board chairwoman Christine Garey said there had been ''a flood of comment and concern'' in recent weeks about cyclists without lights and hard-to-see pedestrians on Portobello Rd after dark.
She thought more people were making use of the shared cycling and walking paths but then extending their walk to the narrow parts of the road.''
I came across one [cyclist] the other night with no lights on and I was right on him before I realised.''
Senior Constable Lox Kellas, of Portobello, said people needed to make sure they were seen - preferably by wearing reflective clothing, in addition to lights.''
Be seen, be seen. It is a simple message. When you think about it, a person either on a bike or walking or running presents a small profile.''
If motorists could not see them,there were few places for pedestrians or cyclists to go to save themselves, Mr Kellas said.''
On the outbound lane the options are either a rocky beach or a swim. On the inbound lane it is difficult because you have no room to manoeuvre.''
On the other side of the peninsula, Chalmers Community Board member Steve Walker said cyclists and pedestrians were generally good and used ''phenomenal lighting''.
His concerns focused on the North Dunedin student areas where there was a ''chronic problem'' with unlit cyclists.''
Not only [is it] a problem around the university of people not having lights, it is actually people cycling in the dark in dark clothing without lights.''
Spokes Dunedin chairman Dr Robert Thompson said they were aware of the problem and were planning to raise it at a series of meetings with bike shop owners and cycling organisations.''
How can we promote greater use of lights and how do we reach those people?''He said anyone who regularly cycled would know the importance of being seen and he was a regular cyclist along Portobello Rd himself.''
I do enjoy the darkness of the road. You can see the stars and it is quite nice when there is not much traffic ... It is a nice experience but you certainly need to be seen.''
He said most drivers on Portobello Rd were ''respectful'' and ''fairly cautious'' but some took unnecessary risks, passing too closely, passing on blind corners or into oncoming traffic.
Ms Garey said it was the time of year when daylight hours were at their shortest and people could be getting caught out by the early sunset.
- by Dan Hutchinson