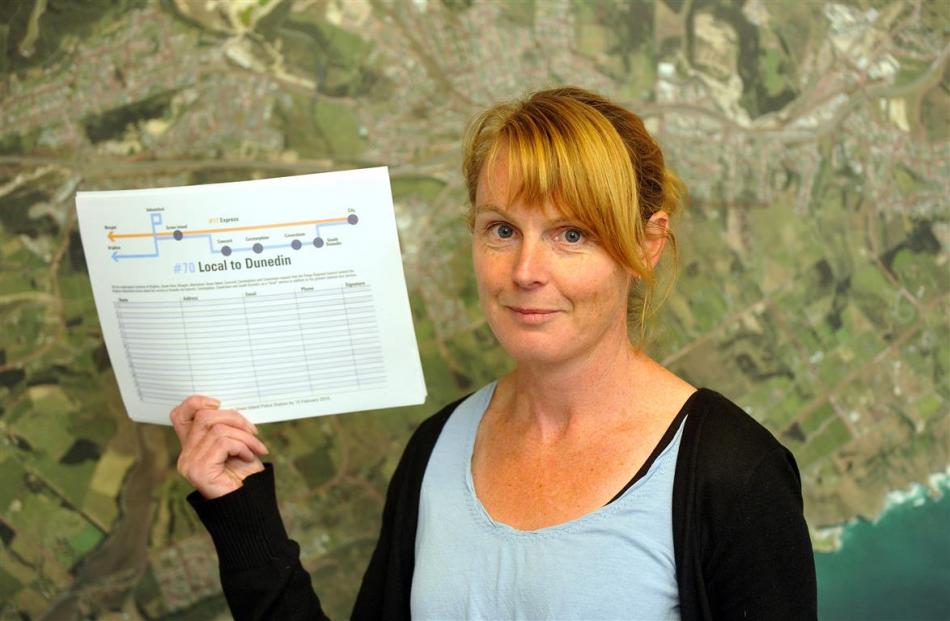 The Greater Green Island Community Network is lobbying to get an hourly "local to Dunedin'' bus service restored, and operated by the Brighton No70 bus.
The community network launched a petition yesterday, requesting that the Otago Regional Council takes action to restore the "local'' service, to supplement the express bus service that already operates on a route to central Dunedin, via the Green Island "super stop'' bus stop.
More than 30 people attended a public meeting in Green Island early last month to discuss the loss of the previous multistop "local'' bus service, which linked Green Island, Concord, Corstorphine and South Dunedin.
Those at the meeting later unanimously supported a motion calling on the council to retain its new highway express bus service from Green Island, but also to allow the Brighton bus users to travel on the "old route'' via Concord and Corstorphine to South Dunedin and then central Dunedin.
On July 1 last year, the new southern routes bus network came into use, the first phase in plans to streamline Dunedin's overall bus routes by making them faster and more direct.
Network community worker Lynda Davidson said many residents in the greater Green Island were concerned their previous direct links between Green Island, Concord, Caversham and South Dunedin had been lost.
"At the moment everyone is just feeling frustrated,'' she said yesterday.
Residents at some places, such as Concord, found it hard to travel quickly to South Dunedin by bus.
And some Concord residents also had trouble in reaching Green Island, the latter being an important centre for medical services and shopping, including at the redeveloped supermarket.
The network was supporting the petition, which could be signed at several places in Green Island, including the Fresh Choice supermarket, and at the Coffee Post Green Island, she said.
The petition could be signed until February 15, and would later be presented to the council, she said.