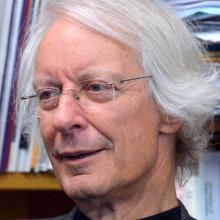 After the Christchurch terrorist attacks, New Zealand must seize this "historic moment" to build peace, including through dialogue with groups considered to be extremist, Prof Kevin Clements said yesterday.
Prof Clements, who is foundation director of the University of Otago's National Centre for Peace and Conflict Studies, yesterday chaired a meeting on campus, devoted to "where do we go from here?" after the attacks.
Many of the 32 people attending outlined their vision of a preferred future New Zealand society.
The gathering also considered "dealing with pain and maintaining hope", and what peace and conflict research said about "hate speech, racism and violent extremism".
Prof Clements said New Zealand was right to ban military-style firearms.
But there was also a need for peace building, and to undertake "awkward and difficult" conversations with people who felt excluded in society and who had extreme views, including on white supremacy.
"I do feel that good can come out of this tragedy and that we can and must discern creative opportunities from the grief and mourning that is still taking place," he said in an interview.
"Social healing will take time but in my experience, working in different war zones, people do eventually realise that they have no alternative but to reconnect, and rebuild relationships broken by violence."
This could happen only if people were "in safe places/spaces where they do not feel afraid and can let go of some of their deep existential anxieties".
"We do this in war zones by bringing awkward and difficult people out of awkward and difficult places to safer, kinder places, where we can have awkward and difficult conversations about how to build peace in the future," he said.
South Dunedin MP Clare Curran outlined a vision for a caring, tolerant society in which all felt included, respected and safe.
Dr Najibullah Lafraie, a retired Otago politics lecturer who recently became a Muslim tertiary chaplain, said there was a need for more understanding of Islam, but there had been a huge outpouring of support for Muslims after the Christchurch shootings.