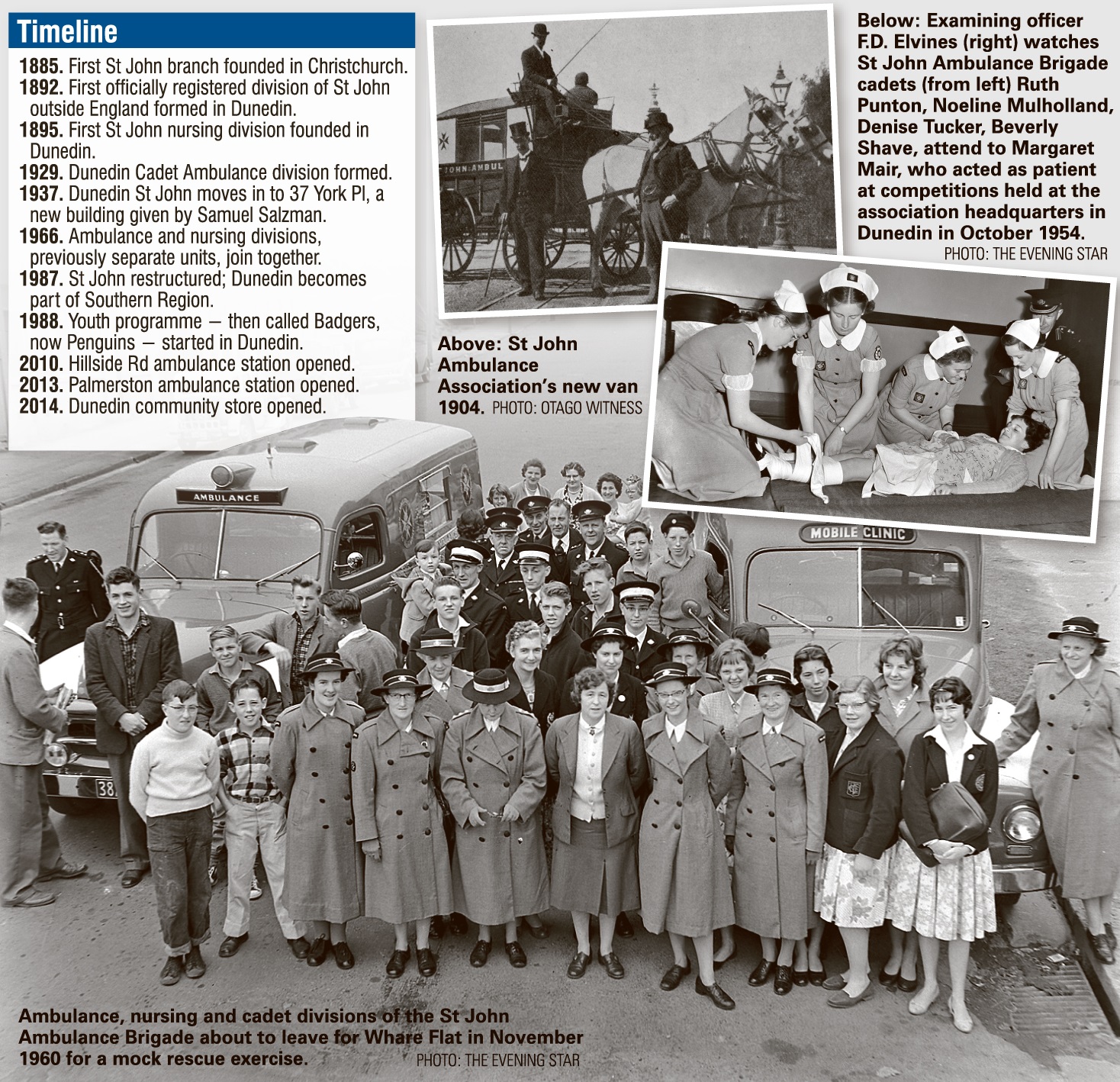 St John, an organisation which saves thousands of lives a year, marks its 125th anniversary today in the city where it started: Dunedin. Mike Houlahan reports.
Whether teaching first-aiders how to use triangle bandages or training first responders how to deal with medical emergencies, one thing has not changed in the Order of St John's 125 years in Dunedin — service to the public.
This weekend,  members will gather in Dunedin to celebrate the organisation's inception in the city in 1892.
While Christchurch can lay claim to the first St John branch in New Zealand — formed in 1885 — the first officially registered division of the St John Ambulance Brigade founded outside England was the Dunedin brigade.
Today's trained paramedics and their green and yellow ambulances are a world removed from those early Dunedin volunteers.
The nature of their work is also vastly different: a motivating factor for the founding of a St John brigade in Dunedin was to provide aid after industrial accidents, whereas today's crews minister across the spectrum of urgent medical care.
"The electronic equipment that we have, they are mobile units which treat the patient when they reach them: it used to be shovel them in and go," Dunedin St John stalwart Joyce Whyman said.
"Even 10 years ago you could have had ambulances which were single-crewed and could have two stretchers on them ... what you could offer was the first stuff, then rush them off to hospital.
"Today they are in there starting treatment, and people have a greater chance of survival."
Volunteering was how Mrs Whyman (78) began a lifelong association with St John. She joined in London in 1949 when she was just 10, and continued the association when she arrived in New Zealand in 1970.
Mrs Whyman, who served as St John Dunedin area chairwoman for 20 years and is still a committee member, was made a Dame of the Order of St John in 2004, and a room at York Pl is named after her.
"It's a bit like an addiction; you get dragged in and you can't get out," Mrs Whyman said.
Last year, Dunedin St John treated and transported 9250 people: 4822 of the 20,000 incidents St John attended were classed as life-threatening or time-critical.
While many will have seen ambulances entering and leaving the ground floor garage of the York Pl HQ of the Dunedin division of St John, less well known is the "ambulance" on the top storey of the building.
A wooden replica, it takes pride of place in the organisation's training rooms, in which instructors can replicate most rooms of a house and place within that room a mannequin patient suffering from almost any ailment imaginable.Trainees are encouraged to talk to their ''patient'' — and the patient talks back, via a speaker system controlled by the instructors.
The set-up means a vast range of training simulations can be created, and the model ambulance and a mock control room alongside mean the experience is as authentic as the instructors can make it.
"It is all filmed and the students who aren't involved can watch," St John clinical support officer Gavin MacDonell said.
"We can create pretty much anything we want to; it's a very realistic likeness of what they are going to do ... they also have to remember there is a whole world around them with which they have to interact, so it is a double job which they have to do."
While the ambulance is the most visible example of St John's community work, there are many more strings to the organisation's bow, such youth programmes, hospital visitor schemes, medical alarms, a "Caring Caller" counselling service, and the training courses through which thousands of people have learned basic first aid.
"We now have all these services which are somewhat different from what it started out as," Mrs Whyman said.
"But the whole reason for having the 125 celebrations is that we are looking at how a group of volunteers, people who were willingly giving their time, started off something which has grown to meet the needs of today rather than the needs of yesterday."
Dunedin St John employs 40 ambulance and 30 administration staff in its Dunedin, South Dunedin and Palmerston stations. In addition, more than 100 volunteers assist the ambulance service, staff community programmes, and work at the St John Community Store on Macandrew Rd.
Around 200 St John staff and supporters are expected in Dunedin for this weekend's celebrations. A highlight will be an investiture ceremony this  morning: St John has its own honours system, sanctioned by the Queen and presided over by the Governor-General.
Other events include a train trip and a dinner. There is also an exhibition at Dunedin library, which features an old triangle bandage, illustrated with instructions on how it should be used.
"You could do a lot with a triangle bandage then," Mrs Whyman said.
"In fact, you still can."