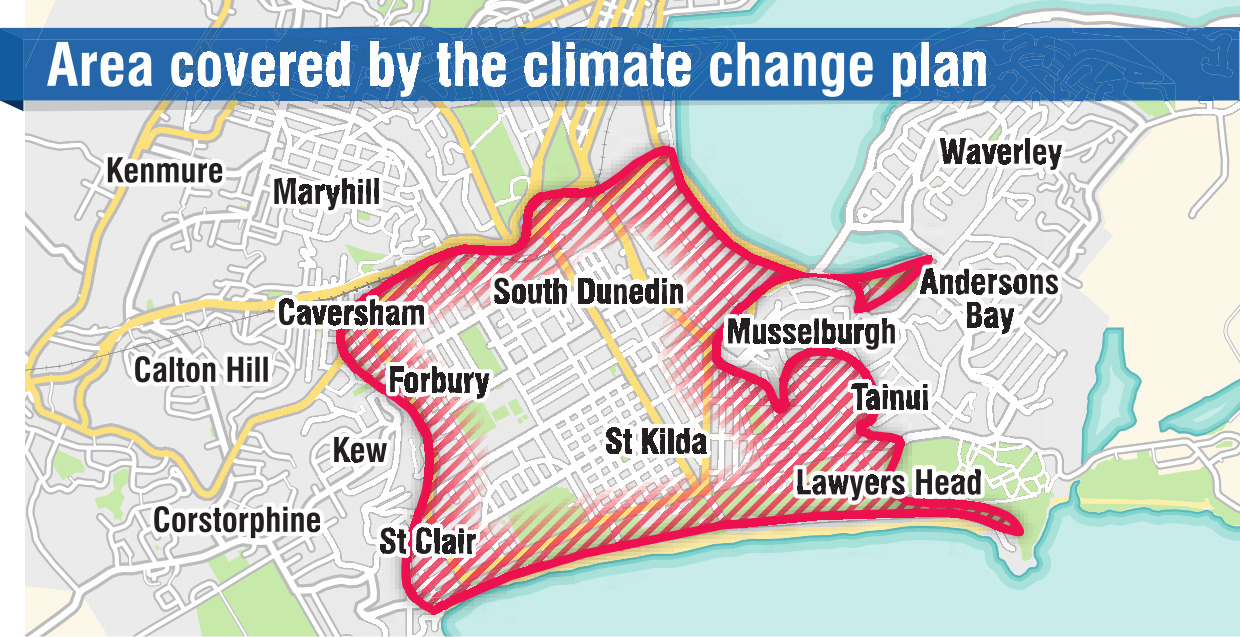 Decision-makers need to get on with the crucial job of helping South Dunedin adapt to climate change, an Otago regional councillor says.
"At a governance level, I have been urging our councils to move past bureaucracy and patch protection for many years," Cr Gretchen Robertson said.
"We have so much to gain from cutting down some barriers and reducing complexity for our community by providing one clear programme."
The Dunedin City Council's planning and environment committee is to discuss today a draft programme for forming a plan to respond to mounting climate challenges in South Dunedin, such as flooding, storms and sea-level rise.
The programme has been developed jointly with the Otago Regional Council. Potential changes signalled include providing space for wetlands and waterways and applying stricter controls on intensity of development in some areas.
Regional councillors will discuss the draft programme next week.
A report by South Dunedin Future programme manager Jonathan Rowe signals a series of incremental decisions, policy shifts and spending is likely and this would "reshape the urban form of South Dunedin".
The intention was to realise the best possible future for the area, Mr Rowe said in his report.
"While the challenges facing South Dunedin are considerable, the expectations for its future use are correspondingly, and appropriately, ambitious."
The programme plan refers to adjustments happening in a gradual, organised manner.
"This ongoing adaptation should seek to stay ahead of the changing physical environment, and its effects, without getting ahead of support from the community."
Taieri MP Ingrid Leary, who has previously expressed frustration about the city council's lack of engagement with the Government on the issue, saw the report as a high-level action plan, rather than a "vision".
"It's a good start as long as it has tangible and measurable action as an outcome, is evidence-based and community-led," Ms Leary said.
Central government is barely mentioned in the documentation, although risks and uncertainties are highlighted in relation to reform of Three Waters, resource management and local government.
"I note there is a fleeting mention of influencing central government," Ms Leary said.
"Whatever happens, South Dunedin should be an example of aspiration and not become synonymous with other people's fears about climate change."
Cr Robertson said staff from the two councils had been working together and "our job as governors was to follow suit".
"This is not an issue that will go away or forgive those who preferred inaction - not when our people's quality of life is at stake."
She was pleased the city council was co-ordinating the programme.
"We all need to quickly move on from a mindset of protecting the status quo to grasping an opportunity to redesign South Dunedin's future with two hands." — Additional reporting Hamish Maclean
Word on the street
"I'm interested to see more plans"
Michelle Jack, healthcare specialist, St Kilda
"Doing anything to adapt to climate change would be a good thing"
Freya Brownlie, with Amiyah Brownlie-Kereopa (2), full-time mother, Forbury
"It's a good idea to put down a plan"
Satele Faatoese, retired, Macandrew Rd
"Times change and we need to listen to the experts"
Diane White, retired, Caversham