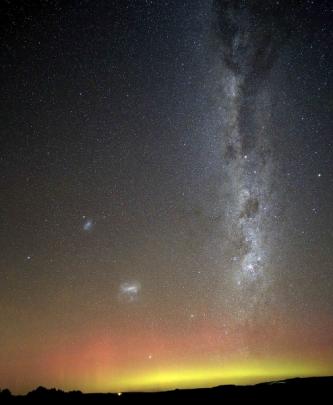 On any given night when the clouds part and the night sky shimmers, you can find Otago Museum director Ian Griffin in his backyard or somewhere away from the city lights with his eyes to the sky.
Dr Griffin has brought his love of astronomy to New Zealand from England and is loving what he has been able to view since he arrived.
One reason he chose to come to work and live in Dunedin was the night sky in the South Island.
''I have been very lucky really. Since I got here there have been eight or nine aurora [southern lights], which have just been fantastic to view.''
Other than the southern lights, Dr Griffin has been kept busy photographing the night sky with his camera and telescope, usually set up in his backyard in Portobello.
After receiving a PhD in astronomy, Dr Griffin's first job was working at a planetarium in Ireland but, since then, his interests had changed, and astronomy was now a form of relaxation for him.
Not that staying up all night can be called relaxing when you have a 9am meeting.
''If there is a nice dark sky and you have a meeting the next morning you really have to balance the keenness of wanting to get out and do astronomy.''
A constant surprise was the number of people who had lived in Dunedin for many years but had hardly ever noticed what was above them at night.
''Part of my role as a newcomer is to try and get people excited about this because Dunedin as we all know has some wonderful qualities but it's wonderful night sky is one that doesn't get much attention.''
His passion for the stars did not mean Otago Museum would be installing a telescope on its roof any time soon, but exploring the possibility of more astronomy at the museum was something Dr Griffin was open to.
''Obviously just because I'm a fan of astronomy does not mean we are going to go straight ahead and build something in the museum that didn't make sense.''
The Dunedin Astronomical Society at the Beverly Begg Observatory already did a fantastic job for astronomy in Dunedin, he said.
His backyard is not just a low-budget observatory. Dr Griffin has also set up a weather station which records the weather from his backyard and publishes for the world to see on Twitter.
''Being curious about the world is a good thing and tools like the weather station help me understand what is going on.''
- by Tim Miller