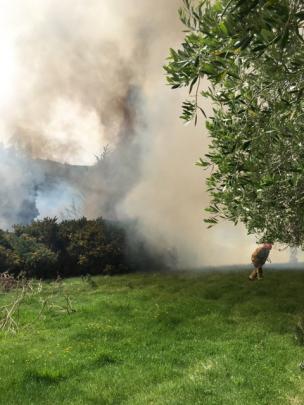 The Scroggs Hill Rd fire has been contained.
A Fenz spokesman said the fire initially threatened property but with the help of 13 crews and three helicopters the 4ha fire had been contained.
A post to the Fire and Emergency NZ - Otago & Southland Facebook page has asked members of the public to stay away.
"Fire and Emergency urgently urges people to stay away from the Scroggs Hill Rd area."
People in the area trying to get a look at the blaze have been a "barrier" to getting resources to the site, it said.
There are three helicopters and 30 firefighters currently working on the fire, it said.
A post to the Fenz Communication Centres Facebook page said: "Fire crews from Brighton Volunteers, St Kilda, Dunedin City, Lookout Point, Mosgiel . . . and the rural resources from Four Wakari crews are battling to contain and extinguish the blaze."
Earlier, an Otago Daily Times photographer at the scene said flames were burning roughly 15m into the air.
The blaze was burning in an area which was quite close to houses.
Conditions were "very windy", he said. A Fire and Emergency New Zealand  (Fenz) spokesman said it received multiple calls about a large fire on Scroggs Hill Rd about 2.45pm.
A police spokeswoman said at about 3.20pm they were called to assist with traffic management.
Paige Newman, who took a photo of the blaze, said the blaze was on a property on Scroggs Hill Rd and was quite large.
Ms Newman said she had been passed by the rural fire brigade and three fire trucks.
"I'd assume it's being taken pretty seriously with the heat and wind."
Meanwhile, another small fire has started up on the Taieri Plain at Outram and was being investigated by fire crews just after 4.45pm.