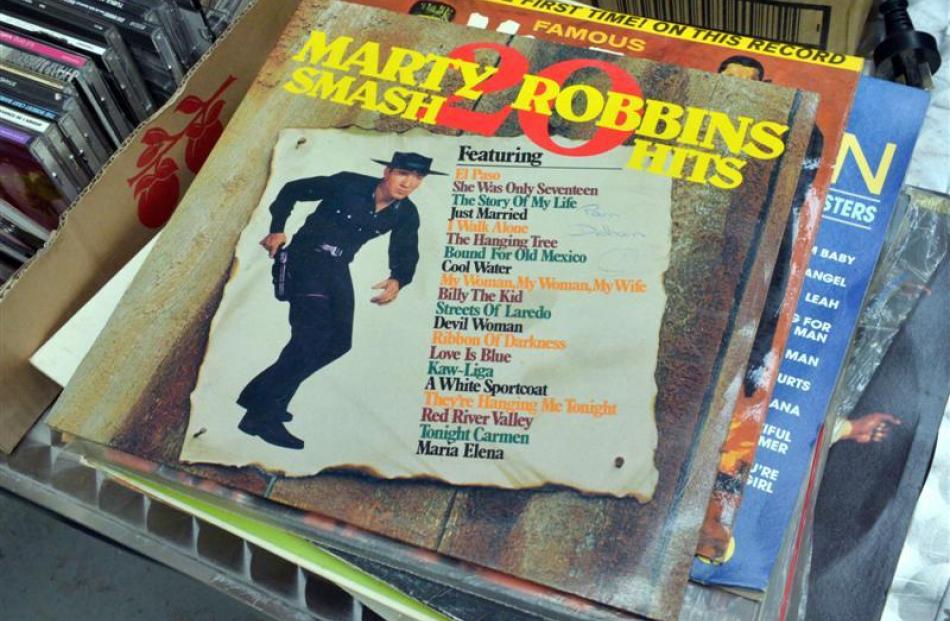 In an auction house in central Dunedin this week lay a warehouse of possessions cut loose from their owners. It was a world of stuff on the lookout for a home. And it told a strange story of life, love, madness and death.
They sat in a cardboard box towards the back of the auction house in Princes St.
There was a three-volume 1959 edition of the American Handbook of Psychiatry (stamped ''Seacliff Hospital, January 24, 1966''): a Boy's Own Paper Annual; a copy of Margo Anand's The Art of Sexual Ecstasy; and The Effect of Alcohol on Lipid Peroxidation.
Their casual juxtaposition in one box could have been the result of coincidence, though most psychiatrists would surely ascribe some sort of meaning.
Placed on tables and in cabinets or just sitting on the floor at Hayward's Auctions were thousands of such objects, offering a perplexing view into the psyche of Dunedin, and the alarming oddness of others.
They tell the very human story of life, bad taste, sex, madness and death.
The general auction is held upstairs at Hayward's, with its entrance in Carroll St.
It is conducted by Kevin Hayward, using a drumstick as a baton, who sails around the room on a movable podium.
Circled around him are more than 100 eager buyers, their intentions communicated by a nod or a call as the auction progresses.
Circled around them is a warehouse full of stuff.
That stuff includes a collection of vaguely disturbing erotic photographs (black and white); an unopened bottle of Spumante; two boxes of polished shells; a collector's edition of Australian Playboy and an ice-cream container one quarter full of copper coins.
Mr Hayward makes the rules of the house clear before the competition begins.
Each lot is decided by the ''undisputed fall of the hammer'', with the auctioneer the sole arbiter of disputes.
''If you wish to dispute the fall of the hammer, you do so at the fall of the hammer.
''Thanks for your attendance and good luck with your bidding.''
The auction begins.
Lot one is a wrought-metal brazier and tray.
Lot two features planters and a ceramic umbrella stand.
The auctioneer calls a figure - $80, perhaps - then drops it by $10, then another $10, then another until someone takes the bait.
Then the price pushes back up in $10 lots until the last bidder holds out for a win.
Mr Hayward's voice booms across the room as the bottom of his drumstick thumps down on his podium for each sale.
A small pet cage and some terracotta air-vent tiles go under the hammer, followed by a vintage square Saratoga trunk with fitted interior, a Le Creuset blue enamel cast-iron fry-pan and a BBQ Factory three-burner barbecue with trolley and cover - all detritus of people's lives.
Some comes from residents clearing their homes or basements, some from those shifting their parents and getting rid of spare stuff, and some from deceased states.
All tell a story, including the box at the back of the room.
The American Handbook of Psychology tells how psychiatrists in the 1950s approached their dark art.
On psychiatric interviews, it explains: ''We now notice not only what the patient says, but his manner of saying it as well, for this may say what his words conceal.''
Pity those patients privy to such paranoia-inducing information before interviews.
Margo Anand's The Art of Sexual Ecstasy asks a question to which its buyer, some years back, perhaps answered 'yes'.
''While making love, or just afterwards, have you ever wondered: 'Isn't there more to sex than this?''
According to Margo, many of us have.
But empty-inside, love-making psychiatrists aside, what else can we read into the flotsam and jetsam of Dunedin people?
There were the neatly framed completed jigsaw puzzles, that once meant something to someone.
There was a vinyl copy of Marty Robbins 20 Smash Hits, featuring the country classic El Paso, and the dark ode to state-sanctioned killing, ''They're Hanging Me Tonight''.
There was the person who once owned The Last Thirty Years: The History of the Canterbury Area Health Board.
They were Dunedin people.
They lived, they loved, they struggled with their sanity, they completed jigsaw puzzles, felt empty and unsatisfied after sex, had careers, kept pets and enjoyed outdoor barbecues under the sharp Dunedin sky: they cleared their basements and they died.
Lot 74 is a rotary drum composter on a stand.
''This is good, this - we've got one at home,'' Mr Hayward calls.
Sold.
- David Loughrey