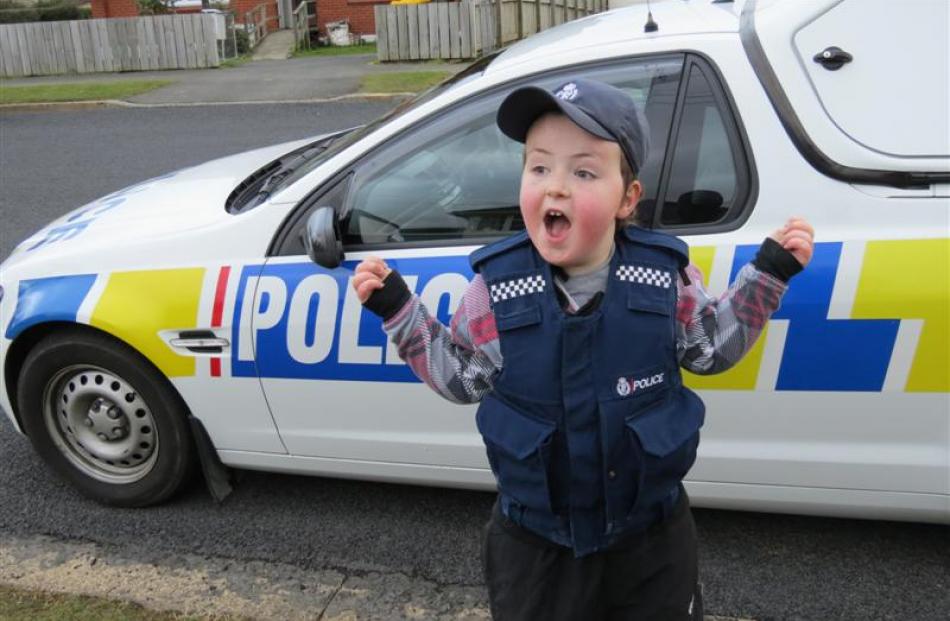 Going for a ride in a police car, wearing a police vest, meeting a police dog handler and German Shepherd Brook made Harley Shuttleworth's day last Thursday.
Wearing a police vest and a cap, the terminally ill 7-year-old, who has been fighting bilateral Wilms tumours for two years, looked the part as he stood next to the police car, waiting for Constable Alan Duncan to turn on the lights.
Although Harley could not convince Const Duncan to give him the keys, he was excited to meet him and to pat Brook.
Harley told Brook to sit and lie down, before he was given his own police dog soft toy, which he named Molly.
Molly is now his favourite soft toy and Thursday was one of the special days that have been created for Harley after his mother, Melissa, sought Star readers' help to create happy memories for Harley.
The tumours on his kidneys have grown back twice this year and his body can no longer handle surgery and intensive rounds of chemotherapy. Palliative care is his best option.
Other happy memories have included car and motorbike rides, and people have been donating money, which has gone towards a trampoline and things for his bedroom. A playhouse is in the pipeline.
Ms Shuttleworth thanked everyone for their support.
- samantha.mcpherson@thestar.co.nz