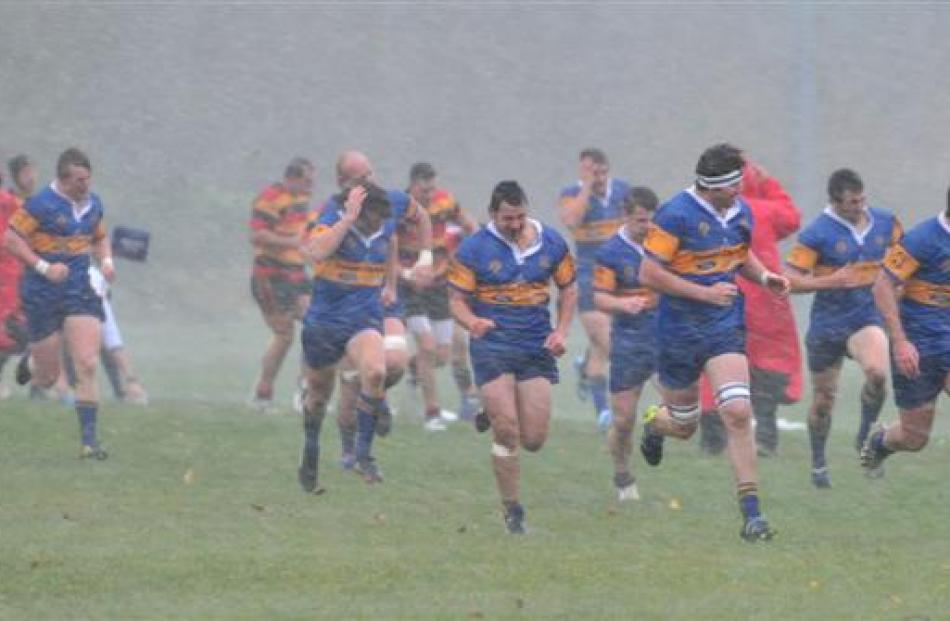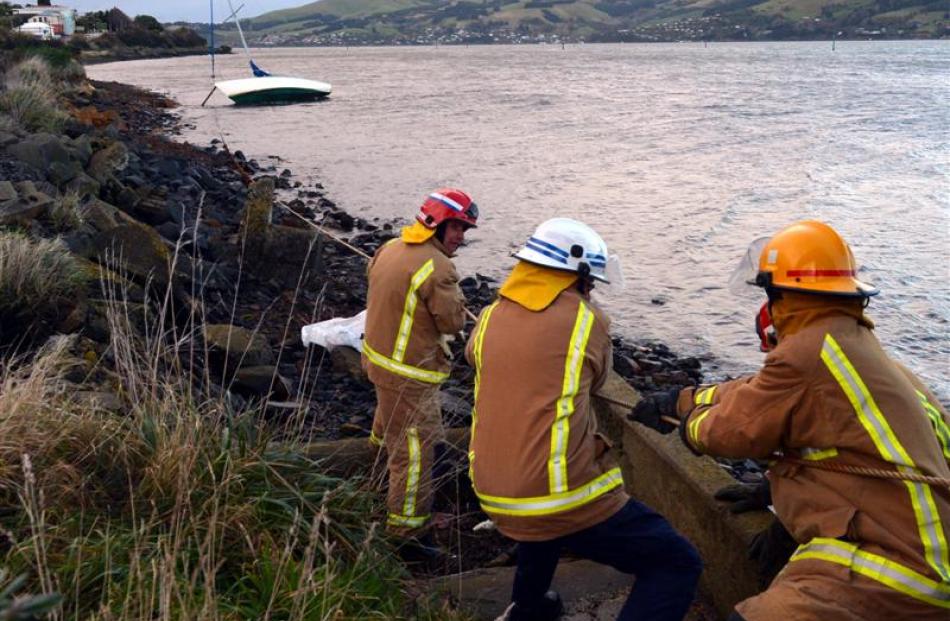 A woman was almost crushed by a toppled shipping container as wind gusts of up to 120kmh wreaked havoc across the South at the weekend.
The high winds returned last night, along with hail and snow showers, and conditions are only expected to get colder, with severe frosts predicted.
Temperatures tonight are tipped to fall to below freezing in many places - including -13degC in Queenstown.
On Saturday, Ploni White was helping take items out of her family's container when a gust ripped through Ravensbourne with such force a nearby container began to fall towards her.
''It missed me by inches.''
She crawled from behind the wreckage to discover her granddaughter sitting nearby in her pram - unscathed.
''If it had fallen any other way, we both could have been squashed.''
The storm brought strong winds and heavy rain to Dunedin about 3pm as the first cold blast of the year hit the South.
About 5mm of rain fell in half an hour and temperatures plummeted 10degC within minutes, from a high of 17degC.
The quick change felled trees and power lines, caused sports matches to be called off - including a premature end for all five Dunedin premier rugby matches - and left surface flooding around the city.
Emergency services were inundated with calls as strong winds brought down power lines and damaged poles, while power authorities scrambled to restore electricity to 1790 Dunedin consumers.
Last night, 157 homes and businesses were still without power, even though additional lines workers were brought in from Central Otago yesterday to assist Dunedin crews with repair work.
''As severe weather conditions continue, consumers should be prepared in the event of further power outages overnight,'' Delta general manager asset management Derek Todd said.
The outages were one of the most significant storm-related events in recent years, he said.
Crews were working as fast and as safely as they could to restore power to the remaining consumers still without it, he said.
Last night, the Ice Stadium, in Victoria Rd, and the Edgar Centre, in Portsmouth Dr, lost power, interrupting an ice hockey game and delaying the Steel versus Tactix netball game.
Customers supplied by PowerNet in Southland and South Otago also experienced outages but most were fixed by yesterday. No further details were available last night.
The rough weather caused some flights to be delayed at Dunedin International Airport.
Last night, snow showers fell in Dunedin's hill suburbs, with MetService issuing a warning for snow and strong winds down to 500m in Otago and Southland, especially for the inland hills and the Catlins, to early this morning. Lesser amounts were expected down to 100m or 200m.
In Queenstown, steady rain fell yesterday, causing some surface flooding. Snow fell on skifields. Flights at Queenstown Airport were affected, with at least one inbound flight from Christchurch, at 8.20am, forced to turn back.
Queenstown Lakes District Council contractors cleared a slip yesterday near the halfway lookout on Glenorchy Rd, with the road reopened yesterday.
Coronet Peak ski area manager Ross Copland said his staff were ''pretty happy'' with what the southerly front delivered, given the field was due to open on June 7.
The MetService estimated 13cm of natural snow fell at Coronet during the weekend, with more likely today. About 14cm fell at the Remarkables.
The high winds on Saturday caused problems around Dunedin. A vessel being repaired by the Ravensbourne Boating Club was blown over and Ravensbourne fire brigade members helped secure a yacht which slipped its moorings.
Another vessel dragged its line and drifted in the channel before it was retrieved. Emergency services were inundated with calls, including a woman suffering minor injuries when her vehicle hit a downed tree on Puddle Alley.
Outram residents Matthew and Angela Young told the Otago Daily Times the power cut came minutes after the storm. It meant the family's only heating, a heatpump, was put out of action.
Their biggest concern was how to keep their home and 5 month-old baby boy, Oliver, warm.
On Saturday night, Oliver was wrapped in extra merino layers and woollen blankets as the temperature inside the brick home dropped to a single digit. Power was restored at 10.30am yesterday.
Further south, gusts caused bricks to fall off the facade of the Work and Income building in Tay St, Invercargill, about 2pm. The Bluff Oyster and Food Festival was cancelled about 1pm because of heavy winds and traffic being caught up in a road closure caused by downed power lines.
Festival spokesman Lindsay Beer said organisers were disappointed about having to call off the event, as many people had travelled to take part.
A car became entangled in fallen power lines on State Highway 1 between Bluff and Invercargill about 1pm. The occupants remained in the vehicle and called for help.
No-one was injured but the road was closed for about two hours as linemen fixed the power lines, and large lines of waiting vehicles formed.
---
MetService forecast for Otago
Today: Conditions becoming clear as the cold southwest and gale winds die out. Temperature highs range from 3degC in the Queenstown Lakes district to 7degC in Dunedin.
Tomorrow: Severe morning frosts and fine weather with northwesterlies developing. A low of -13degC predicted for Queenstown; -11degC for Alexandra; -8degC for Wanaka. Temperature highs of between 3degC in the Queenstown Lakes district and 9degC in Dunedin.
Roads closed last night
Snow: SH93 Mataura to Clinton, SH94 Te Anau to Milford, SH87 Mosgiel to Kyeburn. Milford Rd, Te Anau to Milford Sound.
Power lines down: Brighton Rd, Dunedin
Snow chains required: Crown Range, Cardrona Valley Rd, Lindis Pass.
---
Dunedin power outages
Power now restored
Mornington: From 3pm-5pm Saturday, affecting 482 consumers.
Outram: From 3pm Saturday to 1pm yesterday, affecting 189 consumers.
Outram: From 3pm Saturday to 10.30am Sunday, affecting 320 consumers.
East Taieri: From 4.45pm-7.15pm Saturday, affecting 18 consumers. East Taieri: From 4.45pm Saturday for five minutes; again at 7.10pm, for all 415 consumers.
Port Chalmers: From 4.30pm Saturday to 3.30pm Sunday, affecting 46 consumers.
Berwick: From 3pm-7pm Saturday, affecting 211 consumers.
Power not restored.
Waldronville: From 3pm Saturday (restored to 367 consumers by 5.15pm Saturday); 100 still without power last night.
Cape Saunders: From 3.15pm Saturday; 47 consumers still without power last night.
Berwick: From 3pm Saturday; 10 consumers still without power last night.
There have also been isolated outages for individual consumers throughout Dunedin caused by damage to service lines.
---