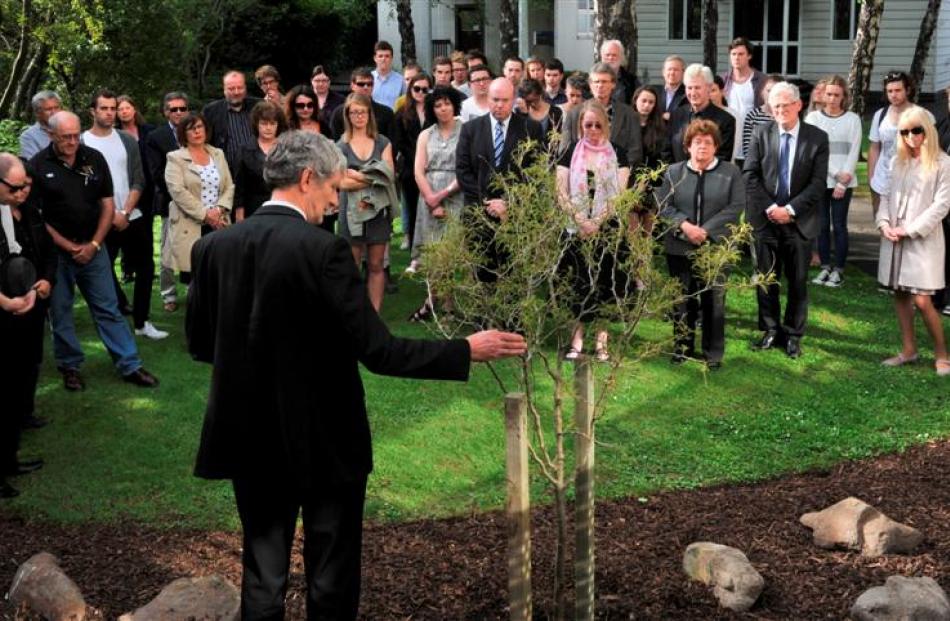 The death of the leading criminal defence lawyer Greg King was a wake-up call over the pressures facing some defence lawyers, Prof Mark Henaghan said yesterday.
Prof Henaghan, who is dean of the University of Otago Law Faculty, was commenting yesterday at an outdoor memorial service on campus, attended by about 50 people, including several senior Dunedin lawyers.
At the early evening service honouring the memory of Mr King, an Otago law graduate, a kowhai tree was planted near the Water of Leith to mark the occasion.
The Society of University of Otago Law Students said it had organised the event to honour one of the most esteemed graduates of both the faculty and the university.
The coroner found in October that Mr King's death in Wellington in November 2012 had been self-inflicted. And a note left by him described being ''totally burnt out'' after taking on so many criminal defence cases.
Prof Henaghan praised Mr King's achievements as a lawyer who was ''always highly prepared'' and ''entirely committed'' to every case.
Mr King had not only taken on a high-pressure job with a high workload, but had also been adversely affected by an unfairly negative response from some sections of society over his work as a criminal lawyer, Prof Henaghan said.
Some people completely misunderstood the role of defence lawyers, wrongly lumping them together with defendants, and harshly condemning lawyers for the crimes their clients were accused of, he said.
Some such critics considered defence lawyers ''scum'', but failed to realise that Crown prosecutions could not proceed to trial without defence lawyers being present.
Such people also failed to appreciate that everyone, including themselves, had the right to an adequate defence, Prof Henaghan said.
Mr King had also sought to uphold the rights of the victims of crime, he said.
After being admitted to the bar in Dunedin in 1993, Mr King had worked in the city with Judith Ablett-Kerr QC, a prominent lawyer and his mentor, for three years before shifting to Wellington.
They had worked together on the ''poisoned professor'' trials, which resulted in the defendant, Dr Vicky Calder, being found not guilty. He also assisted Ms Ablett-Kerr in 2009 in the trial of Clayton Weatherston for the murder of Sophie Elliott.
Last year, he successfully represented Fielding farmer Ewen Macdonald, who had been charged with the murder of his brother-in-law, Scott Guy.
Ms Ablett-Kerr praised Mr King's ''stellar career'' as a criminal defence advocate ''second to none''.
Mr King was proud of being an Otago graduate and once, while talking with a former Chief Justice of New Zealand, had commented that attending Victoria University of Wellington did not seem to have held the judge back, she said.