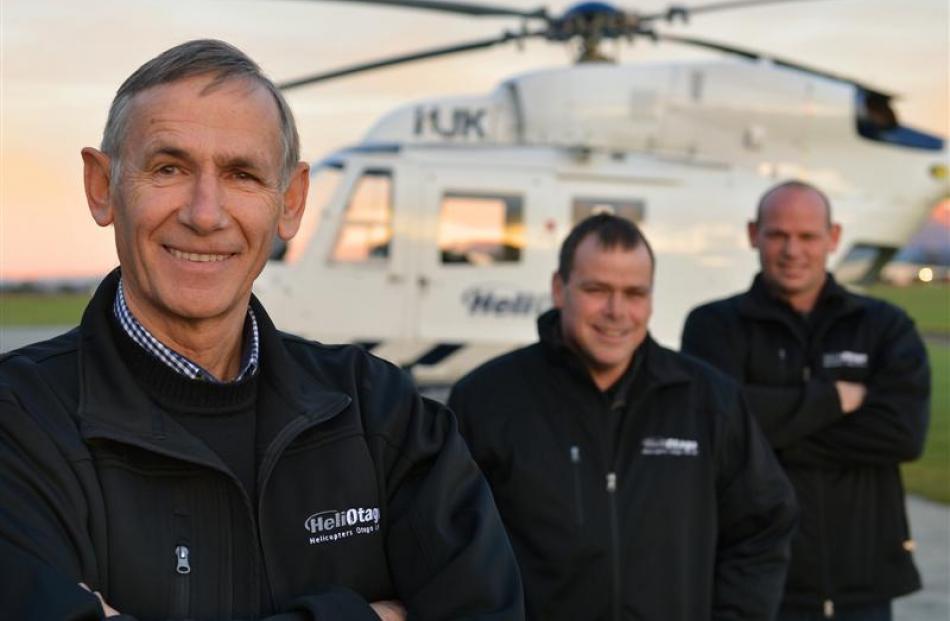 Gallows humour isn't in short supply around the Helicopters Otago base since kingpin Graeme Gale was rushed to hospital in the middle of the night.
''What's it like photographing a dead man?'' the rescue pilot asked cheerfully yesterday at the hangar on the Taieri.
The 60-year-old says he feels fine two weeks after an emergency stent was inserted to open up a narrowed artery which had left him fighting to breathe at 2am. But while the gruff humour and colourful language remain the same, the sharp eyes which have guided the Otago Regional Rescue Helicopter on hundreds of medical mercy dashes are looking at life from a fresh perspective.
''My father dropped dead from a massive coronary at the age of 56. I got a second chance. I was extremely lucky.''
As wake-up calls go, having a heart attack 44 years to the day since his father's sudden death was pretty hard to ignore.
But even as he was being driven to hospital, the lean, healthy, ''bulletproof'' father of three was refusing to acknowledge the seriousness of the situation.
''I was still in denial. I'm thinking, `This isn't happening to me. That's what guys do. And we're really, really good at it.''
The first sign that he wasn't bulletproof was breathlessness as he was working with his chainsaw on Queen's Birthday Sunday.
His wife, Ros, asked him if he was alright and he said he was, despite feeling some chest tightness.
''I ended up not finishing what I was doing. I looked at the chainsaw and I couldn't even think about picking it up to carry it back. No man leaves his chainsaw out, does he? But the pain went away again.''
What did you tell Ros?
''You don't tell your missus things like that, do you? I told her nothing.''
Woken by breathlessness and chest pains at 1am, he shrugged it off. Half an hour later, the symptoms returned.
''At that stage I thought, `I am in trouble.' And, of course, that was the first Ros heard about it.''
Once he was in the coronary care unit, it turned out to be a quick procedure to insert a stent and he was home later the same day.
Full of praise for the ''world-class'' care he received, he stresses he was lucky and not all cases would be so straightforward.
But he says what is straightforward is the need for men to listen to their bodies - and their families - and sort out their attitudes to health. The timing of his message could not be better, coming in Men's Health Week, which finishes tomorrow.
Despite a family history of heart problems - his mother also died of a heart attack, in her early 70s - Mr Gale never considered he was at risk.
He'd passed regular medical tests for his pilot's licence and had transported so many cardiac patients he thought he knew a thing or two about chest pain symptoms. ''But the chest pain wasn't what I expected. It's not like you've just hit your thumb with a hammer.''
Subject to passing the medical tests, he plans to return to flying after the compulsory stand-down period. In the meantime, first on his radar are two guys he sees every day - his sons Dave (40) and Kevin (36), both of whom smoke.
Kevin says the ''old man'' has been hammering him harder than ever to give up the fags but admits he's a classic case of a guy in denial.
''I never thought about it [the family history of heart problems]. It wasn't happening to me. It still isn't happening to me.''
Dunedin Hospital cardiologist Tim Glenie said men could take several key steps to protect their heart health. Number one was giving up smoking.
Next on the list was regular contact with their GP. The doctor could run routine screening tests and check family history and other factors against a risk profile. And perhaps most important was the need to act when symptoms appeared.
''If you're getting breathlessness, go and see your GP. If you have chest pain, you need to call an ambulance.''
Graeme Gale is a 100% convert to this way of thinking.
''Health is fragile, and I see it on a daily basis. I see a lot of tragedy. I see a lot of trauma. Some of it's through no fault of your own, but some of it's stuff you can control.
''It's been a wake-up call and when I think back on it I reckon I had my toes right over the edge of the pit. It wouldn't have taken much and it could have been a totally different outcome.''
His message to others?
''If you've got chest pain don't bugger around. Ring 111.''
- Sean Flaherty.