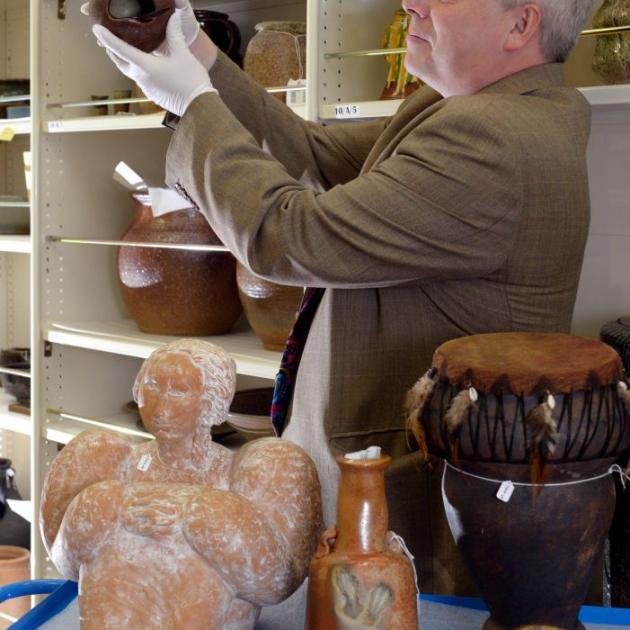 A collection of ceramics owned by celebrated Dunedin artist the late Ralph Hotere has been acquired by the Otago Museum.
Hotere built up the collection, comprising about 90 pieces, over about 20 years, from the late 1960s.
Many of the pieces were on show or used in his Port Chalmers home and garden.
Works from the ''Ralph Hotere Ceramics Collection'' will be exhibited at the museum's H D Skinner Annex in March next year, museum officials say.
The collection features the work of many important New Zealand ceramicists, including Barry Brickell, Nicholas Brandon, Lawrence Ewing and Mirek Smísek.
Most of the pieces were made by Brickell, a master of ceramics, creator of homemade kilns and the force behind the successful Driving Creek Railway and Potteries in the Coromandel.
A friend and contemporary of Hotere, Brickell moved to Dunedin in 1975, where he stayed with Hotere.
Together, they built a kiln using pine bark from the wharf at Port Chalmers.
Museum curator humanities Moira White said she was ''thrilled'' that the collection was being safeguarded at the museum, and that the Dunedin and Otago public would be able to view these ceramics in future.
Discussions to acquire the collection began in 2012 when Ms White was approached by Hotere.
The collection was now at the museum.
Each piece would be entered into the museum's collection management system, and fully catalogued.
The museum was honoured to have been ''approached by Ralph and entrusted with the care of this special collection'', Ms White said.
Most of the pieces dated from the 1960s and '70s, and the collection provided ''a fascinating glimpse into a vibrant period of New Zealand art''.