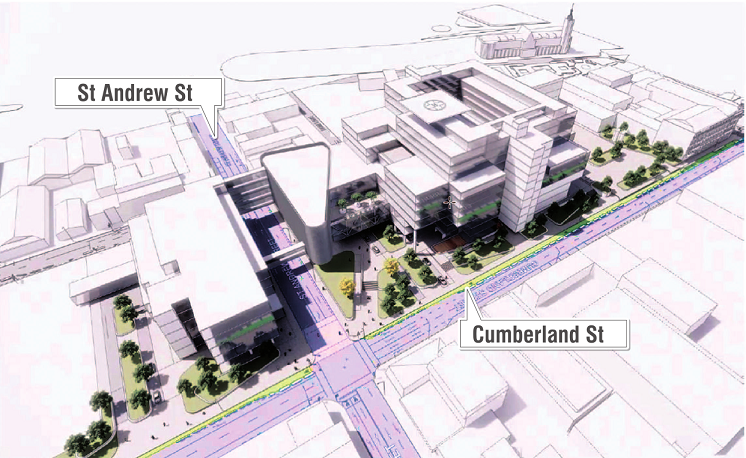 Hospital staff, non-urgent patients, and visiting family members could be expected to use a "park and walk" facility mooted for the edge of Dunedin's CBD.
More details have emerged from the submissions to the major city centre traffic overhaul proposed by the Shaping Future Dunedin Transport project which comes as plans for the new Dunedin Hospital take shape.
The Southern District Health Board submission to the multi-agency group, including the NZ Transport Agency and Dunedin City and Otago Regional Councils, calls for parking on the edge of the CBD.
Wharf St and the warehouse precinct — each several hundred metres from the hospital site — are mentioned as options.
"These type of [parking] areas are likely to generate fewer driving trips within the CBD and encourage people to walk to their final destination," the SDHB submission said.
Parking space in Wharf St would need to be accessible 24/7 so hospital staff working late shifts had the option to park there.
There should also be a frequent shuttle service running between the car park and the hospital.
This should run into the night so hospital staff finishing late did not have to walk to their cars in darkness.
When it comes to parking in the CBD, the SDHB said it was "crucial" it was available for people with disabilities, the elderly and parents of young children.
The SDHB has also backed the otherwise unpopular proposal of a two-way system through the city centre to replace the one-way State Highway1 system.
While 77% of respondents to an online survey this winter wanted to retain the one-way system as the city "grows and develops", the SDHB argues the one-way system would make the new city-centre hospital more "isolated".
"Large vehicles (e.g. stock trucks) would be less likely to drive near the hospital with the state highway re-routed and thus create a safer environment for other road users (e.g. pedestrians and cyclists)," the health board's submission states.
The New Zealand Heavy Haulage Association, on behalf of local transport operators, called for the one-way system to be retained.
It was concerned a proposed "harbour arterial" route along Wharf and Thomas Burns Sts, aimed at getting heavy vehicles out of the CBD, would not be suitable for oversized vehicles.
"The harbour arterial route for oversize freight has major limitations and would not generally be supported as it is currently configured," it says.
"There are overhead restrictions such as bridges at Andersons Bay Rd and Wharf/Jetty [Sts] intersection which would count this out as an oversize route ... [so a suitable alternative route for oversize loads would need to be provisioned]."