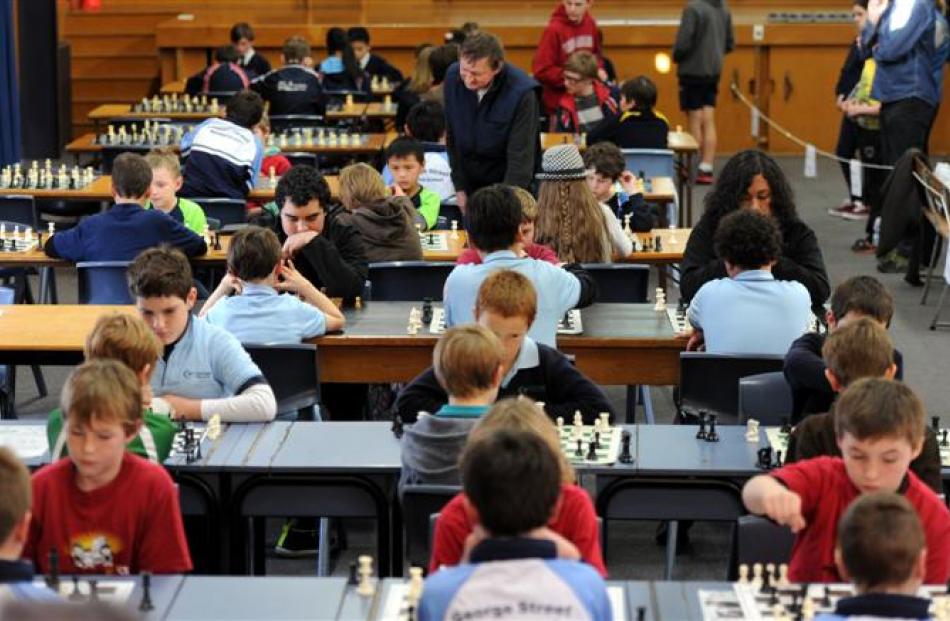 Tarras School pupil Jemmimah McCombe-Rae (10), of Tarras, is all concentration as she takes on Ben Paku (10), of George Street Normal School, in the second round of the Otago Southland primary intermediate interschool team chess championship in Dunedin on Saturday.
About 70 children in 17 teams from 13 schools took part in the event. The winning team will compete in the national finals in Auckland in September.
Also, the top three teams would compete in a separate South Island final in September, which was usually in Ashburton.
Tournament director Quentin Johnson said the competition, now in its 10th year, was designed to encourage the development of chess clubs in schools, and year-round play.
Ability levels tended to vary markedly between the competitors, he said.
---
Results
Intermediate: George St Normal A, 23 points, 1; Tarras, 22, 2; Enrich, 21.5, 3.
Primary: Balmacewen A, 23.5, 1; Balmacewen B, 16.5, 2; Tahuna A, 15.5, 3. 
---