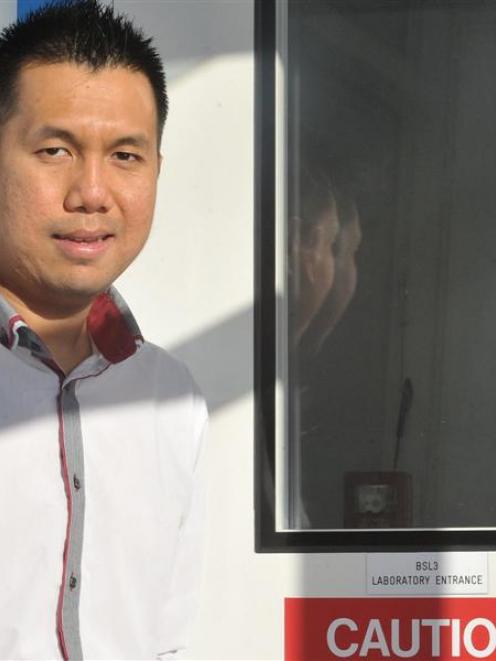 Research aimed at better protecting New Zealand against highly drug-resistant strains of tuberculosis is one of many University of Otago projects boosted by $2.2 million in Lottery Health Research funding.
Prof Greg Cook, an award-winning researcher in the Otago microbiology and immunology department, received $86,218 in the latest funding round to undertake the tuberculosis research.
The work will focus on investigating the use of whole genome sequencing of the tuberculosis bacterium, Mycobacterium tuberculosis, for more rapid diagnosis and treatment of extensively drug-resistant Tb.
Extensively drug-resistant Tb is a form of tuberculosis caused by bacteria that are resistant to some of the most effective anti-Tb drugs.
Dr Htin Lin Aung, a Burma-born postdoctoral fellow in the Otago department, is a co-investigator in the research and is ''very happy and very proud'' to be involved in work that could benefit both New Zealand and Burma.
He noted that New Zealand was a low Tb incidence country, with only about 300 cases a year.
By contrast, Burma, also known as Myanmar, had a high Tb incidence, with vastly more cases.
But there was no room for complacency in New Zealand because swift air travel meant
people with strains of Tb that were highly resistant to antibiotics could arrive at any time. About 60% of the world's Tb cases arose in Southeast Asia and the Western Pacific, he said.
The Otago project aimed to ultimately achieve faster, low-cost diagnosis of extensively drug-resistant Tb by using powerful whole genome sequencing (WGS) equipment.
Otago researchers said they would also explore the adoption of WGS as the preferred method in New Zealand for rapid drug susceptibility testing, as well as for ''outbreak detection and pathogen surveillance''.
Dr Aung said there had been only one recorded case of extensively drug-resistant tuberculosis in New Zealand. It arose in 2010 and involved a man from Burma who had moved to Otago.
His successful treatment, involving specially imported drugs, had cost $10,000 a month.
Researchers from across Otago University's three main campuses in Dunedin, Christchurch and Wellington received 19 translational research grants, 10 equipment grants, two postdoctoral scholarships and two PhD scholarships in the 2014-15 Lottery Health Research funding round. About $3.8 million, comprising 64 grants, was distributed in the round.
Otago researchers had gained about $1.9 million of $3.89 million distributed nationally in the previous funding round.
Otago's translational projects involve a wide variety of health-related topics ranging from investigating whether improving homes could prevent children from suffering strep throat and rheumatic fever, to studying aspects of New Zealand's non-Hodgkin's lymphoma epidemic.
Among the researchers funded were: Dr Alexander Chisholm, human nutrition, $100,000; Associate Prof Brian Cox, preventive and social medicine, $78,000; Dr Elspeth Gold, anatomy, $50,222; Dr Daniel Cury Ribeiro, $29,000, Dr Prasath Jayakaran, $37,110, Dr Meredith Perry, $18,712, Ramakrishnan Mani, $7709, all physiotherapy; Dr Noelyn Hung, pathology, $30,000; Dr Joanna Williams, anatomy, $120,000; Prof Murray Skeaff, human nutrition, $35,000; Dr James Ussher, microbiology and immunology, $41,008; postdoctoral fellowships, Dr Silke Neumann, pathology, Dr Kimberley O'Sullivan, Wellington campus; PhD scholarships, Kirsten Ward-Hartstonge, microbiology and immunology, Jane Oliver, Wellington, both $120,000.