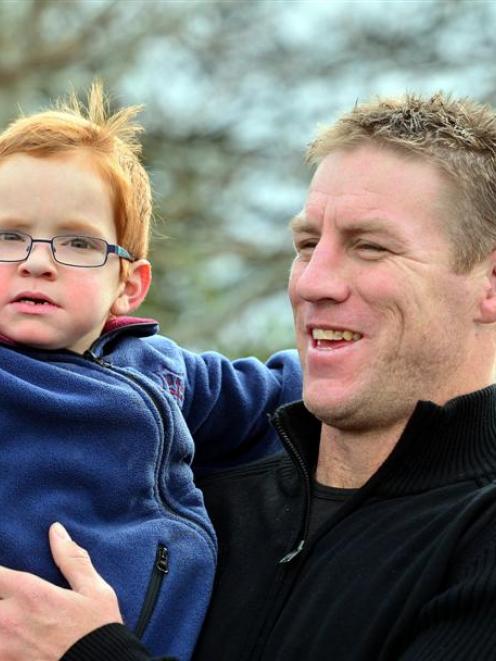 It is not often school ''fact-a-thons'' and discos involve former All Blacks, but fundraising for 6-year-old Sinclair May is a special case.
Highlander and former All Black Brad Thorn is helping raise funds for the Dunedin boy who has an undiagnosed chromosome defect resulting in delayed development.
On August 8, Sinclair and his father, Jason, will travel to Hong Kong for a treatment which Mr May describes as ''a bit quirky''- tongue acupuncture, which it is hoped will significantly develop the youngster's speech. To help cover the $15,000 trip, his school, St Francis Xavier School, is running a maths ''fact-a-thon'', with pupils seeking sponsors, and a school disco next month.
Sinclair will be the first from New Zealand to receive the treatment, and Mr May hoped his son could act as a ''pioneer'' for other New Zealanders with developmental delay.
''If this helps another child, we've done the job,'' he said.
The family had raised about half the money so far.
Mr Thorn became involved when his children moved to St Francis Xavier School and he heard about Sinclair.
''I wanted to help however I could,'' he said.
''I think it is great to see mum and dad give it a crack for the kid, just like any good parent,'' he said.
''I can't imagine [the treatment] will be very nice for Sinclair. Hopefully, they get a good result''.
Mr May learned of the treatment by mistake. After bouncing ideas around with Sinclair's chiropractor Dr Tat Loo and much research, Mr May found out about Prof Sun Jie Gung at the Hong Kong International Tongue Acupuncture Research Clinic.
''I asked [Prof Sun]: 'Will Sinclair speak?' and he said 'Yes'. I just have a gut feeling about this.''
- Hannah Greenslade-Yeats
Contributions can be made to:-
O'Neill Devereux Trust Account
Westpac bank account number 030903-0230245-00
Ref: 226513-8