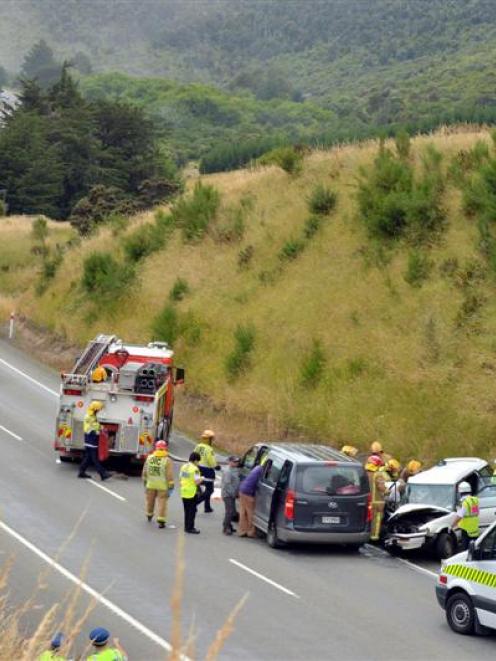 The driver of a rental van carrying six Chinese tourists which collided with a station wagon on the Northern Motorway last month appeared in the Dunedin District Court yesterday charged with dangerous driving causing injury.
Fei Hao (40), a tourist from Shanghai, pleaded guilty. He was convicted, ordered to pay $10,000 emotional harm reparation, and disqualified from driving for 12 months.
Mr Hambleton said Hao was driving north, near Butlers overbridge on State Highway 1, just before 1pm on January 28. He had five passengers, including two children aged 8 and 9.
Approaching a sweeping right bend, Hao pulled out to overtake a truck-and-trailer unit.
Due to the corner being blind, he did not have a clear view of the road ahead and could not see the station wagon heading south. He crashed into the front of the station wagon, resulting in its driver, the sole occupant, suffering fractured neck vertebrae, a fractured pelvis, a fractured right thigh bone and a fractured left arm.
Spoken to by police, Hao admitted being at fault and said he believed he was safe to overtake. Counsel John Farrow said Hao had researched the New Zealand road rules before coming here. He had been behind the truck for some time and believed he had room to overtake. When he realised the other vehicle was coming, he attempted to drop back behind the truck but was not able to do so in time.
Hao was genuinely remorseful. Judge Phillips said the victim was seriously injured. He would be in hospital for at least the next eight weeks. His recovery would take a long time. He lived alone. His vehicle was so damaged he no longer had transport. The judge took into account Hao, as a tourist, was driving in unfamiliar conditions and had studied New Zealand road rules.