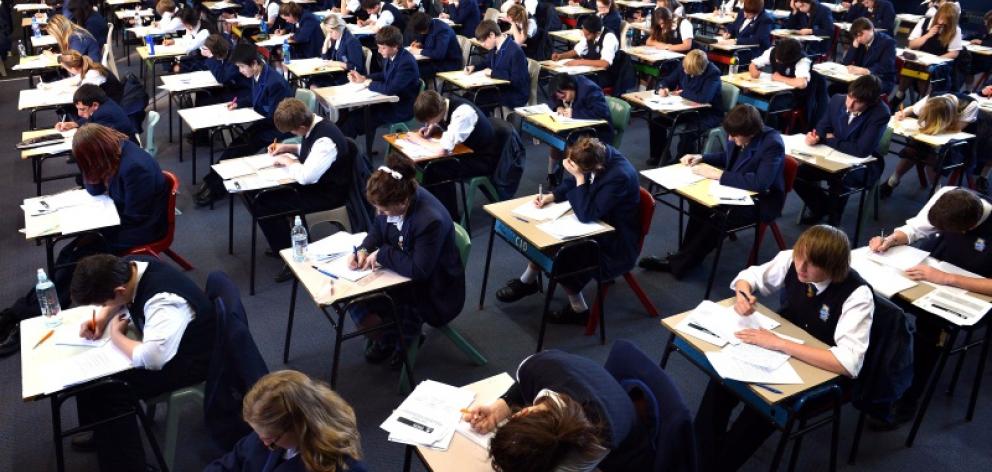 Thousands of school students are ditching the paper and pen and taking their revision online. 
Teenagers across the country are preparing to sit the first of their National Certificate of Educational Achievement (NCEA) exams this week, with Scholarship drama kicking off exam season tomorrow .
Timetable
Key dates to remember over the coming week:
Wednesday, November 9: Scholarship drama.
Thursday, November 10: Level 1 and Scholarship English; Level 2 Spanish and Level 3 biology
Monday, November 14: Level 1 Science; Scholarship history and chemistry
Tuesday, November 15: Level 1 and Economics and physics; Level 3 physics and Latin, and Scholarship economics and French
Wednesday, November 16: Level 1, 2 and 3 geography and dance; Scholarship Japanese and physics.
But the face of revision has changed: Gone are the days of highlighting textbooks and scribbling notes on paper. Now students are heading online to study.Parents will be glad to hear that all that time their teen spends staring at their device isn't just watching cat videos.
A number of revision and study websites are available for students studying NCEA, including the Ministry of Education's Studyit site.
It provides advice about study, exam preparation, and points to useful revision material.
The New Zealand Qualifications Authority (NZQA) also provides past papers and examples of good answers, as well as specifications for what to expect in an exam.
But former physics teacher Dave Cameron, and doctor and former Miss World New Zealand Deborah Lambie, thought there was something missing from the online tools available to students.
They launched LearnCoach four years ago, and this year have seen more than thousands of students coming to them for help.
The site provides video tutorials explaining the key skills to reach achievement standards across NCEA subjects and levels, and provides worked examples for each skill.
"I think the reason it's worked so well is it's very specific for NCEA exams, whereas other online things don't necessarily cover the things that will be assessed in the NCEA exams," Lambie said.
"[Students] find it helpful having something, if they feel like they don't know where to start, they have somewhere to start, and also I think people find it really helpful having something that's free, because tutoring is very expensive, and lots of parents can't necessarily afford to send their kids to a one-on-one tutor."
Website numbers hit 30,000 in term 3, with 14,000 students logging in last week alone in the run-up to exams.
The team was "very excited" by the interest, Lambie said, and are now "getting a little bit inundated with questions" from stressed-out students emailing in questions and worries.
The site was "fun and engaging", she said, and many students emailed in thanking them for their help.
"We've had kids say such nice stuff," she said.
"Lots of kids email through and say thank you, or we've saved their life."
Lambie said while online revision tools were "not necessarily better" than one-on-one tutoring, they were beneficial to lots of students because so many could access them for free.
"A big benefit as well is kids can watch them as many times as they want, so if they don't get something the first time they can rewatch it, they can stop it [when they want], or watch it in a group with their friends.
"Kids are always on their devices, and I think there's just a big shift in education at the moment to go digital.
"It's so different from when I was at school - I only left school in 2008, so only eight years, and I didn't have a laptop and we weren't allowed phones at school."
Around 146,000 students will sit exams from Wednesday, according to NZQA. Exams run until December 2.
Karl Le Quesne, head of early learning and student support at the Ministry of Education, said students need to find out a study and revision method that suits them.
"We would encourage students to use revision methods that suit them best and does not recommend one method over another."