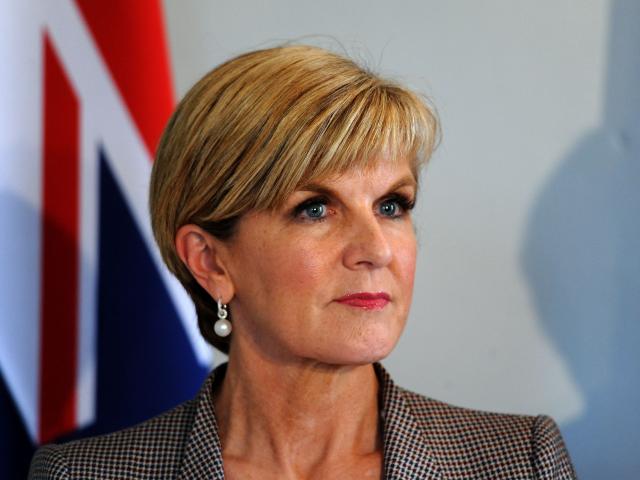 Australia's Foreign Minister Julie Bishop insists she is looking forward to working with New Zealand's incoming prime minister Jacinda Ardern after accusing her Labour Party of trying to undermine the Australian government.

A month after the election, NZ First leader Winston Peters announced last night he was forming a coalition government with Ms Ardern, bringing to an end nine years of National rule.
Prime Minister Malcolm Turnbull and Ms Bishop have both offered their congratulations to the 37-year-old Labour leader, talking up the strong and deep relationship across the ditch.
"I'm looking forward to working with the new government," Ms Bishop told reporters as she flew out of Canberra.
In August, Ms Bishop had accused the New Zealand opposition of conspiring to undermine the Australian government and suggested she could find it hard to trust the Labour Party should it win the election.
The minister said Australia's Labor opposition had used its New Zealand counterparts to raise questions about Deputy Prime Minister Barnaby Joyce's Kiwi citizenship in the New Zealand parliament.
Employment Minister Michaelia Cash was last night also critical of the arrangement across the Tasman, suggesting the new NZ government may be destined to fail.
"History shows that unfortunately the last time the Labour, Greens and independents formed government it didn't end well," Senator Cash told 2GB radio, before praising the previous government led by National's John Key and Bill English.
But Cabinet minister Christopher Pyne insists Australia's relationship with NZ transcends politics.
"Julie Bishop has welcomed the resolution of their election and we will all get on with our relationship," he told the Nine Network.
Labor's foreign affairs spokeswoman Penny Wong said the Turnbull government must take immediate action to rebuild relations with the incoming New Zealand government following Ms Bishop's attack on Ms Ardern.
"It is now incumbent on the foreign minister to undo the damage caused by her irresponsible remarks during the election campaign," she said.
It was Senator Wong's chief of staff who sparked the New Zealand Labour Party's questioning.
Mr Turnbull spoke to Ms Ardern on the phone overnight and the pair reaffirmed the strength of Australian and Kiwi ties.
Ms Ardern has signalled a trip across the ditch is on the cards as soon as possible.