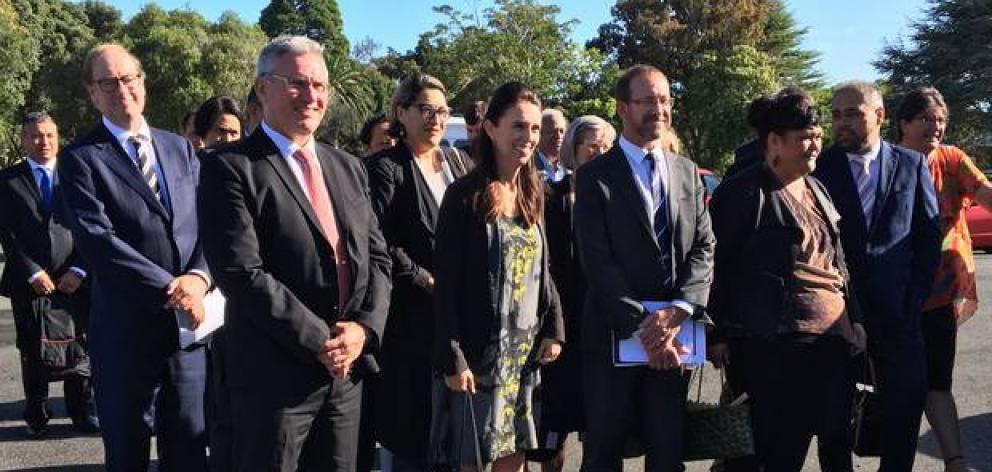 Prime Minister Jacinda Ardern has begun her five-day visit to Waitangi with her first face-to-face meeting with iwi leaders.
There are about 150 iwi leaders at the forum this year and attendance was high as many were curious about the change of Government.
The weather disrupted Ardern's travel plans to Waitangi but she made it in time after driving up from Auckland early this morning.
She was welcomed into the forum with a powhiri along with Minister for Crown and Iwi Relations Kelvin Davis, Maori Development Minister Nanaia Mahuta, Treaty Negotiations Minister Andrew Little and Peeni Henare.
Green MPs Eugenie Sage and Jan Logie were also in the government group.
The Iwi Leaders Forum are the heads of the runanga [iwi governance bodies] around the country and regularly meet with the Government.
However, there were some question marks about how the forum would work with the new Labour Government because some of the new ministers had questioned the role the leaders play.
The Iwi Leaders Forum had written to the Prime Minister in advance of the meeting and was to set out its priority areas.
It was expected issues from water rights to the Kermadecs Ocean Sanctuary would be raised.
- By Claire Trevett