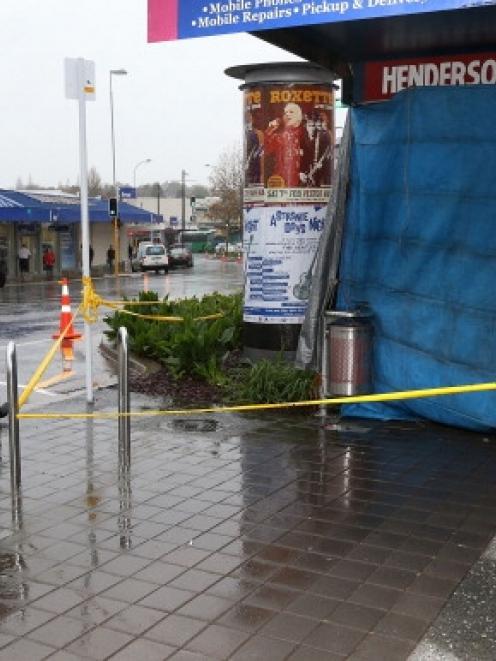 Two boys, aged 12 and 13, are being spoken to by police in relation to the death of a dairy owner in Auckland today, but so far no charges have been laid.
Railside Dairy in Henderson was the scene of an aggravated robbery, and 57-year-old owner Arun Kumar was stabbed in the neck, police said.
Police arrived at the dairy on Great North Rd around 7:30am, Detective Inspector Bruce Scott told a media briefing at Waitakere Police Station this afternoon.
Ambulance staff gave assistance but Mr Kumar had suffered a wound in his neck and died at the scene. Mr Kumar's wife was with him at the time of the attack and was unharmed, police said.
Mr Scott said no charges had been laid against the boys in relation to the attack.
Nothing was taken from the shop in the incident he described as an aggravated robbery.
"We don't know what they were targeting,'' he said.
"It's shocking to us that kids so young could be involved.''
Mr Scott said police had gathered CCTV footage from the dairy and nearby shops and were speaking to witnesses.
"There's quite a few people out and about at 7:30,'' he said.
He urged anyone else who was in the area at the time to contact police.
People at Mr Kumar's home in Henderson this afternoon said the family were too upset to speak to media.
Nearby shop owners described Mr Kumar as a "really nice guy" who was well known to other shop owners in that section of the street.
Lawyer Bernie Allen, from a nearby law firm, said he always bought his supplies from the dairy, and staff were shocked by news of the stabbing.
"They were the most beautiful couple you could ever meet,'' he said of the Kumars.
"We're feeling deeply for his wife. It's too early to understand it all but we feel like our precinct, our people, have been violated.''
He described the incident as inexplicable.
"I'm deeply saddened by it.''
The area had some youth problems, Mr Allen said, but "not like this; this is not normal''.
He described Mr Kumar as "the quiet one", and his wife as a bubbly, outgoing lady. They were well known in the area, a busy section of shops and businesses, he said.
"They served us wonderfully and it will not be the same with him gone.''
John Tuapiki, who lives close by, went to the bakery next door to the dairy about 6am, before the shop opened, but didn't see anything unusual.
He was shocked to learn of Mr Kumar's death.
"He was a good man, a really good man. He would help the street kids, he would give drinks out, and bits and pieces, and when you get money you just go back and pay him, that's how good he was. He'd look after everyone.''
He described Mr Kumar as "very well known'' in the area.
Mr Tuapiki said he wasn't surprised to hear the incident was a stabbing, because a youth had been threatening people on the street with a large knife yesterday afternoon, asking for cigarettes.
It's understood the Kumars owned the dairy for about five years.
Te Atatu MP, Phil Twyford expressed his deep concern over the stabbing.
"This is an awful tragedy for the family. People involved in small retail businesses are vulnerable to this kind of attack.
"We need to do more about this challenge, but at the moment our thoughts and focus are with the family.''