National, Labour, the Greens and New Zealand First are spending this week preparing for what could be gruelling coalition negotiations following Saturday's election.
That includes selecting the right people to be talking to New Zealand First and the right teams of policy experts to be involved in the process, even if they are not in the team.
The controllers of the purses, Labour's Grant Robertson and Finance Minister Steven Joyce, will have a pivotal role in their negotiations.
But New Zealand First leader Winston Peters has a decided antipathy to Mr Joyce, the reason for which remains a mystery, and Gerry Brownlee is expected to take more of a leading role in the face-to-face contact on National's side.
One of the unknowns is what role the Green Party will have in Labour's negotiations.
Leader James Shaw has talked about making early contact with Mr Peters himself, rather than as a team with Labour leader Jacinda Ardern.
But allowing Ms Ardern to make the running for the Labour-Greens bloc is more likely to find favour.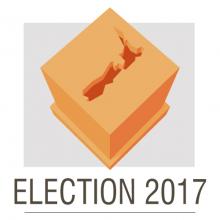 In his election night speech, Mr Shaw front-footed it by sending a public message to Mr Peters stating some common policy positions such as revitalising rail, a gesture that may have alarmed Labour.
Mr Peters has not yet made it clear whether he wants a repeat of 2005, when he did a deal with Labour on the condition the Greens were not part of government.
He and his colleagues are also yet to decide whether to have talks solely with National and turn to the Left bloc only if a deal cannot be struck, or to run a parallel process.
The former would be simpler and less taxing on NZ First's limited resources.
Mr Joyce's job is off the table.
Both National leader Bill English and Labour leader Jacinda Ardern have given commitments to voters the job of prime minister and finance minister in a National-led or Labour-led government would remain with the party.
It is expected, however, that both National or Labour would offer Mr Peters the role of deputy prime minister if his party were part of a formal coalition.
If the talks in 2017 are like the talks in 1996, the question of ministerial posts, if any, will come at the end of the process, not the beginning.
The time-consuming part of the negotiations is all about policy.
It means identifying which policies are completely off the table, which policies of NZ First could be adopted, which could be adapted, and which polices of National or Labour and the Greens could be stopped or adapted to better suit NZ First.
All the while the major parties have to have a mind to their own political priorities, Labour's being health, housing and the environment and National's being growing the economy.
By now National has identified all the NZ First policies it has in common with the party, all of those that are in conflict with it, and those for which it has no position.
Labour is likely to be doing the same.
The parties will also have identified policies Mr Peters has called bottom lines, which does not necessarily mean a deal cannot be done without them.
It is more ambiguous than a non-negotiable policy.
Any party can have one, and Ms Ardern yesterday, fresh from Labour taking back all seven Maori seats, declared a referendum on the Maori seats as a ``non-negotiable'' non-referendum policy.
Mr Peters has said a referendum on the seats was a bottom line, but he has had so many that the value of them has dropped.
He has also said re-entry to the Pike River mine is a bottom line but National says plans are under way for entry by the end of the year.
The absence of the Maori Party from the next Parliament may leave some of its achievements open to amendment or abolition by NZ First.
Whanau ora, a way of delivering social services, is supported by Labour and National but may well be under attack by NZ First.
The same goes with the iwi participation provisions written into the Resource Management Act in exchange for reforms of other parts of the Act to speed up consenting.
Labour has more policies in common with NZ First but that itself would not be the defining factor in any NZ First decision.
A major factor would be the priority attached to the policy by the party. And sometimes stopping another party's policy is an important as having overlapping policy.
National and NZ First have greater alignment when it comes to taxes - but NZ First might put greater store in stopping Labour's water tax on irrigators or on putting constraints on the tax working group Labour proposes.
Mr Peters opposes a capital gains tax.
National, however, would be well placed to have meaningful negotiations with NZ First over some of its infrastructure projects and regional development.
Labour is more open to Mr Peters' policy to move port of Auckland activities to Northland and Ms Ardern said yesterday that expansion of the port was not sustainable on its present site.
National would have a great aversion to interfering in the council-owned operation, but Mr English has been careful to rule out virtually nothing from coalition negotiations during the 10 months he has been Prime Minister.
National has criticised many of NZ First's policies and what it sees as policies that would take New Zealand backwards. But with an eye to the future and the reality of MMP politics it has left the door open. - NZME