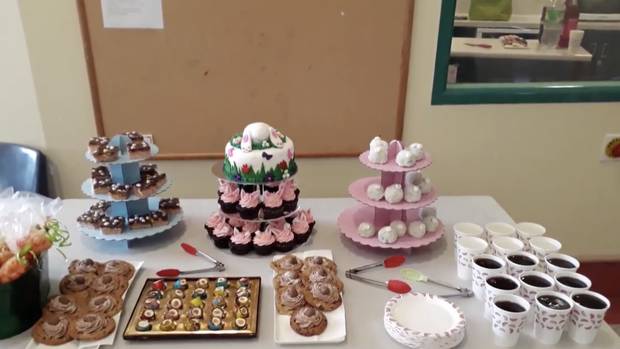 A video posted by the Waitemata DHB explaining how patients in a forensic mental health facility – many referred there for horrendous criminal offending – get birthday cakes, special Easter treats and movie nights has upset and infuriated victims' families.
They are appalled that the DHB is flaunting staff "going above and beyond" to celebrate milestones that their loved ones will forever miss out on and say the video is inappropriate and insulting.
The video was posted on the DHB's Facebook page yesterday and features a Mason Clinic psychiatric assistant with a cake she has baked at home for a patient.
The Mason Clinic is a forensic mental health facility that houses, among others, people either convicted of serious criminal offending, or found not guilty by reason of insanity but detained as a patient by the courts.
Among the patients are Akshay Chand, who killed Christie Marceau in 2011, and Colin Moyle's "insane" killer Matthew Ahlquist.
The video, set to upbeat music, appears to be an attempt to show a slice of life inside the Mason Clinic.
The Herald has chosen not to publish the video out of respect to victims.
The psych assistant is said to bake cakes for all patients in her unit, and although she acknowledges they have been put there "by the courts" she does not specify which patients receive her culinary treats.
"She does it for all the patients in her unit, organising special treats for other occasions also," a caption about the staffer, whom the Herald has chosen not to name, read.
The video reveals patients are also provided cakes, cupcakes, chocolates, drinks and other treats at Easter and on other holidays, and have "special movie nights" with snack-laden tables.
"I believe we're not here to judge," the psych assistant said in the video.
"The courts have done that, that's why they're here.
"It's not our job to take things any further, at the end of the day our patients are human and everyone appreciates a little bit of kindness."
The Herald was contacted by families of victims angry over the "special treats" video after it was posted.
Colin Moyle's brother Graeme told the Herald he did not begrudge anyone in the clinic getting a cake or marking a milestone - but he did not want or need to know about it.
"It's a nice gesture of this lady to make them cakes - but posting the video is just rubbing it in our faces," he said.
"If you want to make them a cake, make them a cake, but I don't want to know about it."
Colin Moyle was attacked and bludgeoned to death with a spade and set alight by Alqhuist in 2007.
Ahlquist was found not guilty by reason of insanity and was detained as a mental patient at the Mason Clinic.
Moyle said he had now marked 11 of his brother's birthdays since he was killed, with no "special treats".
"If this had been behind closed doors and we didn't know about it, it wouldn't bother me," he said.
"But to see the video, to know they get movie nights and tables full of cupcakes and soft drinks… it rubbed me up the wrong way."
Tracey and Brian Marceau were also appalled at the video.
Their 18-year-old daughter Christie was stabbed to death in their family home in November 2011 by Chand.
He too was found not guilty by reason of insanity and detained as a special patient under the DHB's care.
"Our initial reaction was disbelief that they could be so insensitive," Tracey Marceau said.
"We echo Graeme's sentiment - the issue is not about what they eat, what activities they participate in.
"It's just insensitive the way it was portrayed and further highlights that victims or their families have no rights or considerations."
The Marceaus said the video should not have been posted.
"Surely there are more constructive ways of informing the public of their work than an article that almost glorifies the destruction that has been caused," Tracey Marceau said.
"It would have been Christie's 25th birthday in four weeks so this has caused us intense emotional harm.
"We have no birthday cakes or celebrations - that was taken from us at the hand of another.
"This is a bitter reminder of our loss and we are not alone in this.
"There are some things that should not be promoted and this is one of them."
Brian Marceau said the fact Chand was convicted of kidnapping Christie two months before he killed her was more of a slap in the face.
Chand completed his sentence for that offending in the Mason Clinic.
Brian Marceau said the situation was "absurd" and seemed to "celebrate" the patients rather than focus on healing.
Victim advocate Ruth Money said she was disappointed and branded the DHB "insensitive" and "inconsiderate of victims".
The content of the video was not an issue - it was the fact it had been shared on a public forum with no thoughts for victims and their families.
Money saw no reason for such a video to be shared on social media.
"A public display of celebration and joy for these offenders can only bring heartache to these victims," she said.
"The way it's been communicated is just completely inappropriate and utterly disrespectful.
"It's just so inconsiderate, I think it's disgraceful."
The Herald approached the DHB for comment this morning.
Within 25 minutes the video had been removed from the Facebook page.
The DHB refused to answer specific questions about the video, and instead issued a statement.
"Waitemata DHB posted a video to our Facebook page yesterday recognising one of our staff members for going above and beyond the call of duty in her work with our mental health patients," said director of communications Matthew Rogers.
"'With compassion' is one of our DHB's core values and we always seek to recognise staff members who demonstrate empathy in the course of their work, no matter what their role is or which patients they are responsible for.
"This also extends to the Mason Clinic where our staff often work in difficult situations and environments.
"We are sorry that posting this video has caused offence to victims' families and we have taken the video down immediately on hearing of their concerns.
"It was never the DHB's intention to cause offence and we deeply regret this."