Two elderly poodles, neglected to the point where they no longer looked like dogs, have topped SPCA's annual list of shame.
The full list, released today, details 15 of the worst cases of animal abuse and neglect seen by the SPCA over the past 12 months.
Poodle siblings Daisy and Lola were found neglected for almost two years, with coats matted and overgrown, SPCA said.
SPCA inspector Kelly King, who rescued the poodles, said both were suffering from arthritis, extensive dental disease, were deaf from multiple ear infections and were nearly blind.
"When we found the sisters, we couldn't believe the neglect that had taken place - they didn't even look like dogs," Ms King said.
"It took six nurses and vets an hour to remove the matted fur from each dog."
Daisy and Lola have since been adopted into a loving home.
SPCA chief executive Andrea Midgen said, while such cases were distressing, it was the harsh reality of what they encountered every day.
"It's stories such as these that showcase just how critical the work of SPCA really is," Ms Midgen said.
Ms Midgen said last year was a particularly cruel year for some of New Zealand's animals, with many cases of intense neglect and extreme violence towards animals.
The list is part of SPCA's Annual Appeal for donations, via street collectors or online.
The appeal takes place from 4 March to 10 March and helps support the 41,000 animals rescued by SPCA every year.
SPCA's worst cases of abuse for the year
German shepherds living in their own waste
Forty German Shepherds were found on a puppy farm, where dogs and puppies were on short leashes, tangled up in urine-sodden newspaper and living in their own waste.
A court ruling allowed SPCA to adopt out the German Shepherds, and the dogs are now living with new families.
T
he breeders are facing 79 Animal Welfare Act charges but deny any wrongdoing.
Dog beaten and shot at with BB gun
George the dog was regularly beaten by his owner over eight months.
His owner was sentenced after witnesses reported George being kicked, punched, strangled, beaten with weapons, shot at with a BB gun, and verbally abused.
George has now been adopted into a loving family.
Pony unable to stand after neglect of chronic illness
Pony Cashew was found rocking left to right on his limbs and often laid on the ground to alleviate his pain.
He had been suffering from chronic laminitis and was assessed at the highest end of recognised pain scales applied in veterinarian
practice.
SPCA said there was no choice but to euthanise Cashew.
Dog found starving nearby grave of another dog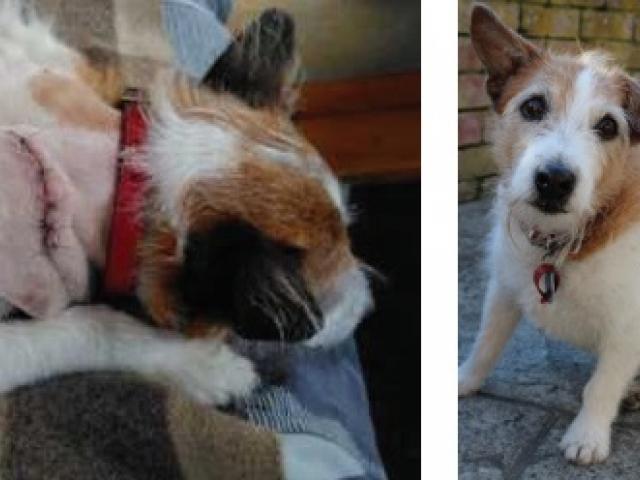 A thin dog with open sores was found chained to a house and living among debris.
The emaciated carcass of another dog called Buster, was in a shallow grave nearby.
SPCA seized Nellie and was able to help her regain weight, and prosecuted her owners.
A veterinary pathologist found that Buster underwent weeks of starvation, his stomach and large intestines containing leaves and yellow fluid.
SPCA said these conditions, along with the dog's broken and worn teeth, would have caused him prolonged pain and agony.
While Nellie physically recovered, psychologically she did not and was euthanised due to aggressive behaviour.
Puppy suffers after untreated injury
Sky, a Rottweiler puppy, was seen limping due to an untreated leg fracture.
SPCA said their investigations revealed that Sky had been beaten by her owner when he was angry.
During prosecution, the defendant's flatmate witnessed seeing him dragging Sky to her kennel and holding his hands over her snout so she couldn't breathe.
The flatmate said then heard "punching", followed by loud yelping and that Sky was panting as if having a panic attack.
Sky was treated and cared for by SPCA until she was adopted.
Horse in emaciated condition, covered in insects
SPCA said its inspectors found a chestnut gelding in emaciated condition with skeletal features and covered in insects.
The horse was struggling to stay upright and could barely walk, SPCA said.
The vet said the horse's condition was caused by missing teeth and oral pain, due to sharp teeth edges ulcerating the gums. He had struggled to eat for several months and was also suffering from parasite infestation.
SPCA said the vet concluded that the horse should be euthanised on humane grounds as it wouldn't survive.
The owner was charged with reckless ill-treatment of an animal.
Dog stabbed with filleting knife
A dog underwent major surgery after being stabbed with a filleting knife.
Skipper, an elderly Jack Russell, was stabbed in the right side of his neck and shoulder.
SPCA alleges that the offender had joked about euthanising Skipper due to his age and health.
Skipper was immediately taken to a vet and was given pain relief and antibiotics.
He made a full physical recovery, but his owner says Skipper is now wary around other dogs and people.
SPCA said it had laid charges against the alleged offender.
Dogs deliberately starved
Three dogs rescued by SPCA were said to be suffering severe pain due to starvation, likely for several weeks.
After being rescued by SPCA, veterinary examination showed that Tama, Big Boy and Haze were all emaciated with bones visible and loss of muscle mass.
Although Tama and Big Boy healed physically, the trauma of their experience left them aggressive.
SPCA said despite its best efforts, they were unable to be rehabilitate them and vets had no choice but to euthanise them.
Haze was adopted by a loving family.
The owner was prosecuted by SPCA.