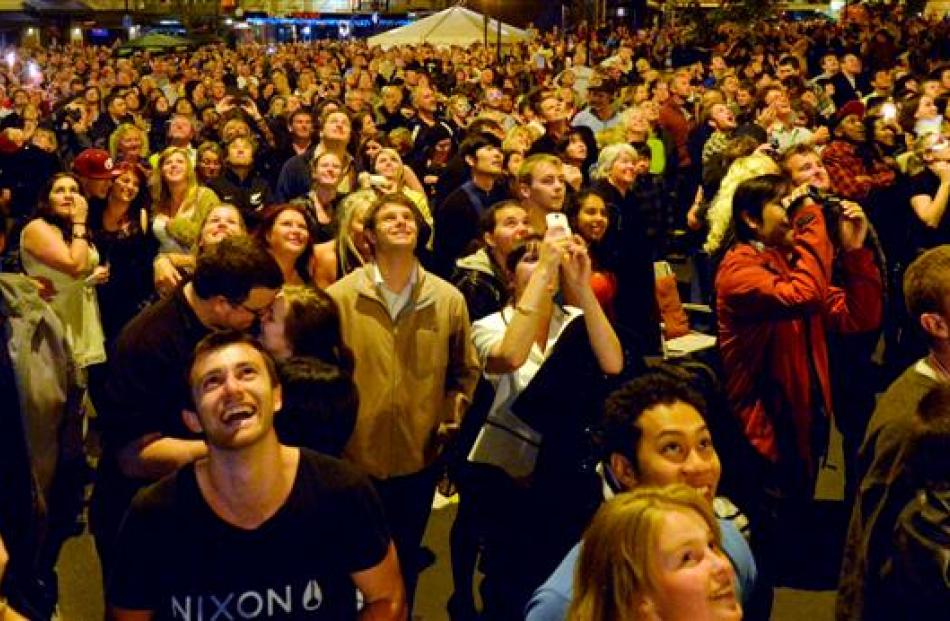 Police have praised the behaviour of New Year's Eve revellers and the weather played its part in dampening celebrations in traditional party hot spots.
Cooler temperatures and a deluge prompted Queenstown revellers to wear an extra layer over party clothes and shelter under umbrellas.
However, when the blustery westerly died down, the fireworks were able to go ahead as planned.
Queenstown police, bolstered by 45 out-of-town officers, made 34 arrests in the resort over New Year's Eve, Senior Constable Chris Blackford said.
''[They were] predominantly for disorder and offensive-type behaviour.''
Dunedin police Senior Sergeant Brian Benn said police were happy with people's behaviour. No major incidents were recorded and festivities were comparable to those on a Saturday night.
''We are very happy with the result.''
In the hours leading up to 2013, Dunedin police made four arrests, including a 52-year-old male for an assault in Pine Hill and a 15-year-old male for disorder in the Octagon.
Police made 16 more arrests between midnight and 4am, including a 13-year-old male for disorder in George St just before 2am, and a 31-year-old female in Princes St at 4am, also for disorder.
Dunedin City Council events organiser Marilyn Anderson said that while the city's family-focused event attracted a small number of people initially, a large walk-up crowd nudged numbers up to 18,000-20,000.
''We are very pleased with those numbers.''
Bands entertained partygoers before attention switched to a mass countdown and the firing of the Robbie Burns cannon at midnight.
Unlike in Wellington, where strong wind forced the cancellation of the fireworks display, Dunedin ushered in 2013 with a bang - a $10,000 fireworks display from the Civic Centre's roof.
''We were very pleased with how Mother Nature treated us. At 12.30am it started to spit at the request of the police, and compared with other areas, we were very, very happy,'' Ms Anderson said.
Grants from the Lion Foundation and the Community Trust of Otago helped provide additional funds to the council's $70,000 New Year's Eve budget, Ms Anderson said.
Wanaka had a very well-behaved New Year's Eve celebration, with just two arrests for minor offences.
Senior Sergeant Allan Grindell said the good behaviour continued a trend towards family-type celebrations ''rather than just a party''.
Thousands of mostly young revellers braved a storming northwesterly to listen to the live entertainment.
A liquor ban was in force through much of the commercial part of the town and that, along with about 50 police, helped create what Snr Sgt Grindell described as a ''positive friendly vibe''.
After a day when rain threatened to spoil proceedings, it was not until the fireworks display just after midnight that it finally arrived.
Summerdaze event co-ordinator Anna McConville said celebrations got off to a slow start because of the weather but by midnight, 3000-4000 people were gathered on the lake shore.
''It was a very good night. Obviously, the weather wasn't really on our side, but it didn't really deter people from coming out.''
And camping grounds around Wanaka also reported good behaviour.
Wanaka Lakeview Holiday Park manager Kelly Campbell said the camp had about 400 young campers but they had not created any issues.
Wanaka Top 10 Holiday Park lessee Patrick Perkins said the camp had its best-behaved crowd.
He believed reduced numbers of campers and new restrictions on young people had contributed to the good behaviour.
Woolly hats and jackets were common fashion choices at the Clyde New Year's Eve street party as a gusty wind kept temperatures down.
The organisers, Promote Dunstan, blamed the weather for the lower-than-usual turnout of about 1000 people.
Sergeant Derek Ealson said three local people were arrested for minor disorder offences after the party.
A similar number celebrated in Naseby.
In South Otago, about 350 people braved drizzle and gathered at the foreshore in Pounawea, with sheep racing, a barbecue and a live band entertaining the crowd.
Nearby, at Kaka Point, a smaller crowd of about 200 gathered around a bonfire on the beach before fireworks were let off.
Acting Sergeant Murray Hewitson, of Owaka, said family-oriented events around South Otago gave police no trouble, and no arrests were made.
Further south, Invercargill police made six arrests but only one related to New Year's Eve festivities. Rain made for a subdued night, Senior Sergeant Dave Raynes said.